Wooden Wall Mounted Magazine Racks are Traditionally Styled Multi-Pocket Periodical Mounts
---
Magazine Holders with Multi-Tiered Pockets for Wall-Mounted Displays
If you are looking for a traditional fixture to display valuable literature in your office, lobby, or specialty shop than look no further than this selection of wooden wall mounted magazine racks. Wood literature holders are crafted with high-quality materials sure to match the existing decor of any environment. Wooden wall mounted magazine racks are offered in a variety of finishes, including light oak, medium oak, and red mahogany. A space saving option, literature mounts are an ideal solution for crowded offices. They offer ample room for organizing periodicals and other reading materials. Many wooden wall mounted magazine racks feature adjustable dividers. However, most fixed units accommodate anywhere from 8 to 24 pockets.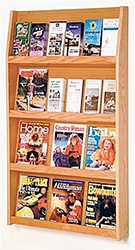 Choose from several different designs and orientations to match the needs and decor of your existing location. Each wooden wall mounted magazine rack provides an upscale appearance in any environment. Due to their stunning finishes, each unit fixture is a fashionable addition to any lobby. These versatile options are not limited to organizing magazines. Use multi-pocket holders to keep brochures, flyers, and catalogs within reach. Choose a wall mounted magazine rack with open shelving or clear pockets for more visibility and a better browsing experience without losing its elegant appeal. For offices and retail stores that aim to maintain a more rustic feel, our wood finished hanging options are the ideal choice.
How do our customers best use these wooden wall mounted magazine racks?
Office waiting rooms are a great place to not only provide literary entertainment for guests before an appointment, but can also act as a hub for sharing medical perscription information, product catalogs, or flyers for local businesses. Take advantage of this space to give guests something to read on site, or take home with them to boost futher engagement.
Public health is a great concern in many inustries. As such, wall mounted literature holders are a great way to "set it and forget it" when it comes to providing promotional material to your guests. Simple showcase product catalogs or magazines in an accessable location and your customers will be able to use the space as a self-serve fixture, avoiding contact with your employees.
Adjustable mounted literature holders are great for displaying an array of options including brochures, magazines, flyers, and pamphlets. Use this space as needed in order to promote local small businesses, share medical advice, newspapers, and more all from one consolodated fixture.
Place periodicals and take-away pamphlets into the hands of your customers to create a better informed client base. These fixtures also provide entertainment in waiting rooms and lobbies. Our versatile wall mounted magazine racks can be placed just about anywhere that you desire for the most impact to your patrons. Our customers use these literature holders to store everything from magazines, to files, to company catalogs. Utilizing a wood magazine rack ensures that all printed media remains easily accessible and organized even in busy environments.
Create a diverse and well managed presentation by coupling these wall mounted displays with countertop and floor standing literature holders. Depending on your business' needs, we carry a wide array of fixtures that can be placed anywhere on location. If your organization would like to provide more than periodicals to your customers, browse an extensive line of brochure holders to find the perfect solution. We also offer various customizable display solutions, so your business can create a unique and personalized look while providing customers with important marketing material.