Large Freestanding Display Cases Up To 42" Wide
---
Commercial-Quality Glass Display Cabinets with Internal Illumination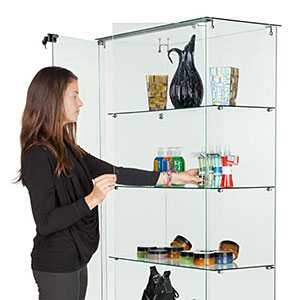 Showcasing merchandise or other items on shelving is the modus operandi for retailers everywhere. As a result, large freestanding display cases are the go-to fixture for many, thanks to their enclosed designs. Keeping products encased not only prevents theft but also helps maintain a cleaner, dust-free environment. These large freestanding display cases are our most popular models and come in a range of medium-size widths. With glass cabinets available between 28" to 42", they take up a minimal footprint while providing loads of real estate for showcasing your items. Our large freestanding display cases are intended for commercial applications but are also advantageous in schools, libraries, and residences.
What do these medium-width glass showcases have to offer?
Large freestanding display cases are primarily available in rectangular designs. Swing open-style doors allow full access to the shelves, and most models are lockable. Aluminum frames come with black or silver anodized finishes, which blend well into any interior store, office, or other professional environments. Cabinets with storage areas located at the bottom provide valuable space for extra items such as supplies and merchandise.
We also offer frameless designs that feature extrusion-free construction. Tempered glass side panels insert into the base and are then held together by the top section using small connectors. The result offers an obstruction-free vision with an upscale, modern presentation.
Most display cases come with four or five tempered glass shelves. Select models feature height adjustability that allows you to customize your cabinet to fit your items better.
Lighting plays a critical role, and almost all of our cabinets offer this as a standard feature. Centralized top lights direct a beam of light that washes down over the internal contents. But it's the side spotlights that make the difference. Thanks to their adjustability, you can swivel and point each light separately to aim illumination exactly where you want it.
The freestanding style of these glass storage fixtures means they can be placed anywhere. Since each model features glass on all sides, placing them out in the middle of the sales floor gives shoppers a 360° view. In the event you plan to use multiple units together, lining cases along the wall is preferable. Either way, take advantage of the beneficial amount of merchandising real estate these store fixtures have to offer! Is your establishment short on floor space? Wall-mounted cabinets save square footage while still providing a place for stocking or presenting products.