Acrylic Poster Stands Feature Upscale, Crystal Clear Designs
---
Clear Acrylic Floor Stands Offer a Unique Alternative to Traditional Poster Displays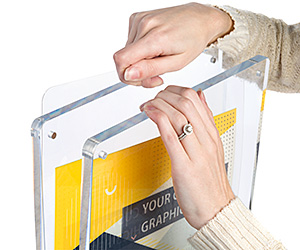 Getting the attention of potential customers with targeted graphics can be accomplished in a couple of ways. You could purchase some form of wall-mounted frame to display your posters. However, walls don't move and there's always a chance the patron won't notice the marketing graphics at all. Acrylic poster stands are a valuable alternative for many reasons. First, their clear plastic design features highly polished surfaces. It provides enough visual interest to pique even the mildly curious. Second, these acrylic floor stands are movable. They can be strategically placed in order to grab customer attention much more effectively than their wall-mounted counterparts. Plant an acrylic poster stand near store entrances, inside lobbies, near sales counters, even next to retail checkout lines. Any spot that is frequented by a person is a good candidate, including high-traffic areas.
Why purchase a freestanding acrylic poster stand from us?
With over 40 years of manufacturing expertise, Displays2go knows a thing or two about working with this difficult material. From cutting and drilling to heat-forming and bonding, our in-house production team cranks out top quality products with beautiful results.
Each floor stand features high-gloss finishes on all sides, including the edges. When acrylic plastic is cut using power tools, the edges are left with a rough appearance and visible tooling marks. Every piece of manufactured acrylic is then run through one of our diamond edge polishers. The process slowly transforms the unfinished edge into a smooth polished surface, enhancing the look and character of the completed stand. Flame-polishing is another technique, but it is not as reliable nor as consistent as the machine polisher.
Assembling acrylic is commonly achieved by either chemical bonding or screws. Since these floor stands ship flat for assembly by the end user, mechanical fasteners are the answer. Unlike wood or other solid substrates, acrylic is very weak without some form of reinforcement at the joint connection. To accomplish this, we use heat-pressed threaded inserts that melt into the plastic. These are what accept the screws that produce a strong bond. The embedded inserts also have to look good because they remain visible from the outside.
What kinds of acrylic floor displays are available?
If you are looking for a small model, we offer short stands that hold letter-size, 8.5" x 11" graphics. The sign insert is held in place behind an attractive acrylic faceplate. Decorative silver knobs complete the assembly for a beautiful, professional presentation.
Larger styles display standard 22" x 28" posters or full-length graphics up to 5 feet tall. Choose a stand with thick acrylic poles or opt for the totem style which features a solid "slab" design.
Add-on accessories offer customers folded brochures or full-size catalogs and magazines. Literature holders come in both single or double-sided models. The pockets are also adjustable, giving you the ability to stock flyers of different sizes in the same holder.
Some stands feature rolling casters for easy mobility. These are convenient if your particular situation requires bringing the sign in and out of your place of business. It's much easier being able to roll the display without having to carry it!
Looking to buy a stand with posters at the same time? Displays2go's in-house printing department offers custom-printed graphics designed to fit these models. Our UV flatbed printers can reproduce gorgeous, hi-res photography and finely detailed artwork!
From a marketing perspective, advertising with freestanding displays is an effective way to extend your brand's reach. Our sleek acrylic stands and totems add upscale style to high-end designer territory like salons and apparel boutiques. Financial institutions and banks like using them for offering takeaway brochures stating current CD, loan, and mortgage rates. The top-shelf fixtures also make excellent choices for auto showrooms, museums, and art galleries. Thanks to their highly-polished acrylic designs, these stately floor stands project a certain aura and character perfectly suited for any high-end business or establishment.