Floor Sign Stands in Metal, Acrylic, and Plastic Laminate Models
---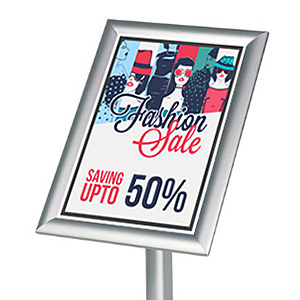 Freestanding Sign Holders Display Small-Format Signage and Graphics
Need a poster holder that's sized for smaller inserts? Our substantial selection of floor sign stands offers the format you've been searching for (the most popular sizes being 8.5" x 11" and 11" x 17"). These pedestal displays not only place your marketing graphics front and center, but they can also be easily moved thanks to their small stature. Want to welcome visitors to your office building? Inform shoppers of a current sale? These floor sign stands perform the simple task with understated refinement. They're manufactured from quality materials such as aluminum and clear acrylic with many features to offer. Sign stands have unlimited uses, including retail marketing, wayfinding, and food service applications. Read on to learn more about these necessary, yet eminently affordable display tools.
How do floor sign stands give prominence to your changeable graphics?
Materials — freestanding displays are commonly left out in the open and therefore susceptible to everyday wear. The material most able to stand up to rugged use is aluminum. The bases, poles, and sign holders come in two types of anodized finishes: black or silver. An upscale alternative to aluminum is solid MDF that comes in a couple of decorative laminates. These models provide a more weighty, substantial presentation with fancy acrylic faceplates. However, for the most exquisite showcase we recommend our "crystal-clear" sign pedestals. Manufactured from 1" thick acrylic, these upscale models look absolutely contemporary. Machine-polished edges are what raise these stylish displays above all others.
Styles — If you're looking for options, you've come to the right place. From a purely decorative viewpoint, the area beneath the sign is what matters. Single or double pole models are available, and these come in straight or curved designs. Thicker "slab" versions are offered in the laminated MDF and clear acrylic styles. While all floor stands can be used indoors, we have a fair number of exterior-rated displays. Economy models come with rubber gaskets applied to the underside of the lens protector to resist moisture. Deluxe freestanding displays feature enclosed cases with lockable, swing-open doors. Gaining the most exposure is most often accomplished with illumination. Integrated lighting calls attention to restaurant menus, directories, and advertisements. Illumination also allows for easier viewing, especially in low-light locations. When it comes to inserting your changeable graphics, there are three options. The most popular is the snap frame. This front-loading design makes swapping out an insert quick and easy. Simply flip open the four frame sides to access the graphic. The second style is the magnetic lens. These are flexible PVC lenses with magnet strips underneath that stick to the steel sign holder. All you have to do is lift it up and slide your insert in. The third option is the acrylic plate. This upscale design holds your graphic totally flat via friction. Once the plate is pressed against the stand, decorative accent knobs secure the "sandwich" assembly in place.
Features — in conjunction with the many styles described above, additional features are available that complement your sign stand even more. Need mobile capability? Rolling casters let you move the display with ease. This can be an important consideration, especially if you need to bring it out then bring it back in. Stands with adjustable height add better visibility to any situation. Let your sign be seen in a crowd by raising it above for all to see! With the addition of a literature pocket, promotional materials can be distributed without effort. Attached to the front of the stand, these effective add-ons come in many versions that hold standard folded brochures as well as full-size magazines or catalogs.
When it comes to displaying smaller signage, we've got you covered! Best-selling models feature standard letter and ledger formats. Additional sizes include 11" x 14", 22" x 14", and even the occasional 22" x 28". For showcasing more substantial marketing graphics, large-format poster stands can support totem-size images over six feet tall! If you need a stand in a hurry, Displays2go stocks them for same day shipment. Order by 3PM and your purchase will go out that day!