Poster Floor Stands with Brochure Holders - Clear Pockets for Pamphlets & Catalogs
---
Poster Floor Stands with Pockets for Brochures, Catalogs, and Business Cards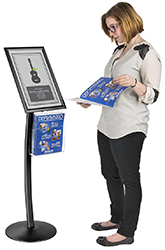 Want to feature eye-catching graphics beside informative literature? Our poster floor stands with brochure holders are an ideal way for advertising and dispersing information at the same time. These promotional fixtures consist of one or more sign frames with pockets for promotional materials like pamphlets, magazines, and business cards. Each of the poster floor stands with brochure holders is great for capturing the attention of passersby and then dispensing catalogs to interested patrons that they can take with them. This signage is excellent for pointing people to your services in retail stores, convention center floors, and building lobbies. Browse our variety of poster floor stands with brochure holders that come with different designs, finishes, and features.
What features are available with these sign stands with racks for promotional materials?
Poster floor stands with brochure holders are available as single- or double-sided displays. Dual sided advertisement fixtures with literature pockets are great for appealing to both sides of traffic. Patrons will be able to view your advertisement from wherever they're walking. Choose models with both sign frames and pamphlet dispensers on each side for maximum marketing potential.
These poster floor stands are offered with literature pockets that can change size to accommodate different periodicals. Using simple adjustable pocket dividers, an 8.5" x 11" catalog compartment can become two pouches for 4" x 9" pamphlets.
Our poster floor stands include pockets made of clear acrylic for easily viewing promotional materials. Full visibility plastic compartments are excellent for making catalogs and business hard to miss from a distance. Give passersby the full picture before they pick up a magazine.
The commercial poster stands are available in clear or black acrylic, as well as black or silver metal. These promotional displays feature small, thin designs that hold a lot of materials without taking up a large amount of floor space. Metal and acrylic holders are excellent for smaller spaces like hallways and mall retail stores. MDF fixtures feature a faux wood look and a wide construction for fitting large graphics and catalogs. This style is perfect for large lobbies, wide mallways, and department store floors where their stand-out design will generate interest. All of these poster stands in neutral silver, black, and clear will fit with any décor or advertising campaign.
Our standing graphic displays with literature racks are just one part of our large catalog of commercial fixtures. We have a selection of beautifully finished freestanding promotional poster frames with wood fabrications. All of these retail and event fixtures are sold with fast shipping and wholesale pricing to help businesses thrive.