Soft Interlocking Floor Tiles for School and Daycare
Interlocking Playroom Flooring is Waterproof and Kid-Safe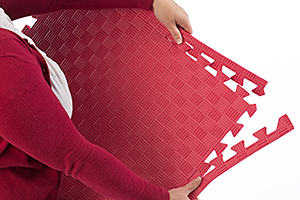 How can you create a safe learning environment for small children? Soft interlocking floor tiles are a great place to start. These colorful playroom accessories provide the padding necessary for protecting young ones. The soft interlocking floor tiles are sold in sets and cover a 10' x 10' space. Choose from a couple of bright, primary colors or opt for fancier wood-grained styles. Suitable for daycare facilities, learning centers, and kindergarten classrooms, these soft floor tiles look great while offering kid-safe protection.
What makes this playroom flooring so appealing to teachers and parents?
These interlocking floor tiles are constructed from soft EVA (Ethylene Vinyl Acetate) foam. It's the same material used in the making of flip-flop soles, garden kneelers, and other padded products.
Thanks to the resilient "give" of the foam, the tiles come with excellent shock-absorbent and anti-fatigue properties.
In addition to the plain foam surface, some models come finished with a layer of carpeting. These offer better protection and stand up to more wear-and-tear. However, heavy and/or sharp objects (like high-heeled shoes) are not recommended on top of these tiles.
Our flooring is 100% odor free, non-toxic, and stain resistant — all good characteristics when considering this product is used around small children.
Each tile is approximately 24" x 24" in size. The sections interlock together just like pieces of a puzzle. The carpeted models come with actual edge and corner tiles while the plain foam versions feature thin border pieces that attach around the perimeter for a more finished appearance.
Creating a kid-safe school and daycare environment with soft foam flooring offers lots of possibilities. Besides the romper room angle, the tiles also provide a place for gathering the entire class together. This teaching technique contributes to better focus among the young ones. Having the kids gathered around the teacher for a lesson or story time on a padded surface is much more conducive to learning than a cold floor. Outside of the daycare or school room, these comfortable mats can also be applied in other spaces. Yoga anyone? Thanks to their versatility, our tiles offer convenient portability. Reduced to a manageable 2' x 2' size stack, they are very lightweight and can be transported anywhere a temporary padded floor is needed. This is also makes them an excellent choice for trade shows. Already sized for the standard 10' x 10' booth, these are popular purchases for our customers. As you can see, cushioned flooring comes with many applications. Both affordable and portable, let these anti-fatigue mats improve your day, every day!