Gold Brass Stanchions - Retractable Belt and Post & Rope Crowd Control
---
Crowd Control Stanchions with a Brass Finish and Rounded Tops for a Refined Look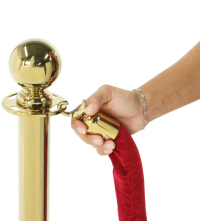 Are you looking to add that final touch to your formal event or upscale environment? Nothing exudes classic style and sophistication like gold brass stanchions. Imagine: all that time and effort you put into every last interior design detail for your black-tie gathering topped off by ho-hum, drab crowd control posts. Just because barriers and queue lines are a necessity, doesn't mean they need to be utilitarian. Gold brass stanchions with burgundy velvet ropes recall old-school Hollywood premieres and red carpet rollouts. You can't completely hide your crowd control system, so why not make it an integral part of the decor? Carefully considered details like bell-shaped or spherical tops and braided barriers with matching metal hooks make every guest feel like a VIP. Retractable belt gold brass stanchions provide an elegant aesthetic alongside convenience and ease-of-use. The nylon barriers extend up to 7.5 feet (and on some models, up to 11) and connect to a four-way adaptor on each post to help you create the ideal configuration for your floor plan.
Where do gold brass stanchions work best?
Hotels — Let your guests know they're in for a luxurious stay right from the moment they check in. These stanchions accentuate the kind of high-class atmosphere that has been associated with the hospitality industry for decades.
Casinos — With decor that often hearkens back to bygone eras of decadence and class, gambling establishments spare no expense when it comes to the details. When guests line up at the cashier before heading out to the tables, every part of the experience, right down to the queue barriers, should add to the excitement of winning big on the floor.
Upscale Retail and Boutiques — Specialty stores engage customers with a curated experience that transports them into a new state of mind through product selection and careful interior design. In these high-end shopping environments, the right stanchion can enhance that image, and the wrong one can break it.
Theaters — With so much entertainment cheaply available at home, going to see a live production should feel like a special night out. Every detail, from the ushers' uniforms to the look and feel of the box office queue line should support that feeling.
Lobbies — Government buildings are often the first stop for esteemed guests and tend to carry an air of sophistication to represent their importance in society. Stately crowd control systems enhance the formality of a reception area and make a positive first impression.
No matter what style you choose, each stanchion is built to withstand heavy foot traffic. Stainless steel construction and heavy, rubberized bases ensure stability for long-term placement. Create or change your queue line shape on the fly, thanks to the four-way adaptors. If you're going for a different aesthetic, check out our decorative post and rope barriers with deluxe round tops in black and chrome. Each one offers the same level of quality, but with your choice of pole finish and rope color.