Voting Booths
---
Voting Compartments for Polling Stations
Keep your polling station running smoothly with dependable voting booths. For voters, having a private and sturdy place to cast their ballots is crucial. With tall privacy screens on three sides, these polling booths provide voters a personal space to fill out their election ballot.
The large writing surface allows voters to carefully review the election information and check their ballot. Some polling booths include a top shelf, perfect for attaching accessories like lights and pen holders. These voting booths are constructed with high quality materials that prevent wobbling. For added versatility, these units also include height adjustable legs. Constructed with high quality materials, our election day booths won't wobble when in use. The legs are fitted with levelers to provide an even work surface for voters.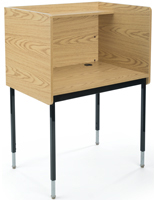 Many of voting booths are modular, allowing for a variety of configurations. Depending on the layout of your polling site, you can set them up in a row side by side or back to back. Choose between a variety of colors and designs to outfit your voting station with coordinating election supplies.
Deciding how to set up your voting stations is dependent on your individual space and the anticipated voter turnout. Often, polling booths are assembled around the perimeter of the area in a single row. This allows for a larger number of stations without compromising privacy. It also leaves a wide, accessible pathway to navigate through the voting area without obstructions. Having a clearly defined flow path guides voters through the process easier and also meets accessibility requirements.
Making voters feel comfortable and secure during the voting process is vital. A great way to create this feeling is to place voting booths out of the view of the main entrance and the bulk of foot traffic. For added privacy, floor standing barriers can be placed around voting compartments. If possible, do not set up the voting stations in the center of the polling place.