Adjustable Banner Stands with Retractable and Stationary Frames
---
Banner Frames with Adjustable Height and Width for Trade Shows and Events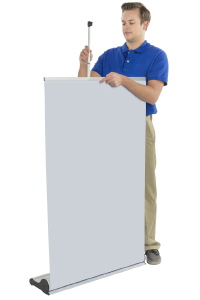 Do you need an eye catching, versatile way to display your printed graphics? Our adjustable banner stands come in both retractable roll up and stationary styles in a variety of height and width combinations to suit your needs. Choose from stand-only options if you've already got your own custom advertisements or upload your artwork and purchase fresh graphics along with your display hardware. These freestanding adjustable banner stands offer telescoping height adjustment, and some even expand in width to accommodate an even greater range of printed signage. Capturing the attention of busy passersby and drawing them into your trade show booth or business is a challenge. You need something bold, highly-visible, and capable of delivering your message in the fraction of a second it catches a potential client's eye. Using these vertical adjustable banner stands with custom graphics is an efficient and versatile choice that will allow you to both stand out at your next expo or promotional event and swap out marketing materials and use them for years to come.
What kinds of freestanding displays are available?
Retractable adjustable banner stands are unrivaled in terms of portability. By keeping your custom graphic in the base,you can set up or collapse your display in seconds. They're lightweight so one person can easily carry them. For smaller teams, this level of convenience can make the difference between a hectic expo day or a smooth experience.
Stationary frames may break down or collapse for easy load out, but must be assembled before print materials can be attached. While they offer less portability than their roll up counterparts, they often make up for this by allowing width adjustments, come with more stable bases for outdoor use, or have lower-profile configurations. Some even include integrated iPad stands that add an interactive element to your booth.
Stands with custom printed banners included are great for first-time buyers who need a one-and-done solution for an upcoming event. Simply choose your size and style and upload your design using our premade templates to have a complete advertising solution shipped to you. With so much to think about going into a trade show or event, we make ordering visual marketing materials a breeze so you can focus on the rest.
If you've already got advertisements that work perfectly well, explore our display stands without custom graphics. As a cost-saving measure, reusing older print materials can sometimes shave hundreds of dollars off your expenses. For exhibitors on a budget, these frame only options are great if your current hardware is a little worse-for-wear.
Aside from attention-grabbers or advertising materials, these banner displays are well-suited as backdrops in retail applications. Set up a retractable stand behind a mannequin to add a pop of color or showcase pricing and availability info with added impact. Of course, they're only one part of a full visual marketing plan, so be sure to check out our banner and flag promotional tools to create a complete solution indoors and out.