Basket Display Stands with Tiered or Stacked Designs Store a Multitude of Bulk Items
We're sorry, but no items matched your search query.
---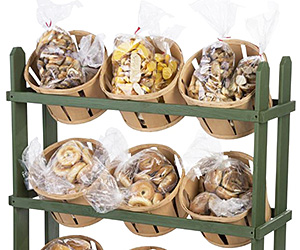 Floor Standing and Countertop Basket Stands for Retail Merchandising
One of the best ways to sell loose items is with open containers. Basket display stands provide shop owners with the kinds of fixtures that cater to grab-and-go customers. Thanks to their easy access design, bulk bins have a lot to offer the typical retailer. Placing basket display stands near checkout lines entices shoppers with last minute impulse buys. The bins also make great tools for moving old inventory, seasonal items, and other bulk merchandise. Our basket display stands all have one thing in common — hands-on access. Letting customers handle and/or inspect the merchandise often increases sales. We stock two types of basket display stands. Rustic wooden fixtures feature that country barn/artisan gift shop look. Use to sell dog treats, snack food like chip bags, or handmade goods and produce like the kind seen at farmer's markets. Metal wire dump bins provide a convenient way to stock plush toys, stuffed animals, pillows, and playground balls.
Rustic wood display stands are manufactured with rough sawn lumber. This is a style that speaks to the more "natural" or "rugged" retail shop. Artisanal products like soaps, candles, and preserves would feel right at home with this look. If you are looking for the same kind of warmth in a store fixture but without the rough wood texture, wicker baskets are the answer. Their woven fabrication is smooth to the touch and is, overall, a better choice for soft and/or delicate items. Many different stacked and tiered models in both wood and wicker are available.
Wireframe dump bins are the sort of fixture you see in toy, convenience, and department stores. If you were looking to buy a beach ball, chances are it would be tossed into one of these containers. Unlike the wooden bins, wireframe construction lets shoppers see all the merchandise at a glance. Optional wheels provide easy mobility throughout your store. There really isn't a better display fixture designed to handle large, bulky items!
It's all about getting your merchandise out in front of shoppers. Open-style bins perform the task of organizing loose items for purchase. Whether placed near checkout lines or situated in front of store aisles, these kinds of fixtures get noticed in the eyes of impulse-buying customers. But selling your products often requires the use of many different types of retail store fixtures. Modular shelf systems like slatwall, gridwall, and pegboard help standardize your shop's layout with the most efficient designs for displaying a large amount of merchandise.