Countertop Literature Holders with Screen Combine Multimedia Advertising with Print Materials
---
Are you looking to connect with guests through multimedia advertisements? These countertop literature holders with digital screen place videos, audio, and slideshows right alongside your brochure to deliver a consistent and engaging message. Target specific customers with advertisements tailored to their interests to make a deeper, more impactful connection. Bring your content to these plug and play countertop literature holders with digital screen no matter where it lives. Upload videos and images via USB or SD cards or play from a separate source with an HDMI cable. The customizable backer insert allows you to fully integrate your messaging across several mediums. Design your countertop literature holder with digital screen to coordinate with the covers of your brochure and program videos that seal the deal. When it's time for a new advertising strategy, change out just the content and handouts, or go for a full overhaul with a newly-designed replacement graphic.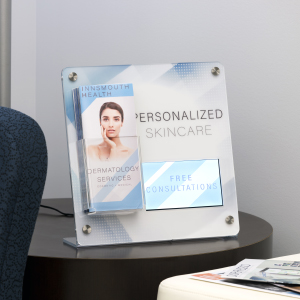 Impactful Advertising
Videos, sound, and slideshows draw attention better than just a brochure ever could. With cleverly planned media and a well-designed backdrop, visitors are much more likely to notice your literature. Make your brochure's cover design just one part of your strategy to capture interest, draw people to your cause, or gather more leads and sales.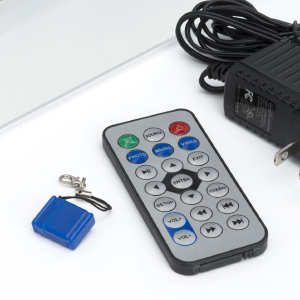 Easy Content Control
Program and play multimedia with a familiar, remote control based interface. After content is loaded onto the included USB drive, accessing it is as easy as pushing a button; play, pause, skip, and rewind at a moment's notice! Adjust the volume or power down without having to fiddle with hidden controls or taking anything apart.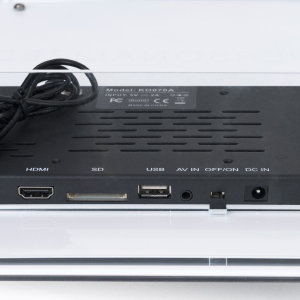 Display and Storage Options
No matter where your content lives, bringing it to your countertop is a smooth and intuitive process. Transfer and play directly from USB or SD storage devices to take this countertop literature holder anywhere. Access all your multimedia files from other devices via HDMI and AV inputs to ensure you always broadcast the right message.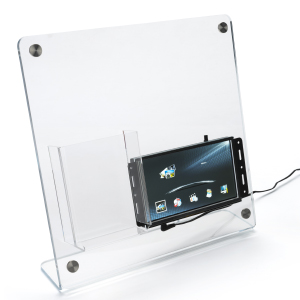 Versatile Customization
Swap for a new background graphic whenever you change up your advertising strategy! The custom printed sign can be easily removed from the clear stand, allowing for a complete visual overhaul without having to buy a whole new literature holder. Integrate your brochure cover into the design to create a seamless, professional look.