Pine Crates
---
Arrange Nested Pine Crates for Product Storage and Display
Looking for a display or storage solution with a charming appearance and durable construction? Look no further than stackable pine crates for either the floor or tabletop. Stained in a variety of finishes, including weatherwood, dark brown and oak, pine crates contribute a traditional and classic touch to any modern brick and morter storefront, roadside farmer's stand, or country home. Many of these crates snugly nest within each other for easy storage when not in use, and help to provide the retailer with multiple display sizes for various types of items. Easily pick them up and move them around the store with the notched handles at the opposing ends of the box.
Ornamental in nature, northern white pine is one of the most well respected and commercially important woods. The timber used to construct these crates gives them unique markings and grains that are aesthetically pleasing to browsing shoppers. Carpenters leap at the opportunity to use the dense and resinous properties of pine wood to create high value, long lasting products like the crates displayed here.
Looking for ideas about how to use these pine crates? Here are a few of our tried and true favorites:
Wooden Apple Crates:

Nothing says autumn like a wooden crate full of crisp, delicious apples. From a sweet ruby red Macintosh, to the tart Granny Smith, these square bins are perfect for storing apples in the kitchen, or displaying them at the weekend farmer's market. Try a stackable set of 2 weatherwood stained boxes for that classic New England feel.



Pine Flower Crates:

Display your beautiful flower collection for shoppers and onlookers with a white pine constructed wooden box. Softly arrange bouquets for summertime arrangements, or create rows of flower pots for a point of purchase, impulse presentation at a floral shop or supermarket.



Record Storage Crates:

Store your vinyl collection next to the turntable in these crates. Ensure you purchase a crate that can fit the standard 12 x 12 inch dimensions of a record sleeve, and turn these crates into a place to archive your favorite music! For added flair, put stickers and labels across the beams!



Kitchen Storage Crates:

Use these crates to store and display pots, pans, spices, cookbooks and more in your modern kitchen. Wooden crates complement a modern kitchen by promoting an agrarian and countrified presence. Crates also make a great riser for large dishes and desserts!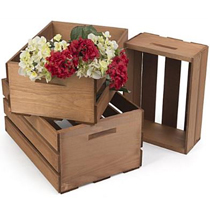 This is just the start, there are nearly infinite uses for these pine crates. You are sure think of many more ideas as you browse Displays2go, a leading retailer of thousands of retail display products including
crates, barrels, buckets
and baskets!