Stand Up Sign Holders with Plastic Frames Include an Adjustable-Height Pole
---
Stand Up Sign Holders and Poster Lenses for Retail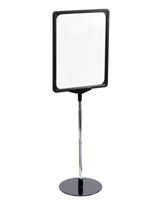 These stand up sign holders with plastic frames can be used by a variety of different businesses. Where can these signholders be seen? One of the most popular locations sign holder stands with plastic frames are used is within a retail institution. In this type of setting, these floorstanding poster holders are used to display sale signage, to draw the attention of consumers to highlighted objects. Stand up sign holders with plastic frames offer an easily customizable option. At the shortest height, each unit is approximately 26-1/4" tall (not including the signholder), enabling signage to be at consumer eye level. This ensures your sales signage will be noticed by store patrons.
A stand up sign holder with plastic frames can often found displaying prices in a grocery store or deli. In these locations, these signholders are placed within a large food presentation, such as a cheese display or on a supermarket endcap. In these locations, the sign holder stands with plastic frames can be used to present prices for food merchandise by the pound.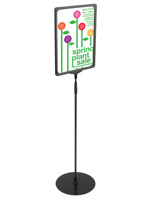 What differentiates these signholders from comparable show card displays on the market?
The plastic frames include a top-loading, slide-in design, for users to make quick and easy sign changes.
The sign holders are sold in a variety of sizes to choose from, ranging from 7" x 11" to 11" x 14"
The plastic frames of the sign stands come in either black or red, for use in a variety of business settings.
All units are durably crafted, ensuring years of use.
The plastic frames of these sign stands feature a groove, which enables users to rotate the frame from portrait to landscape orientation, with the slot positioned on the top or on the side for quick signage insert.
Each unit features a pole which can be height adjusted.
These floor standing holders with plastic frames feature a top-loading design. Users can simply insert their signage into the top slot. As a result, these merchandise are ideal for locations with frequently changing signage or advertisements. Each unit also comes with two signholder options: 1) buying a sign stand with plastic frame for printed graphics; or 2) a unit with a black glossy, write-on board. Each of the units for printed advertisements include two non-glare, PVC lenses. These lenses help to prevent glare from hindering the view of your displayed advertisements. Simply insert your sign in between the two lenses, and insert into the plastic frames.
These particular poster displays include an pole that can be height adjusting. Users can then extend the stand from 26-1/4" to 47" (not including the frame height). The pole is durably crafted to ensure longevity. The poles range in material, from aluminum to fiberglass. There are also a variety of base shapes and sizes to choose from as well, from economy to heavy-duty. Heavy-duty bases ensure your signholders won't tip over easily.