Flat Panel TV Stands for Commercial & Residential Use
Flat Panel TV Stands & Mounts in a Variety of Different Sizes and Styles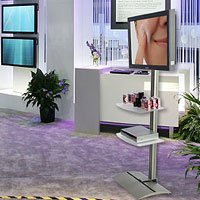 These flat panel TV stands, often referred to as entertainment centers, are the only way to display LCD televisions. They keep monitor screens in full view while elegantly complementing the décor of any environment. What materials are used in making these flat screen stands? High quality woods, metals, and glass are used when crafting this line of LCD television racks for combining sophistication and durability. Displays2Go.com manufacturers these flat panel TV stands right on the premises to insure that they meet all the necessary standards. The price of plasma televisions and LCD monitors is very high, and continues to grow. These flat screen television stands are the ones most people trust to securely support their valuable screens. There many different styles within this online catalog to choose from. Portable, work station, residential, and wall mounting are just a few of the options. These flat panel TV stands are available with different accessories to further accentuate on screen images. No matter the situation, these entertainment centers will provide exactly what the situation calls for.
How do televisions attach to this flat panel TV stand?
Affixing a monitor to plasma mounts is very simple and requires little set up time. This flat panel TV stand comes with all the hardware necessary for installation. If a piece of hardware goes missing, replacement parts can be purchased at any local hardware store.
This flat screen TV stand has a VESA certified mount. VESA, or the Video Electronics Standards Association, standardized the mounting pattern on LCD television racks of all major plasma monitor manufacturers. All brackets comply with the regulations to ensure that the television will attach.
Many of the wall and ceiling mounting models use a locking bar for keeping the monitor in place. The bracket can adjust with the width of the television screen to properly accommodate it. A strap is also included with many of these displays to further secure the television.
The residential entertainment center collection includes many cabinets that do not have mounts. These corner stands let users simply place their monitors on the counter top to make installation even easier
Who uses these LCD television racks?
Flat screen TV stand units are often found at trade shows. Many trade show booth operators and mall kiosk workers will take advantage of portable entertainment centers for convenient traveling. This type of flat screen TV stand is also very tall, making it great at attracting people.
Schools, libraries, and other media centers will use the work station models for teaching interactive lessons to students. Hospitals attach cameras, EKG machines, and other technology to this flat screen TV stand to help evaluate results. Retail stores frequently make television advertisements and digital signage for use in their store front windows.
This flat screem TV stand comes in residential versions. Home entertainment centers benefit a great deal from a LCD television. Flat screen TV stand options for the home come with shelving options that are practical and aesthetically pleasing.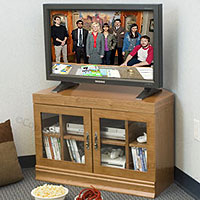 These plasma mounts can be as simple or complex as the situation calls for. In traditional public settings, a one or two post LCD television rack is the appropriate choice. Add a wooden or metal shelf to the plasma rack to create a great work space. Shelves are available in different sizes and are easily removable. At trade shows, print advertisements are a great way to provide context for on screen showcases. Attach a clear acrylic literature holder to the post to circulate brochures or catalogs. Posters and banners are another great touch. Displays2Go.com will silkscreen custom images onto these displays for a slight fee. People who frequent trade shows will want to browse the collection of trade show booth kits. These feature 8' x 8' poster frames for large custom images. There are also portable plasma mounts for television presentations on the go. Truss design and knockdown styles are quick to assemble and disassemble. The truss style television rack does not require any tools! Get everything necessary out of the display with these entertainment centers.
Residential LCD television mounts have softer features for blending in with living room or bedroom furniture. Although these plasma mounts are classified as residential, they work well in conference rooms or waiting rooms. Models in this category range in height from 20" to 70" tall. Customers can choose LCD television stands with wooden exteriors. These models are cabinet style television furniture with hinged or sliding doors. The doors feature infrared passing glass so remote control signals can go through. Wooden displays come in cherry wood, golden cherry wood , and chocolate walnut colors. There are holes in the back of the wooden LCD television racks for electronic wires to pass through. The other option is glass shelving on metal posts. These metal posts are hollow to conceal wires. The glass is available in clear or tinted black for an aesthetically pleasing look. Elect to have one, two, three, or even four shelves within the display. They are great at supporting media players, DVD collections, game consoles, and much more. Many of these models also include a glass base for extra elegance. These bases have feet attached to prevent scratching. Residential models can support or be the centerpiece of a great home display.
A great accessory available in this catalog is digital media players. These players create unique signs and displays on the television screen. Displays2Go.com sells digital media players as part of digital signage packages. These packages include a choice of player, television, and plasma mount. Each style of digital media player offers unique slideshow and image display capabilities. Load and manipulate on screen content with a USB device or through WiFi technology. Images, slideshows, scrolling text, live news updates, and videos can all be used at once. One of the players can even access live TV. Beginners can use the provided templates and advanced users can create their own. There are so many different possibilities. Television monitors provided with this kit come in 32", 40", and 52" widths depending on the entertainment center purchased. The monitors include a three year warranty from the manufacturer. Each rack features an acrylic holder for the media player. These digital signage packages are a versatile mode of advertising.
Displays2go is known worldwide for their outstanding collection of television stands and monitor rack accessories. Their online catalog is the one that businesses and home owners trust the most. Peruse the entire selection to see all that they have to offer. Their collection includes a host of different P.O.P. displays for corporate and residential use. There are television racks, display cabinets, ballot boxes, food displays, brochure holders, and so much more. The online category is always growing to include the latest and most appealing styles. Check back often to see the newest lines of merchandise and low prices on older models.