Freestanding Digital Screens with High Definition Touch & Non-Touch Panels
---

---
Freestanding Digital Display Screens for Advertising and Customer Engagement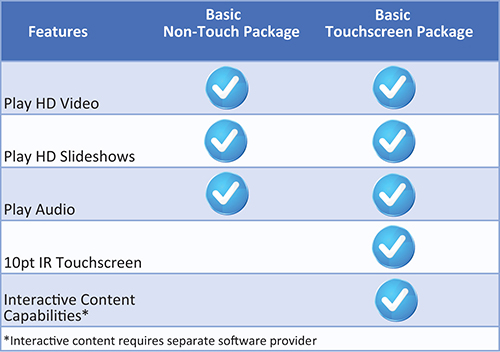 In modern day business, it's crucial to deliver a powerful brand impression — but it's so much sweeter when done quickly and without a ton of manual setup. Freestanding digital screens, available in both touch and non-touch panel models, are cost-conscious and effective tools to deliver your message. Floor standing kiosk displays are designed to engage, inform, direct, and welcome your guests with vibrant visuals and memorable advertising. Freestanding digital screens are as easy to use and set up as a smartphone, making them great for hotel lobbies, educational settings, office entryways, retail storefronts, mall ways, and reception areas. Our non-touch models are ideal when the desire is to simply display eye-catching, high resolution electronic signage that remains static. Our freestanding digital screens with touchscreens aid business owners in efficiency with super easy to set up interactive menus for restaurants or business services.
Available in varying heights, with a touch or non-touch screen and with or without built-in content management software, our advertising kiosk displays are made for the everyday business owner. Employing a standard Android OS with WiFi capabilities, the floor standing digital screens all come with a standard set up, ready to feature HD videos, slideshows and play audio. If you're looking to purchase an all-in-one standing kiosk display with built-in software rather than having to shop around for your programming, our deluxe non-touch units include DisplayIt!Express content management software. This program is feature packed and ready to schedule campaigns, push content right from your desktop and control multiple signage stands at once. Would you rather start off with basic capabilities? Choose a standard 43" or 55" model and come back later to purchase the content management software separately.
What features come with electronic signage?
Both touch and non-touch screens available to suit varying business needs
Touchscreens with 10pt IR design for multi-point, quick screen response
Easy-to-use Android OS, same system used on Samsung and Google smartphones
DisplayIt!Express content management software available for building custom campaigns
Play HD videos, slideshows & audio
Built-in remote content management capability on deluxe units
Full HD 1080p resolution
178°/178° viewing angle
1200:1 contrast ratio
450-nit brightness
Dual 10W speakers
Content management system available separately
Plug-n-Play USB ports or personal Dropbox access for streaming content
Wireless WiFi or Bluetooth connection ability
Commercial grade monitors have 30,000 hour panel life
Escape into a world where crisp, stunning HD quality graphics are literally at your fingertips
10pt Touch Screen Floor Standing Digital Signage
Dynamic HD images, simple content management. Be here now.
Non-Touch Digital Floor Signs
Whether you're a small retail startup or a large hotel chain, our floor standing digital screens affordable enough for any business to take a step into the modern age of advertising and brand empowerment. Vivid and crisp messages make a statement not so easily ignored or forgotten in busy or high-traffic areas. Our electronic advertising displays are perfect to display wayfinding signs in an airport, hotel or large office park or to promote sales or menu options in a retail store or restaurant. They are also great for generating interest in new promotions in financial institutions or as a general information board within your company. The opportunities are truly endless and only limited to your imagination! Not seeing what you're looking for here? Shop more electronic displays from Displays2go!