Posted on 24, December, 2015
Last Modified on 12, January, 2016
Shop Products from This Guide
This DJ buying guide is for entertainers whose customers are hosting private parties, weddings, bar mitzvahs and any other celebratory event. Private event DJs are a completely different breed from club DJs for a number of reasons. One way the two are so different is that the private event DJ is accountable for supplying equipment for the event, such as lighting, speakers, microphones, and projectors. As a result, event DJs are accountable for much more as any technical problems on on them. For example, some of your equipment may fail in the middle of the event and you'll need to get through it since stopping the entertainment is not an option. Solving the problem may be as simple as swapping out a cable, but other times it can be more serious or even out of your control. Your job as the event DJ is to anticipate every problem and have a appropriate solution ready. Believe it or not, some DJs pack complete backup rigs in the event of equipment failure so that should give you some idea of just how serious this business is. Read on to discover the many ways you can prepare for your gigs and find out what event DJ products are a necessity for your success!
DJ Sound & Audio Essentials
Don't get lost or overwhelmed when determining which sound system to purchase. To make shopping easier, ask yourself a few questions before purchasing the DJ sound system.
Will you be using your equipment indoors or outdoors?
Will you have to move sound systems during the event or ceremony?
How big are the audiences that you will be entertaining?
What will you be using for a music source? CDs, MP3s, a laptop, microphones?
How many wired/wireless microphones will you be using?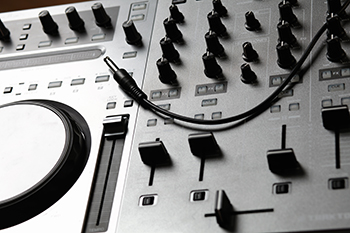 After answering these questions you can find the right portable audio systems to fit your requirements by looking at the systems' specifications. If you want the option to use a wireless microphone or lapel you will want to make sure you have the wireless receiver and transmitters integrated with your system. It would also be wise to purchase a tripod or other folding stand for each speaker you have and at least one microphone stand.
Many AmpliVox sound systems include a remote control for adjusting volume levels and auxiliary functions. If your setup is wireless, you will want to make sure you have all your equipment set to a frequency that will not be interrupted by other sources, like radio station broadcasts, for example. If the DJ speaker system is wired, you will want to make sure you have enough compatible cables. You'll want to pack some replacements too just in case some stop working. When it comes to loudspeakers, one of the most important factors to consider is power. While independently powered loudspeakers do not require an external power amplifier, unpowered speakers will so you'll want to make sure that the output of your powered amplifier is appropriately matched with the speakers in that case. Too much power can overdrive the speakers and eventually blow them out. Underpowering your speakers is also harmful and can result in damage.
DJ Area Back Walls, Tables & Covers
Now that you know a bit more about audio and speakers for DJing, you will want to work on the space where you will actually be making announcements and playing music. Supplies like back walls and backdrops elevate your DJ booth to a more professional level. Plain curtains or polyester backdrops also block everything behind or around you, like unsightly wires, traveling cases, and other distractions. Custom printed banner backdrops are also available to add your events brand name or sponsors. Truss systems are another great DJ fixture to use as lighting stands and TV mounts. Even standard folding tables can be great additions to a DJ booth.
You can add more customization to your booth with other DJ supplies. Table covers provide a great way to hide old, beat-up tables and can be customized with company logos or emblems. There are all kinds of different table covers and linen sets, including convertible throws, stretch covers, skirts, and runners.
Digital Displays, Projectors, Mounts & More
Some other great event DJ equipment to add to your arsenal includes projectors, screens, digital displays, and TV mounts. All of these multimedia products are perfect for showing slideshows, music videos, remote speeches, and any other visual aids. The integrated media players used in some digital displays, like LG's SuperSign, are the main components used to create and show slideshows and videos. If you already have an LCD or LED monitor or TV screen, you can purchase an external digital signage media player that will attach to the display. The media players usually include a wireless remote to control your screen. Monitor and digital display mounts are also very important to have if you're going to use this technology while DJing. Choose from many different types of floor standing, ceiling hanging, or wall mounted monitor brackets. We also have ceiling hanging and wall mounted projector mounts with adjustable, rotating, and tilting features. If you prefer to use a projector, make sure you have a screen large enough for all guests to easily see the media.
Dance Floors
What is a party or event without dancing? Dance floors are another item you can add to your DJ packages. You can actually waste money renting dance floors after a while. Purchasing a dance floor will not only save you money compared to renting, but can make you money after using it at a few events. Portable dance floors have progressed in the last few years. Now you can use them indoors or outdoorsl; they come in many different styles/colors; some even include safety features. For example, to prevent tripping, sloped edges create a gradual transition for everyone to easily walk on and off the floor. Cable management integration keeps the cables under the dance floor away from foot traffic and doesn't affect the level surface of the dance floor.
If you think you will use a dance floor for more than one event, then we suggest buying a dance floor. You will be able to use it without worrying about rental cost and you can even consider renting it out to other parties to recoup the initial expense. Of course this flooring isn't just for dancing. It can also be used for outdoor event dining or other events. There are many other advantages to purchasing portable event flooring, especially from us. Here are a few features that our dance floors have:
Sloped Edges
Lightweight Design
Look & Feel of Real Wood
Quick Assembly w/ No Tools
Different Wood Color Options
Impact & Shock Absorbent Ribbed Base
Interlocking Tile w/ Loop & Snap Connections
Polypropylene Co-Polymer/High Impact Material
Cable Management Channels for Lights, Speakers, Computer Equipment
DJ Transportation Cases
Now the event is done and it's time to take down your DJ booth, lights, photo booth, tables, speakers, and whatever else you brought in. To organize everything so that it can be transported easily and safely, portable shipping and storage cases are very important to have. We offer mobile DJ cases for audio systems, backdrops, digital displays, truss systems, and many more.
Start Shopping!
Hopefully with this guide you have learned what audio products are right for you, how to upgrade your DJ booth area, and how digital displays can help you easily make professional presentations. Now that you have more of an idea of the type of products you need, feel free to browse our selection of DJ displays and equipment. If you have any questions or need help, feel our support team is here to help you.