Posted on 10, March, 2015
Last Modified on 18, May, 2016
Our exclusive DIY office door signs are some of the most popular products we sell and for good reason. The acrylic panels include mounting hardware and printable film, creating a practical all-in-one office sign solution. Each system features a customizable design that can be tailored to suit the needs of any location. Additionally, the enclosed standoff hardware adds a modern touch that rivals much more expensive custom office signs. The following text applies to all of our DSIGN SKUs. Read on to discover the different kit options and learn how to make as well as install your DIY office sign.
Choosing the Right Kit
You'll notice that we have quite a few different options when it comes to these DSIGN kits. Shape is one of the first considerations to make when deciding on the right panels. We carry square and rectangular panels as well as circular and oblong shapes. While most of the designs are flat, some have curved faces that add a distinct, contemporary look to your signage. Choosing the right system depends on personal taste, so take a look at all the different options before deciding.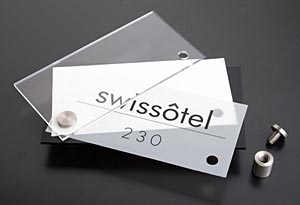 Standoff hardware is another important choice to make. Our selection of sign standoffs is quite vast and spans a fully array of styles. The metal sign mounts included with these kits usually come in either black or silver for a neutral look, but customers can purchase additional designs to add an even more custom appearance. There are a variety of lengths as well. You'll want to choose the dimensions based on how far away from the wall you want your sign mounted. Rest assured though, the diameter of the included hardware is perfectly matched with your pre-drilled panels so there is no question about whether it will fit. Last but certainly not least, you'll want to think about the different kinds of mounts. We offer through-style mounts that actually mount through the panel. We also carry edge grip styles that clamp around the side of the panel rather than being mounted through it. Another important choice is whether you want standard or tamperproof standoffs. Tamperproof, or locking, options lock with a set screw to ensure that no one can easily remove your sign.
While most of the included panels are clear, there are some differences in the acrylic hues. Some have a green-edge with a slight tint on the panel, while others have fully transparent color with frosted or polished edges. Some of the kits even include a black back panel that creates a unique, upscale appearance once installed.
Making the Sign
In most cases, the kits come with two types of printable film: frosted and fully clear. Three sheets of each are included, so users can create a few different signs on each material if they like, which is great for shared spaces like conference rooms and offices that frequently change locations and signage.
When creating the graphics for your DIY office signs, keep it simple. Overly complicated images and fancy fonts tend to affect the clarity of the information being conveyed. Typically, vector art is better for creating logos, emblems, seals, and other company graphics. The same can be said for color choice. In general, keep the colors minimal to avoid ending up with hard to read signs. Also when creating the graphics, use CMYK color mode instead of RGB for the truest final result. Most people use some kind of computer software to manipulate their images and text, like Photoshop. There are a few free software options that are available on the web if you do not have access to photo manipulation software.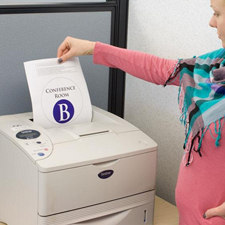 It is extremely important to note that the provided film only works with laser printers (not inkjet). Printing on the film can be done relatively easily and most offices have access to a laser printer. If not, head to the local library or print shop to finish the job.
Installing the Panels on the Wall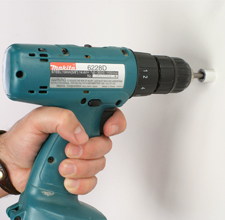 If the panels you ordered are pre-drilled for through standoffs, simply position the first panel on the wall and make sure it's level. Then, with a pencil, mark the wall for your drill holes. If your kit comes with edge-grip standoffs or a mounting rail, take extra caution when marking the wall for the pilot holes. Edge-grip standoffs can be mounted in steps (two on the bottom first, then the two on the top) to ensure a tight fit around the panel once installed.
Next, pre-drill the wall with a pilot bit. Use some wall anchors if you are unable to drill directly into wooden studs. If you are mounting onto concrete and other masonry, you should definitely pick up some wall anchors from your local hardware store prior to installation.
After the holes have been drilled, install each standoff base with a screwdriver or drill. Be sure not to overtighten the hardware if you are using a power drill.
Once the bases are tight against the wall, sandwich your custom printed film between the acrylic panels.
Finish the installation by threading on the standoff caps. If you have locking standoffs, be sure to tighten the set screw to eliminate the possibility of tampering.
Braggin' Time!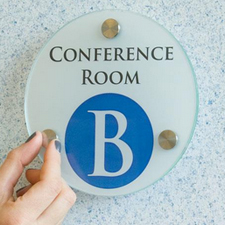 Now that you have installed your custom, DIY signs, you're ready to show them off! Visitors to your office will be blown away when you tell them that you not only designed your own signs but also saved a bunch of money while doing it. Similar custom options cost hundreds, even thousands, of dollars but not these kits. We aim to save you money while providing one of the finest office door sign systems available anywhere.