Table Tents with Full Color Custom Graphics on 24pt Cardstock - 25-Piece Packs
Custom Table Tents - Choose Colors, Insert Text, and Upload Graphics
Need Design Assistance?
Learn about our affordable professional graphic design services. Or, if you'd prefer to send us your artwork files, please contact us for upload instructions.
Description
Create Custom Table Tents with Our Designer Tool!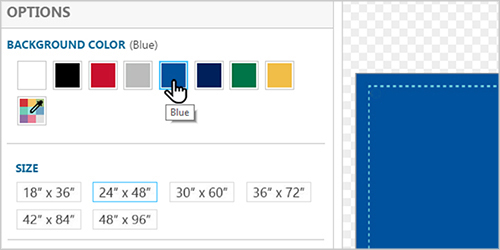 1: SELECT SIZE & COLOR
On the OPTIONS tab:
BACKGROUND COLOR: Click on a color square to fill the background with a solid color.
ADVANCED PICKER TOOL: Select to choose your own custom color by dragging cursor or entering HEX values.
SIZE: Available sizes are 4" x 6", 5" x 7", or 8.5" x 11".
Your design will remain in place if a new product size is selected.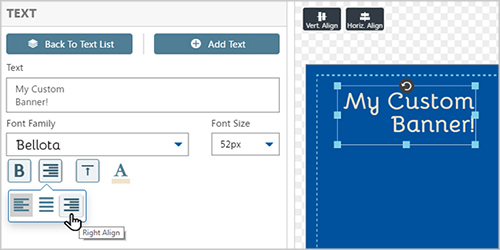 2: ADD & EDIT TEXT
On the TEXT tab:
Select ADD TEXT to create a new text box.
Replace "Add Text Here" with personalized message.
Click FONT FAMILY drop own menu to choose from 18 unique styles.
Choose FONT SIZES between 12px and 120px for small and large text.
Additional options include BOLD, COLOR, and alignment.
Select BACK TO TEXT LIST to edit existing text boxes.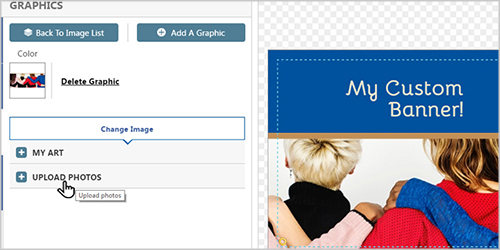 3: UPLOAD CUSTOM GRAPHICS
On the GRAPHICS tab:
Select ADD A GRAPHIC to create a placeholder image.
Click UPLOAD PHOTOS to browse your computer for personalized images of your choice.
Choose your graphics (min. 150 ppi) in JPG, PNG, AI, EPS or PDF format.
Select BACK TO EDIT to adjust size, placement, and rotation of images.
If a file is too small to meet print requirements, a red outline will appear around the graphic.
Artwork Placement Details
Blue dashed lines on the Designer canvas indicate safety lines. Keep all important text and graphics inside this area.
Guidelines will not print on the actual sign.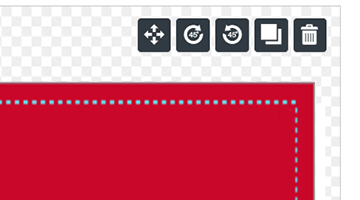 ---
How to design an effective table tent advertisement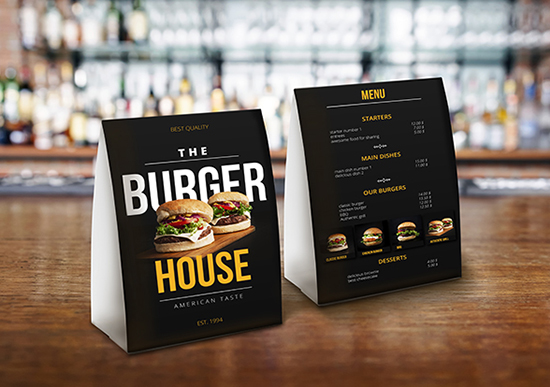 Our interactive tool lets you create unique counter signage with your own graphics. Use the 2-sided design to vary your message on front and back. To improve the effectiveness of your advertisement, follow our design tips:
Color
Make use of our full-bleed, edge-to-edge UV printing by choosing a background color that allows graphics and text to stand out. A dark background works well with light color text and graphics.
Photos
A high-resolution photo can be used as the focus of attention on one or both sides of your tent card. Keep any accompanying text brief for a professional looking design.
Logos
Use bold, high-resolution graphics, at least 150ppi, for crisp vibrant signs that catch the eye of customers.
If you'd prefer to create your design in Adobe Illustrator or Photoshop, use the downloadable templates available in the resources section below.
---
What are table tents?
Table Tents are personalized A-Frame signs used to advertise at restaurants, bars, retail stores, and special events.
Our UV digital printing process means your custom images and text appear vibrant and eye-catching on premium heavyweight cardstock material. Promote menu items, drink specials, retail sales, or business services with cost-effective custom table tents.
---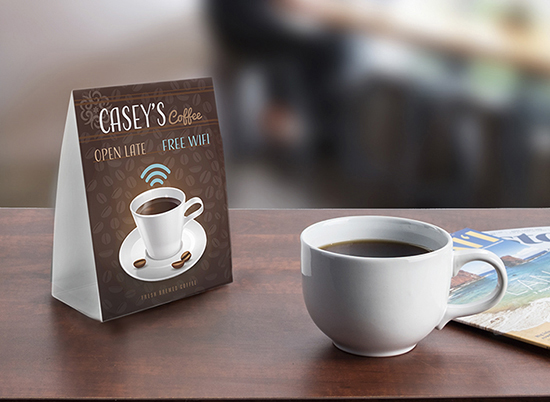 How to increase revenue with table tents
Custom printed paper table tents let business owners boost sales while staying within budget. The personalized paper signage features affordable bulk pricing, great for placement on a large number of counters.
Inside the shopping cart, enter your desired quantity in increments of 25 to see quantity price breaks, or contact us for more info.
Portable, double-sided tabletop cards have the power to:
Tempt restaurant diners with dessert options displayed on one side and list drink specials on the other.
Encourage coffee shop patrons to linger with a "Free WiFi" message on one side and menu specials on the other.
Generate interest in real estate listings with home pictures and realtor contact information.
Draw visitors to your expo booth with vivid product images and brand logos.
---
What are common table tent sizes?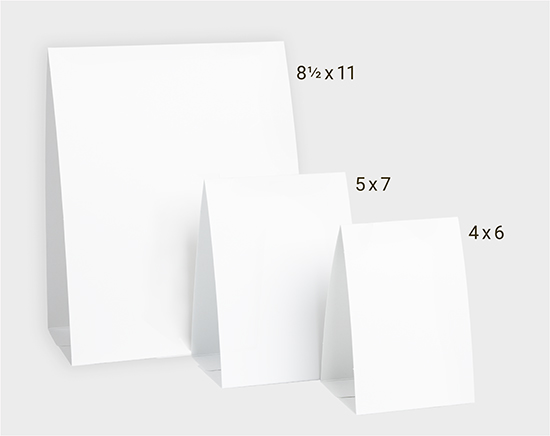 Our table tent signs are available in 3 popular options:
4"w x 6"h
5"w x 7"h
8.5"w x 11"h
These promotional cards have a folded design that ships flat.
The interlocking base closure remains unprinted.
The table tent size 4 x 6 means that each of the two printed sides measures 4" wide x 6" tall.
---
Product Resources & Downloads
Filename
: TBLTNT_Illustrator_Artwork_Templates.zip (1.75 MB)
Filename
: TBLTNT_Photoshop_Artwork_Templates.zip (477.94 KB)