All Customer Reviews For DCAWEC1620
---
---
---
They're perfect
But each had a crack in one corner it was weird because they where packed so nicely. I think the problem is FedEx they are not good shippers. I did return the items because I think FedEx would screw it up again.
---
Great products
We have bought a number of these display cases in varying sizes. They are extremely well-made, easy to put together, packaged so that even brutal shippers do not destroy them, and they arrive quickly. They are worth the price.
---
16 x 20 Wall Mounted Exhibit Case w/ Linen Backing, Acrylic Vitrine - Tan
I PURCHASED THIS ACRYLIC DISPLAY FRAME FOR MY HUSBAND, AND HE LOVES IT!!!!! HE HAD SAVED HIS CORAL REEF FROM OUR TURKS AND CAICO TRIP 2018 AND HE WAS LOOKING ALL OVER THE STORES FOR A NICE SHADOW BOX TO DISPLAY IT. I FINALLY DID MY RESEARCH ONLINE AND FOUND YOUR COMPANY AND I'M SO HAPPY I PURCHASED THIS ACRYLIC DISPLAY FRAME FOR HIM!! I PLAN TO BUY A SMALLER SIZE FOR HIS OTHER CORAL REEF FROM OUR HAWAII TRIP 2018 AND WILL DISPLAY BOTH FRAMES IN OUR HOME. THANK YOU!! MARIE NANTES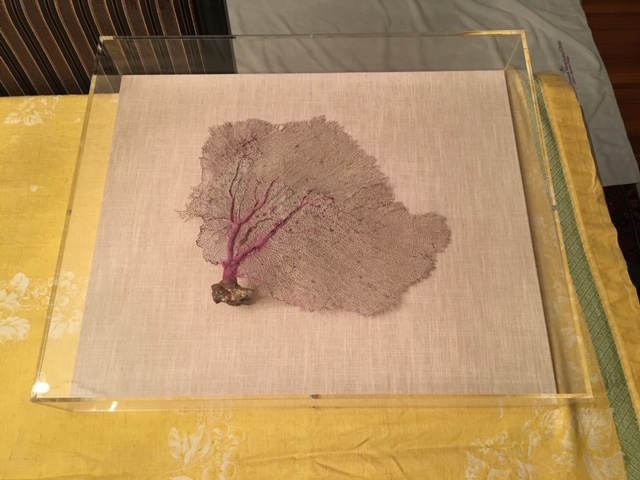 ---
Beautiful
This is a wonderful display! Rigid in structure and I have confidence in it lasting for a long time
---
---
STUNNING!
I rarely write reviews but this product is absolutely stunning! Thrilled with the quality of the acrylic and linen. It arrived quickly in durable packaging and it's perfect for displaying my original art. Could not be happier with the purchase! BEAUTIFUL!
---
---
Lovely way to exhibit and protect the things you love.
We have several of the larger and one of the smaller cases. They are well-made, crisp, and very professional looking. Fast delivery and extremely well packed. We highly recommend them. They are easy to hang using the z bar or French Cleat system that comes with the cases. I would suggest offsetting the wall cleat in a few millimeters from the measurements on the cases cleats and not get too tight as that makes hanging the case far more difficult than it should have been. If done right, you lift and set the board down on the cleats and the weight holds it in place against the wall.
---