What Is a Clip Frame?
---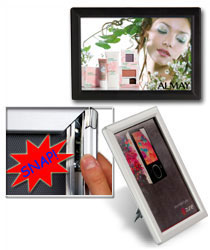 Extra Small Snap Frames
View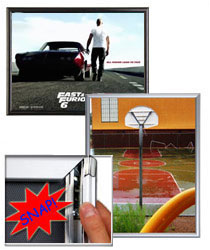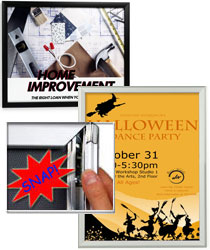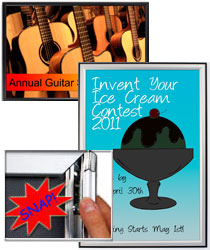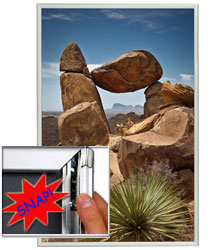 Extra Large Snap Frames
View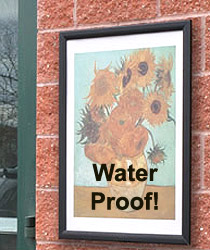 ---
The Clip Frame: A Close Look at Materials, Technology, and Use
What is a clip frame? It may seem like a simple question, but many people don't know what a clip frame is, or how one works. Many companies boast, "A clip frame is the best innovation in poster signage," but never explain why. There are many materials and technologies that go into the making this style of picture frame. This clip frame, sometimes called poster gripper, warrants a close study. The following is a detailed description of the construction and proper way to use a snap frame.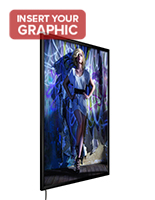 Material:
Almost every clip frame starts out in the same way: in pieces. There is a backing, four frame profiles, flat springs, and a lens. The back can be fabricated from a variety of substances, but is commonly crafted from plastic. Plastic allows the poster frame more versatility in placement. The snap frame can mount to the wall or stand on a table with a display foot. When it comes to the four frames there is more uniformity. Companies generally manufacture a clip frame with either a plastic or a lightweight metal. Some distributors sell wooden frame selections, but they haven't been as well received by the mainstream. Displays2Go.com carries clip frame systems in extruded aluminum. You can choose between black and silver anodized finishes. Both styles of poster gripper feature a matte finish and slim design. The profiles can meet at a plastic corner or rounded edge on the backing. Connecting the profiles to the backing are flat springs. These attachments are integral in the picture frame technology that makes a poster gripper grip. In the next section, the focus will be on how the springs function in the clip frame, but it is important to note that these pieces should be metal. This metal technology makes for a more durable and secure poster gripper. The last part of the snap frame is the non-glare lens. Essential in creating advertisements that are visible to the public, plastic and glass are the two most common choices for a lens. Plastic lenses have become the preferred choice when it comes to poster grippers. This type of snap frame lens prevents glare from affecting the visibility of customers. Once the lens is applied to the frame, there is a fully functional display ready to be shipped to your door.
Technology:
What makes a picture frame "snap"? That's the key to snap frame technology. This poster gripper line implements eight springs (three on the long profiles and two on the short) that work as hinges for opening and shutting the frame. Although all four profiles are connected to the plastic backing, the springs produce the snap and grips the poster in place. Without the flat metal springs, every snap frame would simply flop and open without warning. The revolutionary poster gripper design relies heavily on these springs, which why it is important to get metal ones. Displays2go.com only carries picture frame models with metal hinges. Snap frame systems are ubiquitous. This photo frame technology works well in all of the wall mounting and floor standing displays offered on our website.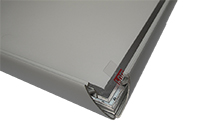 How It Works:
Like with any other product, you want to be able to use it right away. Although a poster frame is very simple to operate, this line saves you even more time loading messages. You would be surprised at how easy it is to adjust to a poster gripper frame. A snap frame is a front loading display, so you can adjust or change your posters without taking it off the wall. First open up each frame profile one at a time. It may be most convenient to start at the top of your poster gripper, but it is not necessary to begin there. Once the entire photo frame is open, remove the lens from the snap frame. Then, load your desired poster into the poster frame. After you have formatted your announcement, poster, or photo in the exact position you want, simply close each poster gripper profile. It's as easy as that! Practice a little with the snap frame until you are comfortable. Retail stores, banks, advertising companies, schools, restaurants, and trade shows love these poster frame systems because they make for quick sign changes. You will be satisfied with your snap frame!