Create Your Own Custom Foam Core Posters with our Designer Tool!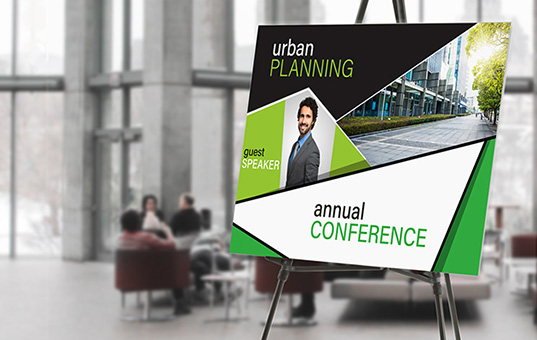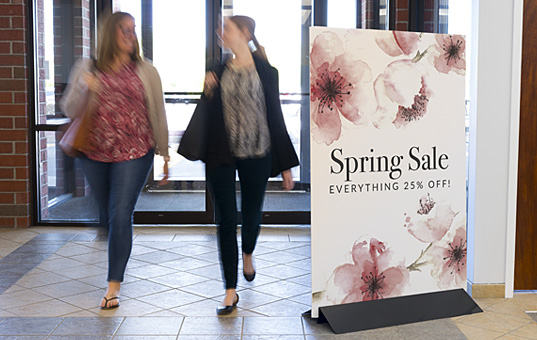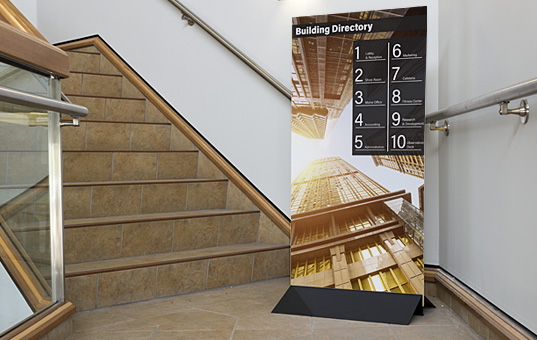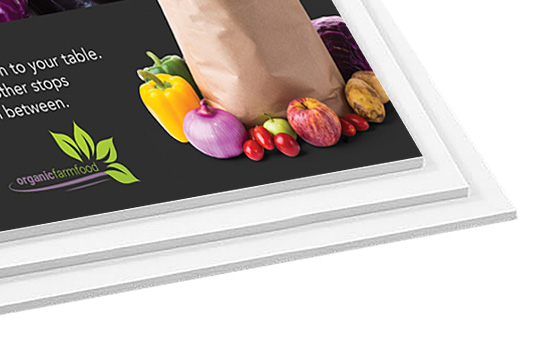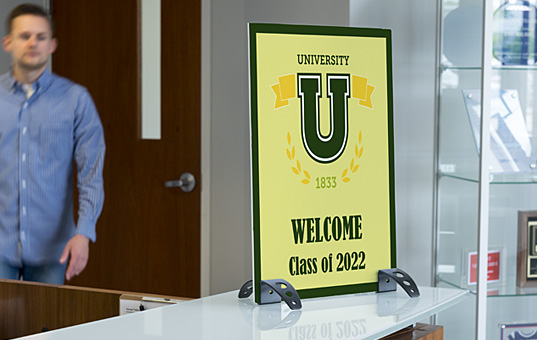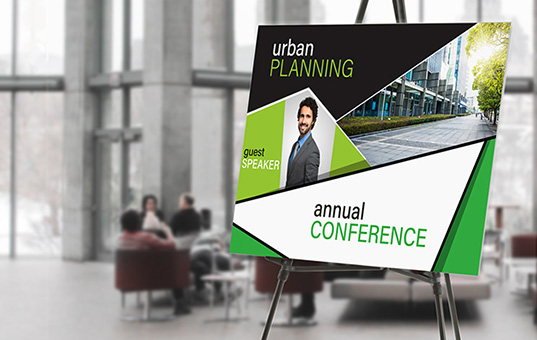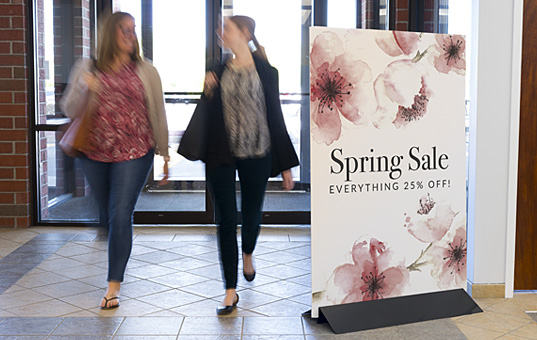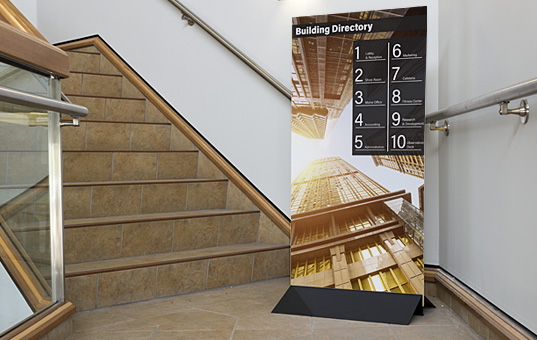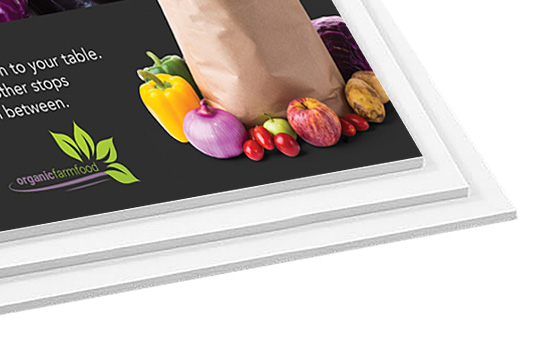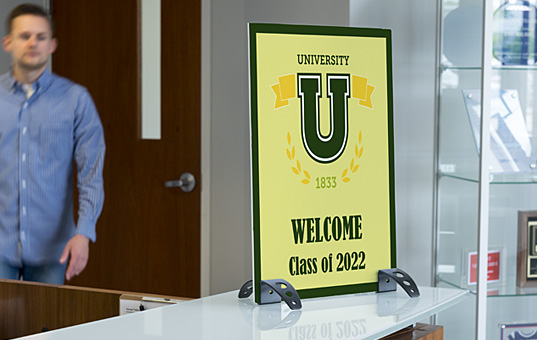 Printed Foam Core Boards
Clay-Coated Paper Surface
Extruded Polystyrene Foam Core
.188" Thickness
Standard Poster Sizes
Interior Applications Only
Starting at $14.99
Start Designing
---
What Is A Foam Board Sign?
Affordable, photo-quality temporary signage is easy to create with our custom printed foam boards.
Each 3/16" thick backer features your full color personalized graphic for sales presentations, special events, retail welcome boards and other indoor applications.
Available in the most common poster-size formats, our lightweight foam board signs are printed in-house at Displays2go with a 4-color UV ink process for vibrant high quality results.
The easy to use Designer tool lets you choose from several options, including custom colors and graphics, portrait or landscape orientation and single or double-sided printing.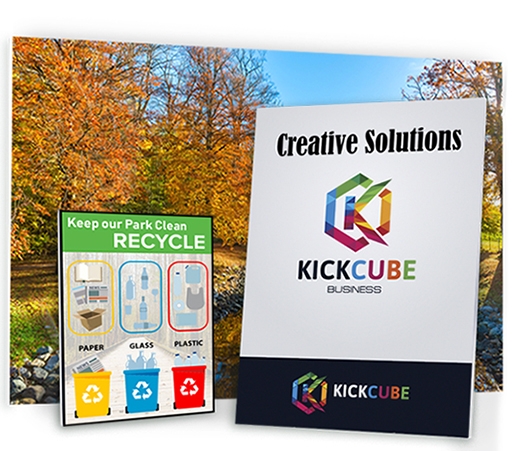 ---
Why Use Foam Core?
Rigid but ultra-lightweight, foam core board is a popular substrate for temporary signage. Our boards are available in the industry standard 3/16" thickness.
This material is comprised of a white extruded polystyrene foam center covered with two layers of coated paper. The coating acts like a painted primer and is tailor-made for direct-printing, especially with the UV ink process.
Both face and back surfaces are smooth and untextured, perfect for printing complex graphics and vivid photographic imagery as well as areas of solid color and text.
---
How Do I Care for My Foam Board Sign?
Foam core board bends easily, especially larger sizes, so care is required when handling. To help prevent dents, avoid setting objects on top of the board.
While the UV-cured ink is permanent and abrasion-resistant, these foam boards are best for short-term promotions or other temporary uses.
Recommended for indoor use only. In order to keep your signs in good condition, avoid exposure to moisture. Wipe surface with soft dry cloth if necessary. If an outdoor sign is needed, check out our Coroplast sign selection.
How Are Custom Foam Boards Printed?
Our in-house printing process provides incredible full color resolution for both large and small formats. Foam board signs can be printed edge-to-edge with fade resistant for photo-quality images and detailed graphics.
This digital UV printing process uses ultra-violet lights to dry, or cure the ink as it is printed, which means artwork details and vibrant colors.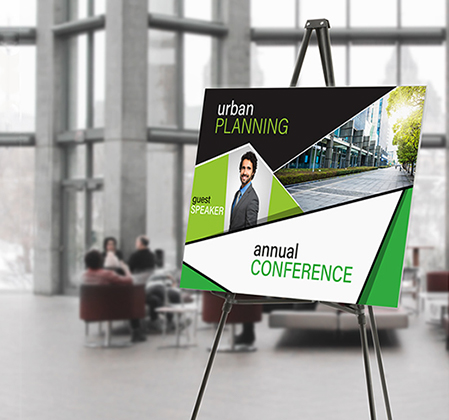 ---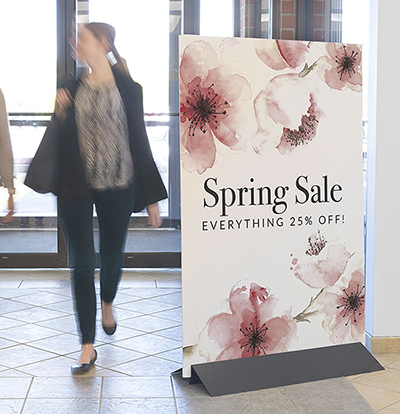 Where Can I Use Foam Board Posters?
Lightweight foam core rigid signage is perfect for indoor events, advertising, or temporary wayfinding.
Announce a university guest lecturer. Use a tabletop sign holder to display on a counter or desk, or place larger signs on a wood or metal easel.
Direct wedding guests to the reception room. Pair with a decorative metal easel to create an affordable but elegant display.
Announce retail shop sales and store events. Large format signs can be quickly set up with floor standing sign holders. Be sure to select double-sided printing for best visibility to shoppers.
---
What are the size options for printed poster sign boards?
Available in 9 popular sizes in both portrait and landscape orientation, choose from small tabloid dimensions or up to 5ft-tall large format graphics.
11"w x 17"h
16"w x 20"h
18"w x 24"h
22"w x 28"h
24"w x 36"h
30"w x 40"h
24"w x 48"h
36"w x 48"h
40"w x 60"h