Create Your Own Custom Professional Table Runners with our Designer Tool!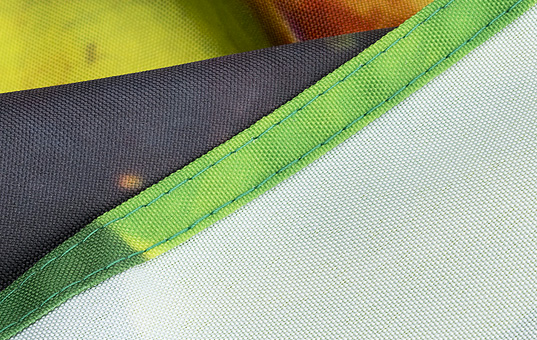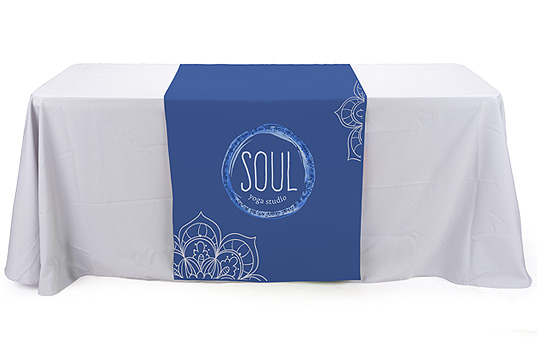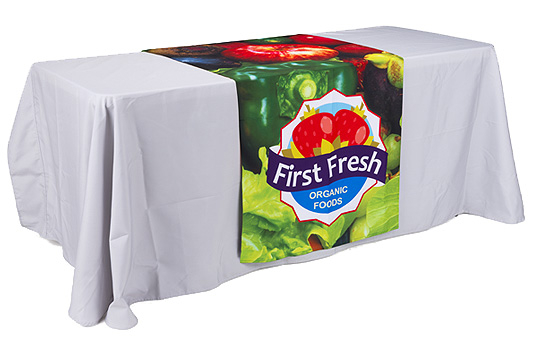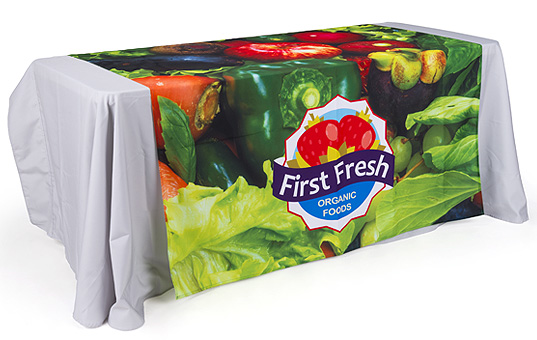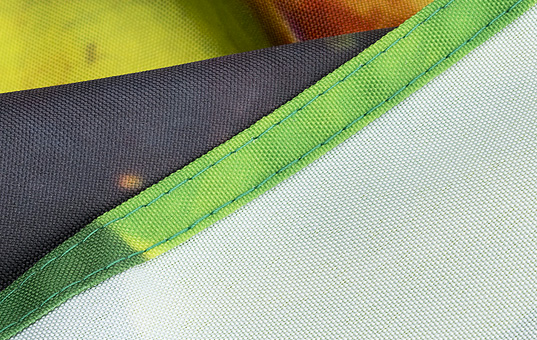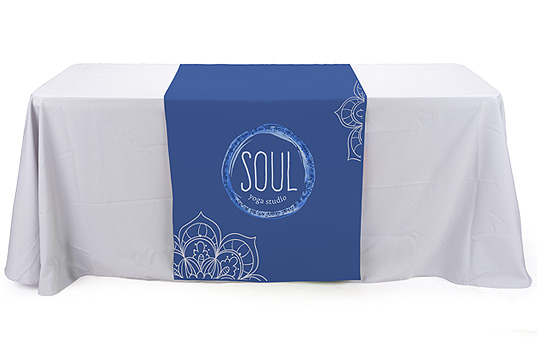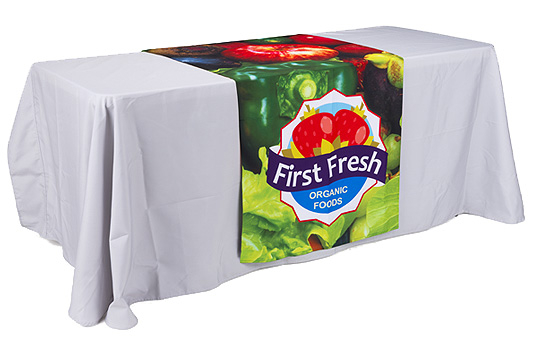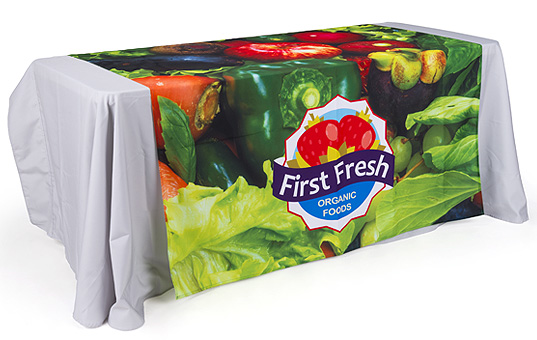 Custom Printed Table Runners
Full-Color Dye Sublimated Printing
Wrinkle-Resistant Polyester Fabric
Folded and Sewn Hems
Two Available Widths: 30" and 60"
Flame Retardant for Trade Show Compliance
Starting at $89.00
Start Designing
---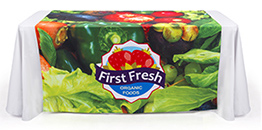 Custom Professional Table Runners - Full Color Personalized Accessories in 30" or 60" Widths
Custom professional table runners with full color graphics are an easy and cost-effective way to build and boost brand identity at public events. Available in both 30" and 60" widths, our dye-sub printed tabletop accessories are ideal for use at anything from trade shows to farmers markets to job fairs to in-store product launches or tastings. Heavy duty 10-oz polyester fabric is machine washable and wrinkle resistant, with finished edges featuring a rolled and stitched hem for style and durability. High quality custom table runners for events are an ideal way to turn standard solid-color tablecoverings into stylish branded fixtures that match your specific brand imaging requirements. Designed with off-site use in mind, these accessories are easy to ship, set up, and store, and include a re-usable carrying bag for easy transport and storage.
Our full color professional custom table runners are easy to personalize using our Designer function. Simply select the desired width, choose from pre-selected or your own customized base color, and upload graphics and/or text as desired. Preview and edit as needed until your tablecovering is ready to go. All-over, edge-to-edge printing means that you can create anything from a simple logo or marketing message to a photo-quality pattern with integrated graphics. Whatever you can design, we can print!
---
Tips for Best Results Designing your Table Covering
2D and 3D Views
Design your cover in a 2D, flattened layout and click the "Preview" button to see your design rendered in a 3D image. It's important to note that the orientation of text when placed in the 2D layout may look different when in 3D view. Check the 3D Back view to see how text will appear on the back of your runner.
Safe Areas
Keep important text or images clear of the fabric edges, so they are clearly visible when the fabric drapes over a table. Text & images usually look best centered within a designated area.
Helpful Information
The Designer guidelines, shown as grey dashed lines in the 2D view, will not print on your table cover. Also, colors and graphics will appear crisp and bright on one side of the fabric only. The back of each printed cloth will show a screened, reversed view of the front graphics.
---
Table Runners with Customized Colors for Logos, Graphics, and Patterns
Our digital printing process means that, starting with a plain white polyester fabric cloth, we can replicate graphics with photographic reproduction quality in any combination of colors, including hexadecimal color values. That's a fancy way of saying we can recreate the exact hue you need, from Tiffany blue to hot, blush, rose, or that particular pink. Looking for a green table runner? We've got you, and your table, covered. In addition, our high quality dye sublimation printing process allows us to create backgrounds and patterns based on your designs, so that if you want a tablecover that looks like your logo is printed on wood, you get one. Camo or floral graphics? No problem. Conversely, if your design specifies a logo on a plain white runner, that's what you will get. It's all up to you!
---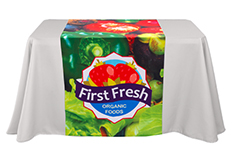 How to Care for and Clean Printed Polyester Table Runners
These durable polyester table runners can be safely machine washed without any damage to your custom graphics. Simply machine wash cold and tumble dry on low or line dry.
If needed, iron on a low setting, on the unprinted side of the fabric. You can also dry clean the cover if desired.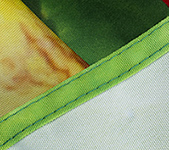 Table Runner Material and Finishing
Our custom printed table runners are made from premium 10-oz wrinkle-resistant polyester fabric.
The edges are finished with a folded and sewn hem which provides a polished, professional look.
This material is additionally flame retardant for compliance with public facility and event safety regulations.
---
How Printed Table Runners Differ from Traditional Table Coverings
Make an attractive presentation by coordinating colors for your base tablecloth and table runner. For example, black table runner with white logo text, used on top of a red base table cloth will make a strong graphic display.
Choose a 30" or 60" wide printed table runner depending on your fixture size and how much coverage you want. Narrow coverings can use base tablecloth colors to complement or contrast with graphics, while wider styles can create the look of full coverage.
A printed table runner with full color graphics works on many different size tables, so it can be used in several events or locations without the need for extra equipment.
Where to Use a Full Color Branded Table Runner
Trade show booths
In-store promotions
Specialty markets
Food fairs
Recruiting tables
Seminars
Tasting stations
Corporate events
Product launches
Craft and art fairs
School functions
Community and Church events
Banquets
---
What is Dye-Sublimation Printing?
The dye sublimation printing process is known for producing vivid colors. This is because the ink is absorbed by the white fabric, making different tones highly visible. Because of this, our full color personalized runners also feature high image quality, comparable to photographs. The process uses continuous tones, rather than halftones used in digital silkscreen imprinting where basic colors are mixed to simulate others. Dye sub printing for custom tablecovers creates long lasting images that are both hard-wearing and washable, making them great for traveling.
Table runners with dye sub printing are the best option for companies looking to feature vibrant designs, logos, and artwork. Not only are graphics more colorful than ones created using other printing processes, but they can cover more area and even last longer. However, there are other ways to feature personalized images that come with their own benefits. Read our article on types of fabric printing for more about the different methods of custom imprinting.
---
Table Runner Dimensions
Overall (w x l)
Top (w x l)
Small - 30"
(#: RNSCPDS)
30" x 90"
30" x 30"
Large - 60"
(#: RNLCPDS)
60" x 90"
60" x 30"