Create Your Own Street Pole Banners with our Designer Tool!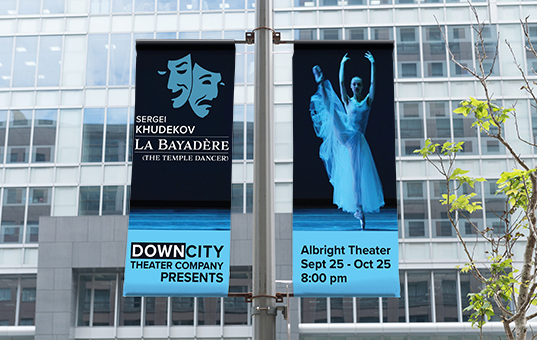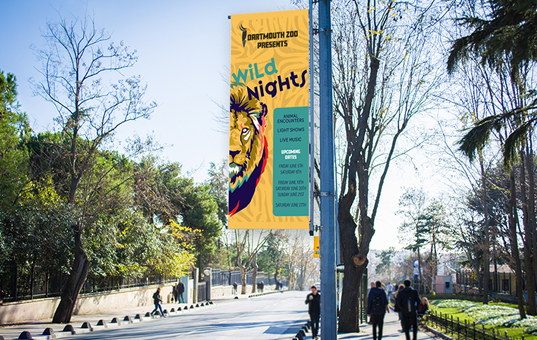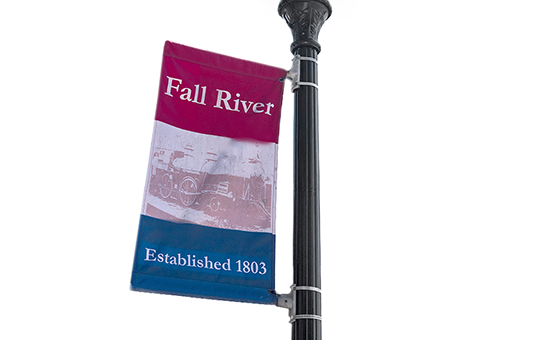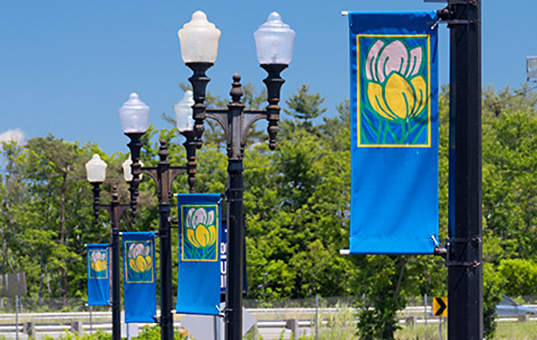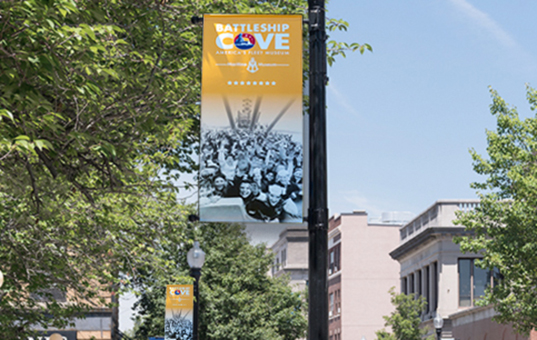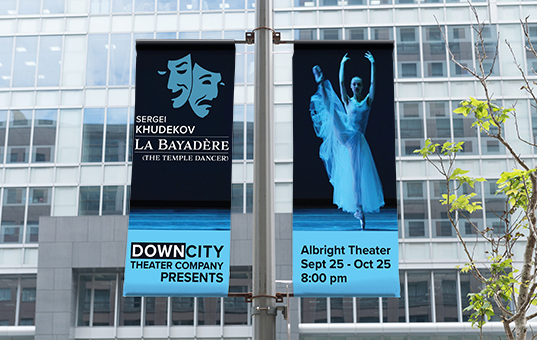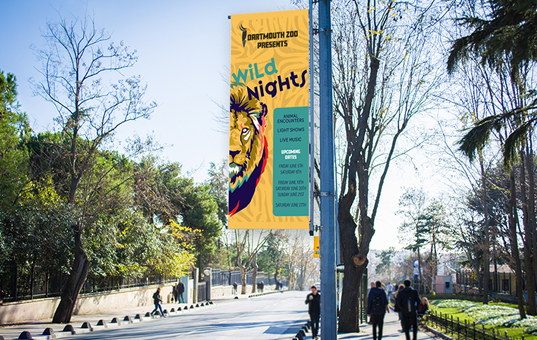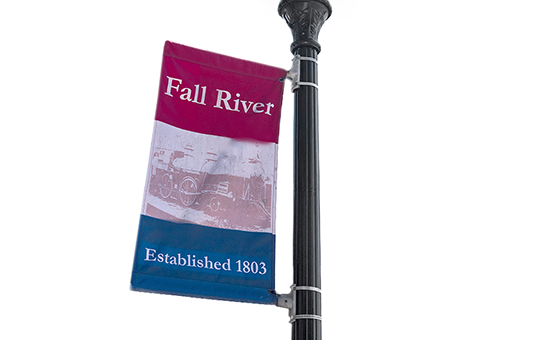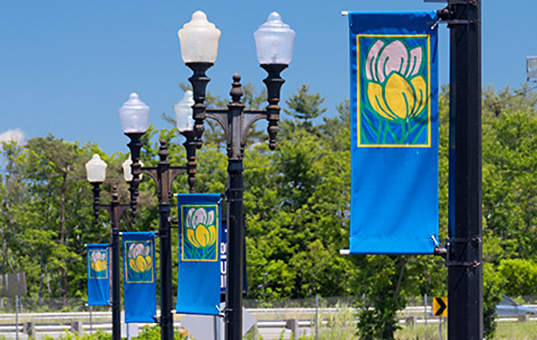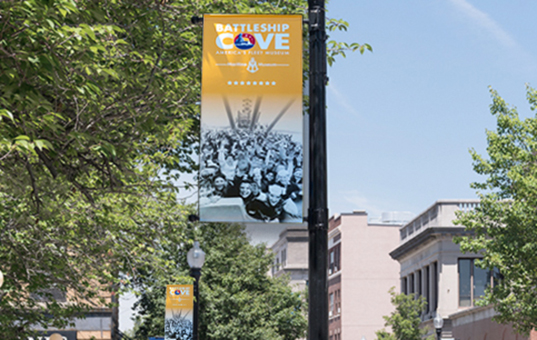 Custom Printed Street Post Banners
Premium 18 oz Vinyl
Solvent Ink Printing
All-Season Use
3" Pole Pockets
4 Installed Grommets
Starting at $29.99
Adjust the quantity in your shopping cart for
Price Breaks on orders of 15 or more!
Start Designing
Shop Street Pole Hardware by Width:
---
Need prominent outdoor signage that reaches out to both sidewalk and street traffic? Our custom printed street pole banners showcase your graphics to promote a festival, seasonal sales event, or historic town center. These pole signs feature full color double-sided printing to generate buzz for those walking or driving by.
Displays2go proudly crafts the highest quality light post banners at our own U.S.A. based manufacturing facilities. We use heavy-duty 18oz vinyl and UV-safe printing inks to be sure our signs will look great all year round. The water-resistant material is ideal for outdoor display and will withstand inclement weather conditions.
Sizing
Street pole banners are available in 4 widths and 5 height options to work with both smaller street lamp posts as well as tall poles for large roads and parking lots.
Pole Pockets
We use double-stitched hems to create 3" pole pockets on the top and bottom of each banner. These pockets accommodate poles up to 1.5" in diameter.
Grommets
Brass grommets are installed in each banner within the hem stitching area. Having grommets in all 4 corners allows for installation on either side of a pole.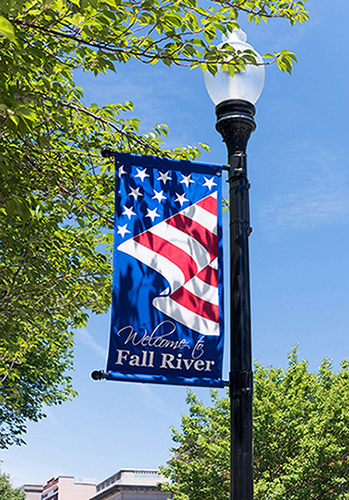 ---
Where Are Personalized Pole Banners Used?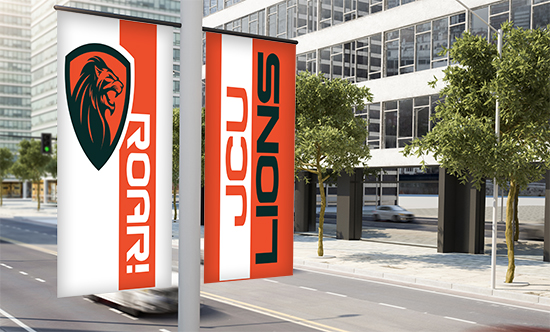 College campuses, shopping districts, and arts organizations all use these high visibility outdoor advertisements to attract attention. Their durable, high visibility design brings passersby in from a distance and pass-through traffic won't miss it.
Displaying banners on multiple street poles creates an impressive and memorable marketing campaign, thanks to their repetitive use.
Outdoor banners are great for:
Parks and zoos
Seasonal celebrations
Community outreach
Fourth of July parades
Sports teams
Town beautification
Shopping centers
Business advertising
---
How to Mount a Street Post Banner
Use one of our heavy duty bracket kits with rods to securely install your banner to lamp posts and poles. Choose from several styles of mounting system to suit the size of your banner.
Pole mounting hardware kits come with banner rods, brackets, bands, pins, and zip ties. Brackets enable single or dual-sided sign configuration, and screw gear bandings can also attach to a square street pole.
Use 2 sets of banner hardware to display vertical banners on either side on the same light pole.
Designed for extended outdoor use, our mounting brackets are constructed of rust resistant cast aluminum.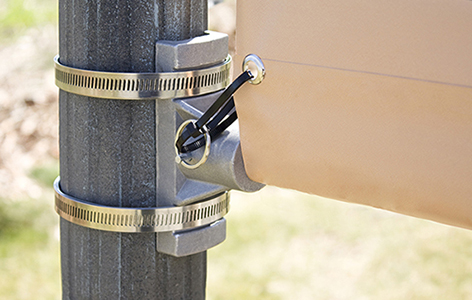 ---
What Size Are Street Pole Flags?
Our street post banners are available in 4 widths and 5 height options.
Choose an appropriate size to optimize the visual impact for drivers and pedestrians on roads and walkways:
18" wide banners are best suited for smaller, decorative lamp posts around 8' to 12' high
24" or 30" wide banners work well with medium to large posts around 14' to 20' high
36" wide banners are sized for commercial lamp posts around 20' to 30' high
18"w x 24"h
18"w x 36"h
24"w x 36"h
24"w x 48"h
24"w x 60"h
30"w x 36"h
30"w x 48"h
30"w x 60"h
30"w x 72"h
36"w x 48"h
36"w x 60"h
36"w x 72"h
---