Create Your Own Custom Floor Decals in Slip-Resistant Vinyl with our Designer Tool!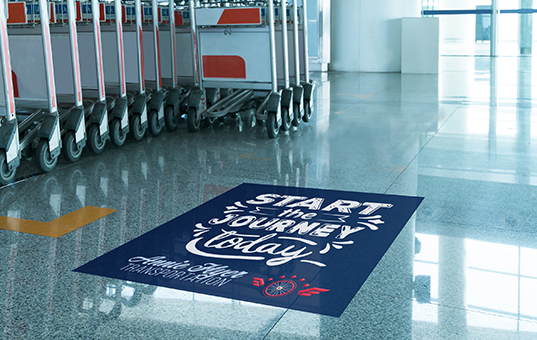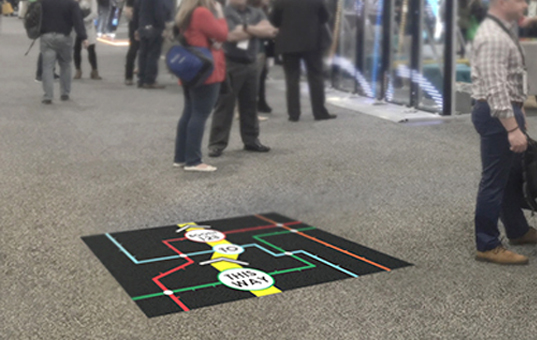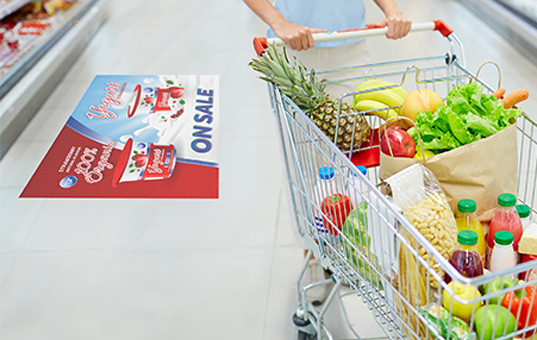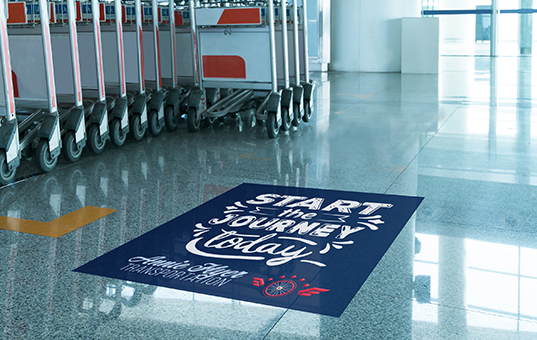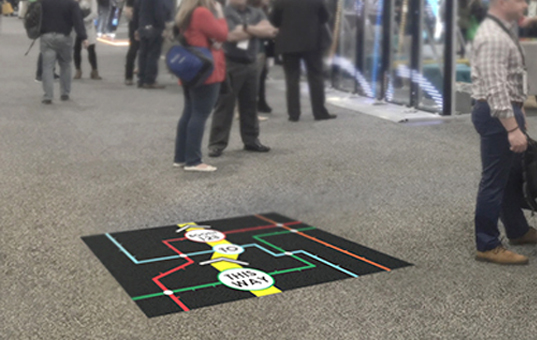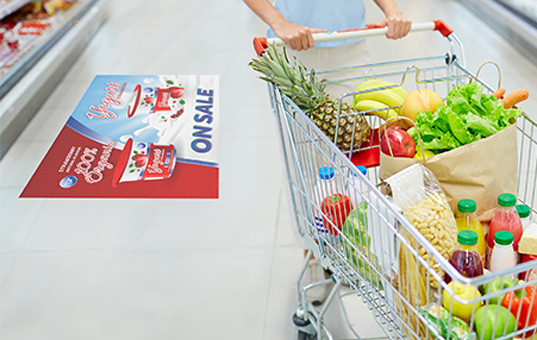 Custom Printed Floor Decals
Durable Slip-Resistant Vinyl Decal
Full Color UV Digital Printing
Removable Adhesive Leaves No Residue
Indoor and Outdoor Use
Safely Lasts Up to 3 Months
Starting at $15.99
Start Designing
---
What Are Custom Printed Floor Decals?
Floor graphics are much more than your everyday stickers! These durable vinyl decals provide a simple and economical way to attract and inform customers in high traffic areas.
Safely apply our indoor/outdoor removable floor decals to multiple substrates, including carpet, wood, and tile.
These semi-permanent decals can feature any custom artwork, such as wayfinding signage or an advertising message, making them ideal for promoting brand identity.
Our floor decals are designed to withstand up to 3 months of foot traffic, making them ideal for use in busy environments such as trade shows and museums.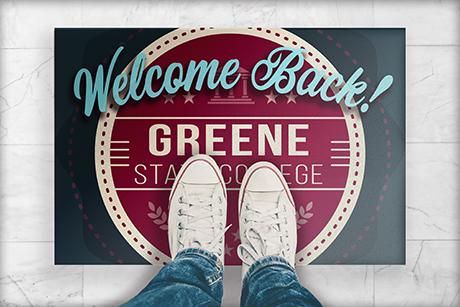 ---
How to Install and Remove Floor Decals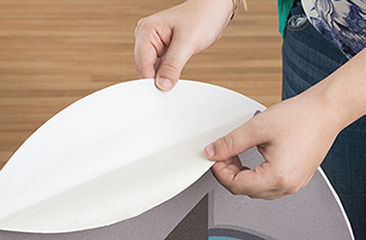 Each print is essentially a large sticker with an adhesive backer
that will stick to a variety of flooring types.
Peel off the paper backing and apply to the chosen surface, starting from the center and smoothing outward to the edges.
For detailed instructions and tips watch our step by step
installation video.
Our optional brayer and scraper accessory kit makes it easier to install and remove decals. Use the brayer to roll out any bubbles or uneven edges to create a smooth look. To remove the graphics, use the scraper to help peel the vinyl from the floor.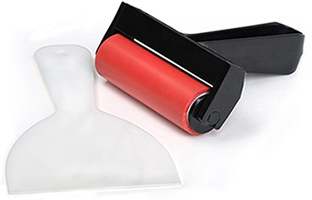 What Sizes and Shapes are Available?
Choose from 12 size and shape combinations to optimize visual impact:
12" Diameter Round
36" Diameter Round
18"w x 12"h Oval
36"w x 24"h Oval
48"w x 36"h Oval
60"w x 36"h Oval
24"w x 24"h Square
24"w x 24"h Square
24"w x 18"h Rectangle
48"w x 24"h Rectangle
60"w x 36"h Rectangle
48"w x 60"h Rectangle
Round floor graphics can be matched to circular logos and messaging for a custom look that stands out.
Oval flooring graphics have a softer-edged shape that attracts attention and complements a variety of logo or image designs.
Square logo carpet stickers are easily matched to text-based or graphical wayfinding signage messaging.
Rectangular decals are integrated into commercial environments but command attention on almost any surface or substrate, including concrete.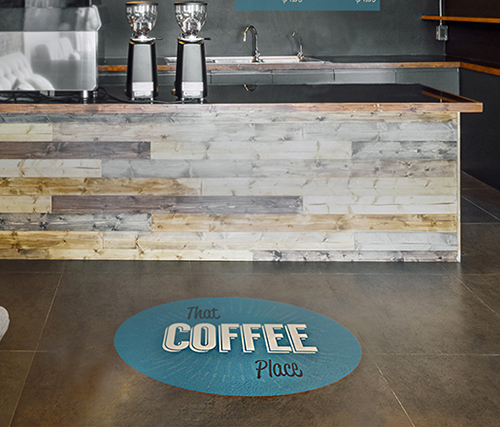 Where to Use a Custom Floor Decal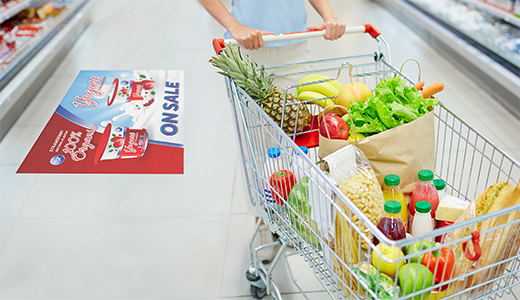 Customized flooring graphics are a simple, versatile solution
for awareness in businesses and at promotional events.
Use temporary floor graphics for:
Retail shops
Trade show booths
Grocery stores
Restaurants and cafes
Seasonal promotions
University sports
Conference wayfinding
Weddings & anniversary parties
Birthday celebrations
School graduations
Floor Sticker Options with Stock Graphics
Decals with stock graphics are also available, and feature the same high-quality materials and printing as our custom graphics.
Are Floor Stickers Durable?
Each commercial floor decal can withstand up to 3 months of foot traffic, perfect for use in retail, trade show, and other busy environments.
Customers and workers will be walking on these graphics, not just looking at them, so quality fabrication is important. The slip-resistant textured surface improves safety and ensures that graphics remain visible and undamaged for the longest possible time.
The back of each sticker is completely covered with adhesive for a secure grip. If needed, wash the decal surface with a mop and standard cleaning products.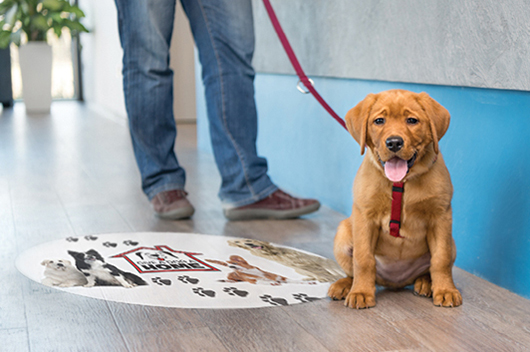 What Indoor and Outdoor Surfaces Do These Cling To?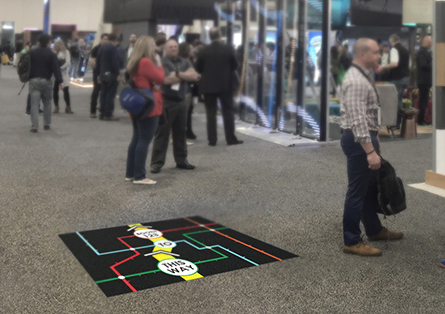 These non-slip stickers can be safely used on
multiple substrates including:
Tile
Laminate
Stone
Sealed Concrete
Glass
Metal
Painted Floors
Low-Pile Carpet
Sealed Wood
Foam & Rubber Tiles
---