Acrylic Display Stands For Commercial Use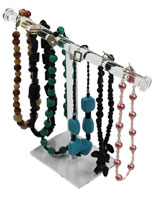 Are you shopping for acrylic display stands for your retail store or office? Does your jewelry store need new fixtures to showcase necklaces and bracelets? The acrylic display stands, also called POP fixtures, sold here are all made with quality materials that are built to last. Choose from this diverse selection of tabletop risers, clear cabinets, book easels and much more. Some of the popular acrylic display stands for sale are the floor standing sign holders. The unique look of these clear poster frames will attract attention and force passersby to stop and notice the graphics or signage. These acrylic display stands that are used for advertising are offered in various frame sizes as well as with or without brochure pocket attachments. Another popular line of merchandise among these clear fixtures are these jewelry holders. Retail stores use these acrylic display stands to highlight new or discounted merchandise. The bust necklace holder is offered in clear or black. These t-bar fixtures, acrylic display stands are used to showcase several pieces of jewelry. Retailers that are shopping for countertop cases will be pleased to find a wide range of options offered here. Among these acrylic display stands are cases that lock as well as lift-off top styles used to showcase sports memorabilia. The locking cases are offered in many different sizes and shapes. All of these acrylic display stands that are sports cases consist of a protective cover and a choice of various different types of bases. Use these POP displays to promote products or services in any type of retail store.
Where are these acrylic display stands commonly used?
Jewelry stores use these busts to highlight new necklaces or to group like items.
These acrylic display stands, also called risers, are often used in retail stores to create a multi-dimensional display.
Most any type of business uses one of these clear sign frames with brochure pockets to promote products and services.
Are any of these acrylic display stands suitable for personal use?
These countertop cases are excellent for showcasing sports memorabilia such as an autographed football or baseball.
These acrylic display stands such as the jewelry holders are a great way of keeping valuable necklaces or bracelets in pristine condition.
The large selection of book easels along with the iPad holder are also used in homes to set items at a more desirable reading angle.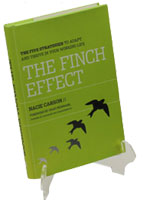 One of the popular selling products shown here are these clear book easels. These tabletop holders are suitable for commercial or residential use. Large bookstores use these easels to highlight a new release or a best selling author's latest work. These clear plastic fixtures are offered in two different styles as well as a few sizes. Choose from a hinged easel that folds flat when not in use, or a solid acrylic panel that is bent at an angle. Personal users often place these holders on a countertop to prop a book up for a more optimal viewing angle. Recently added to this product line is an iPad holder. This clear tabletop riser allows users to angle an iPad, or keep the unit secure when not being used.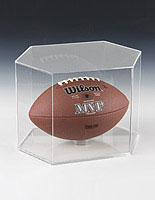 In addition to the wide range of clear retail POP fixtures shown here, this online site offers many other merchandising solutions at low prices. See the thousands of items that are in stock, read for immediate shipment. Along with a great selection of products, there are also live customer service representatives available weekdays during normal business hours to assist with any business related matters. These specialists receive weekly training on all new products, in order to be able to provide first-hand knowledge of the items sold here. There is also live chat available weekdays from 9am to 5pm EST for shoppers that prefer to text rather than speak on the phone. All of these support agents are able to answer product questions, check on an existing order status, and much more. As the country's leader in this unique industry, we continue to strive to offer the most diverse product selection along with incredibly low prices. We are also dedicated to providing world-class customer service to all shoppers, big and small. Be sure to inquire about our standard shipping policy. In stock orders that are received prior to 3PM EST weekdays ship the same day. All other requests typically ship the following business day. Some restrictions do apply, especially with custom printed graphics and banners. Unlike most online retailers the live inventory is listed on each product page, making it easier for shoppers to purchase the number of units needed and well-aware of how long it will take for the item to ship. There are currently over two million units available for shipment that helps to keep lead times to a minimum. With such an amazing shipping policy and over thirty nine years of experience it is clear why we are an industry leader year after year. Shop with confidence here at Displays2go!