Posted on 09, November, 2020
Last Modified on 23, February, 2022
Best QR Code Applications for Sharing Menus, Business Information, and Catalogs
With more restaurants opening up for business alongside the ebb and flow of state regulations concerning public health guidelines, business owners have been presented with the challenge of maintaining a sanitary environment for both their patrons and staff.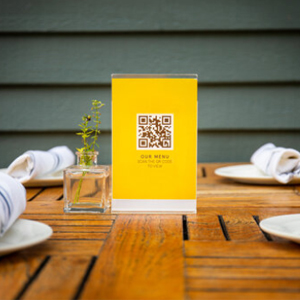 This task is especially challenging for fast-paced environments such as restaurants and cafes where tables may be filled minutes after the last guest has left. As such, reusing physical menus not only presents a high risk of transmitting infectious disease, but also creates a significant delay as employees rush to sterilize them between tables. While many restaurants have displayed their ingenuity with single-use paper menus, others have embraced the digital age where nearly every customer carries a smartphone, and have taken advantage of QR code generators to create contactless menus.
With a well-placed sticker on the table featuring a unique QR code, something akin to a barcode, restaurants have removed the need for a physical menu by directing their patrons to a digitally accessible version. While QR code scanners are available on the Google Play Store, and even built into modern smartphone cameras by default, QR code generators can be much more difficult to settle on as the right choice. This article breaks down Displays2go's top applications for creating your QR code menu for your bar or restaurant.
Top-Rated Free QR Code Generator - QR Code Monkey
QR code Monkey is a free, simple to use, QR code generator that allows users to create a unique code in less than five minutes. The interface is incredibly intuitive, existing entirely on one page with tabs for if you want to send your customer to a URL, Facebook page, an image of your menu, or a range of other options. Users can edit the color scheme and gradient to match their business with two or three simple clicks and even add a logo to the center of the image. The quality of the image is easily adjusted with a simple slider and each code can be exported as an .SVG, .PDF, or .EPS file to be printed at home or in-office.
Pros of Using QR Code Monkey
100% free so every code generated is clear for commercial use, no sign-up required.
Create QR codes with color, images, logo, and vector platforms such as PDF, SVG, and EPS for further customization.
Generated codes can be downloaded instantly in various print quality formats.
Cons of using QR Code Monkey
Can only send customers to a pre-existing page, so your menu must already exist online.
Limited customization options that are good enough to pass, but not as expansive as competitors.
No observable scanning metrics to track customer traffic.
QR Code monkey is a fantastic option for mom-and-pop restaurants, bars, and small businesses who either might not have the most tech-savvy management, or simply want the job done as quickly as possible. For restaurant managers, this application is the best, free way to ditch your physical menus and direct customers to your website without spending days or weeks training staff or struggling with new software. In less than five minutes anyone can enter the URL they want the code to lead to, add a color scheme or logo, click "create" and be ready to go.
QR Code Scanner with the Most Options - Scanova
Scanova is ideal an all-in-one solution for large-scale campaigns, promotions, restaurant chains, or even managers who want to market their bar and dining area separately. This web-based application offers 14 unique templates leading to website URLs, documents, images, Google Maps, social media, product pages, and much more. Not only does this company offer a range of style options, but they provide key features such as lead generation, mobile landing pages, analytics, and the ability to edit a QR code's functionality even after generation. Scanova's advanced features will help you create, design, manage, and track QR Codes all from one platform.
Pros of using Scanova
Dynamic QR codes can be edited at any time to adapt to seasonal menu changes or adapt to the business' needs.
14 pre-built professional landing page templates to easily plug in business info.
Built-in analytics, monitoring, and engagement tools to earn more scans and a better user experience.
Cons of using Scanova
Must sign up for one of 3 membership options at $15, $50, or $100 per month.
Basic Lite membership at $15/mo should be satisfactory for most businesses.
Easy for non-tech savvy users to get lost in the interface.
Mid-tier mobile landing page quality.
Scanova is a great choice if you have someone on your team who is familiar with marketing principles, best practices, and is comfortable running diverse campaigns. With the plethora of options available, it is key to have a dedicated manager who knows how to manage the platform, create codes, and can understand analytical data in order to improve the customer-experience. While Scanova, at a minimum, costs $15 per month, this is money well spent and a fantastic way to keep your restaurant or bar menu up-to-date with evolving technology while adhering to safe social distancing practices. Scanova is a great upgrade to free QR code generators because of the value and power tracking and analytics offer, especially for chain restaurants or large-scale operations.
Most Accessible QR Code Generator - QR Tiger
QR Tiger offers a desktop platform as well as a mobile app available for Android and iOS, making it easy to create, edit, and manage QR codes whether you are on the go or in the back office. This versatility, coupled with the ability to create dynamic QR codes, means that businesses can change their URL, links, logos, or images on the fly from any device. QR Tiger requires no sign-up, is free, and features the simplest interface on our list. The lack of options here is not a weakness, rather, a design choice that makes this platform accessible and user-friendly to anyone. While this company provides a quality free version, their paid monthly subscriptions offer scan analytics, tracking, and the ability to remove ads.
Pros of Using QR Tiger
Choice between free option and paid subscription, able to start small and grow with your needs.
Can make custom designs that can be saved as a template for later use.
You don't need to sign up to use the software.
Easy to use interface.
Cons of using QR Tiger
Ads will appear while using free version, distracting customers trying to view your menu.
Zero warning on auto-renewal and no refunds if you go for the premium version, so if you choose to upgrade, keep track of when you want to cancel.
QR Tiger is the type of platform that evolves with your needs since it offers a free version, with ads, to get you started as well as a paid version to both remove those ads and provide you with analytical data about your code's performance. This data will help managers develop better product and menu landing pages, reach more prospective customers, and streamline the ordering process at restaurants. We recommend QR Tiger to any business that wants to use QR codes and online menus as a temporary solution to social distancing regulations while retaining the ability to upgrade to a more diverse, inclusive system provided by the same company.
Why Use a QR Code Generator for Your Business?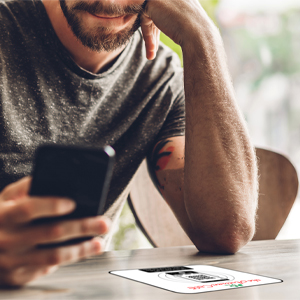 While we have primarily focused on restaurants and bars, QR codes are an incredibly simple way to impact customers, engage new interest, and direct traffic to your website or product catalog. Displays2go off range of custom QR code decals with personalized printing options to include both your company logo and code in a professional manner. In restaurants, place these removable stickers on each table or countertop in a visible, uncovered location from where your customer will be seated. For retail stores, boutiques, and other businesses, these stickers are strategically placed in-store or around high-traffic areas of town where passersby may stop to scan the code and view your product line, encouraging a visit to your store or online order. Placement and design is key, both for the sticker itself and for the web-based location the code leads your customer to. Displays2go has you covered with custom printed QR codes just as well as these above-mentioned companies will professionally handle code generation and landing pages.
Browse Custom Printed QR Code Stickers: