Posted on 26, August, 2015
Last Modified on 01, March, 2023
Shop Products from This Article
Check out our 4 favorite ways to display cake pops!
1. Cake Pop Stands
Yes, cake pop stands are a real thing! These acrylic holders are perfect for displaying your delectable lollipop-style desserts. With small holes that are perfectly sized and spaced for the pops' stick, these holders are the easiest choice for displaying cake pops of all kinds.
Cake pop stands are available in a wide range of sizes, shapes, tiers, and capacities. Besides clear acrylic, you'll see cardboard, porcelain, and metal stands on the market.
2. Cupcake Stands
Use a tiered cupcake stand or riser set to arrange cake pops and lend an upscale appearance to your dessert display. These stands are great for weddings, birthday parties, and buffets. Unlike the acrylic cake pop stands, these risers do not have holes to hold the lollipop sticks, but you can easily display them cake ball down. For a DIY cake pop stand, carefully drill small holes in risers like the ones shown here.
3. Vases
Arrange your cake pops in a vase like you would with a bouquet of flowers. This is an easy way to make an impressive display without all of the work! Just be sure to choose a vase that will coordinate with the length of the sticks. To complete the arrangement and add a special touch, tie a colorful ribbon around the top of the vase.
There are a few ways you can get the pops to stay in place inside of the vase. If using a clear glass vase, layer the bottom with loose candies or beads to help keep the lollipops in place. If your vase is opaque, you can line the bottom with floral foam and use it to arrange your pops just as you would with real flowers!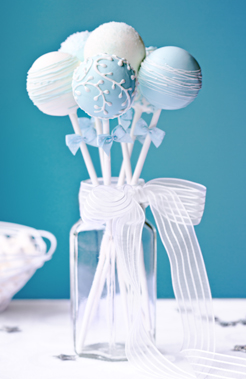 4. Platters
If you're displaying cake pops for a party, you can always keep it simple with a decorative platter. Position the dessert balls in a nice pattern and your arrangement is sure to look great! Placing them cake-down makes it easy for your guests to serve themselves by just grabbing the dessert from the stick end. Just make sure the pops have flat bottoms so they stay upright!
With the pops arranged in this fashion, you can easily tie cute name tags or thank you notes to the sticks' ends!
We hope these cake pop holder ideas will help you craft the perfect dessert display!