Posted on 22, November, 2017
Last Modified on 15, September, 2019
Shop Products from This Article
It's time for your trade show — how are you going to set yourself apart from other exhibitors? In the world of convention displays, there are a lot of options when it comes to the type of backdrop for your exhibit. Do you want it to be the focus of your presentation - or maybe something more subtle? There are many types of materials available at your fingertips when it comes to trade show walls, but which option is the best for you? Vinyl backgrounds and stretch-fabric backdrops are very popular amongst exhibitors - but each have their own set of benefits. Vinyl walls have long been a trade show go-to, while exhibits with stretch-fabric are modern and new. Which material should you go with?
Vinyl Panels: Pros and Cons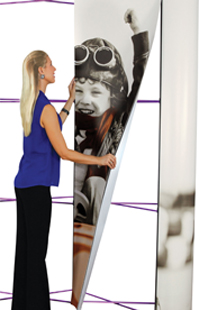 Vinyl backdrops and banners have always been a staple of trade show booths. When it comes to exhibit backdrops what's most important to you? If practicality comes to mind then vinyl is a great choice. This material is an everyday solution for trade show exhibitors and will certainly get the job done. Since the material is inexpensive, exhibitors can use more of their budget on other items they may need to make their booth stand out. If you're looking for a crisp presentation without the hefty price tag, this material has a clear finish when printed with custom graphics that can be cleaned easily. There are, however, some cons associated with a vinyl material, which can lead to some potential headaches. The fabric easily wrinkles which can make for a messy looking presentation. No one wants to have an exhibit background with creases throughout. Although less expensive, vinyl is stiff and non-porous while stretch-fabric has a finely-knit composition. Stretch fabric is also more versatile and lightweight. Vinyl is also cumbersome to travel with. When it comes to transportation, vinyl backdrops need to be rolled while fabric backgrounds can be folded up. It's heavier compared to other materials, making it more difficult to use for exhibitors who attend numerous trade shows a year. If you're a frequent convention goer looking for a simple way to transport exhibit pieces, vinyl might not be the type of background you're looking for.
Stretch Fabric Trade Show Walls: Pros and Cons
If you had to choose, does having a modern exhibit rank high on your list? Taking the trade show market by storm, stretch fabric material is sleek, durable, and easy to use. This material is typically constructed from polyester and can be printed with vibrant custom graphics using the dye sublimation method. With this method of printing, the images are imprinted into the fabric as opposed to on top of the material. Because the ink is printed directly into the fabric, it creates bold, high-resolution artwork that can be seen even from afar and won't fade over time.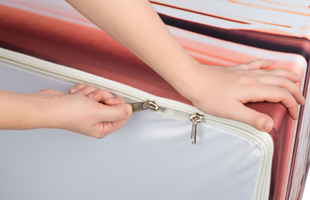 Stretch-fabric pieces feature zippers to stretch the material over the frame of the backdrop and secure into place. In addition to this type of stretch-fabric, silicone edge graphics (SEGs) are becoming extremely popular amongst exhibitors. Also printed using the dye-sublimation method, SEGs are constructed with a thin silicone strip sewn directly into the edges of the graphic. Silicone edge graphics are then inserted into frames with recessed grooves to create a seamless looking display. According to the Journal of the Specialty Graphic Imaging Association, silicone edge graphics are changing the landscape of the market. "They allow for one of the slimmest frame reveals on the market. SEG displays can be a freestanding display, wall-mounted display or hung from the ceiling, and they can also be backlit". Exhibitors also enjoy using stretch-fabric due to a lightweight disposition and because it can easily be transported just by folding it up and packing it away. Don't fret about wrinkles either because like any piece of clothing, this material can become crease-free with some water and air drying.
Okay, So Which Material Should I Choose?
Still trying to figure out the perfect material option? When comparing vinyl, and stretch fabric trade show backgrounds, there are obvious differences between the two. Both have their pros and cons and a lot should be considered when choosing the perfect background for your exhibit. Today, modern and innovative goes a long way which is why more exhibitors are going with stretch fabric backdrops. They have a crisp and vivid presentation and can be assembled easier than vinyl backgrounds. Attending an outdoor event? Your best choice is likely a vinyl backdrop for your display. Vinyl banners can withstand outdoor use, however, while stretch fabric does not hold up well to outdoor elements. Because of a more rugged design, it will withstand the wear-and-tear of the elements better than a stretch fabric backdrop. For indoor exhibit backgrounds and banner stands, stretch fabric is the most popular, but don't forget that vinyl banners and backdrops still have there place! Vinyl is cost-effective and durable, while still producing a beautiful and clear image. So, ultimately, the decision is up to you — regardless of which material you choose, we know both options will deliver an impactful display!