Posted on 09, March, 2015
Last Modified on 13, July, 2023
Any store owner will be the first to tell you that the biggest challenge with opening a small business is getting customers in the door.
Implementing all the best retail strategies in the world won't provide any benefits as long as the store remains empty. There are several different "fronts" that need to be attacked to drive customer traffic. How are people going to find out about your store? What's going to drive (pun intended) a customer to get in their car and go there? Some people may drive by, hear about it from a friend, or find your product or services via online search. Unfortunately, those are very unreliable factors to rely on for new business. For companies struggling to bring in new customers there are several different channels that we will explore in this article.
Store Signs
The first place to start when marketing for a grand opening is your business's location itself. If your business is in a shopping plaza or a mall, there's a lot of foot traffic to take advantage of. Capture the attention of passersby with a banner stand or sidewalk sign with an enticing deal. Hang up some neon signs in the window to tell customers whether you're open or closed.
Stores that are located on a main road could also announce their new location to drivers with advertising flags. A flag with a simple pre-printed message like "Grand Opening" could be enough to turn heads and make people curious to learn more about your business.
Online Marketing
For many, the answer to drawing in more customers lies in internet marketing. Online channels offer plenty of paid and free options to reach more customers. By researching and exploring all the available resources, advertisers can utilize a small budget while seeing incredible results.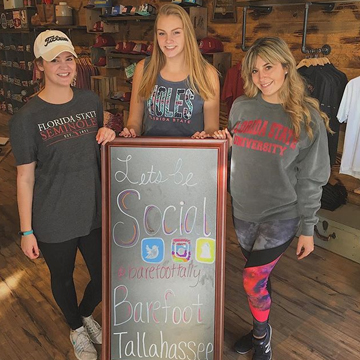 Social Media - To avoid spending money, start up pages on social media. Every business today should at least have a Facebook and Twitter page. Consumers have come to expect companies to maintain these channels as a form of open communication. With an effective strategy and some good old-fashioned elbow grease, owners can create a lot of buzz and get people excited about a new business. Most social media channels now also offering advertising. Social media advertising is very affordable and offers a few distinct advantages. With the vast of amounts of personal data on sites like Facebook, Instagram and Twitter, customers can reach a highly specific demographic. Advertisers on social media can also choose to serve ads to "lookalike audiences", which target users with similar interests and demographics to your current fans. This is beneficial because the people you're advertising to are much more likely to engage with your content.

Online Local Directories - When most people are looking for a service or specific type of store they no longer search the yellow pages (If you're under 22 years old, this is a large, paper version of Yelp). They jump on their smartphone or computer and search the internet. With the emergence of smartphones as the main searching platform, it's incredibly important that your business is found locally. Plenty of online local directories are out there that signal that signal where your business is located and most importantly, make sure you get found. If you're skeptical, just check out this statistic: 50% of consumers visit a store within a day of their local search.

Search Engine Advertising - Want to guarantee that people find you when searching? Then search engine advertising is the way to go. Advertisers can bid on specific terms and pay for every person that clicks that ad and goes onto their website. This is an especially effective method if you have an e-commerce site to accompany your storefront.
Traditional Media
If you have the budget, you may consider investing in traditional media ads on the radio, print, or TV. While online marketing is growing exponentially, traditional advertising methods are still very commonly used, but they each have their pros and cons.
Radio - This is one of the more affordable options and reaches a very targeted demographic. Radio ads can be repetitive and really drive a message home. Purchase short spots to advertise sales in the coming weeks. There are a few other things to take into consideration. Most people listening to radio are driving a car. This leaves them unable to write things down or record them on their smartphones. Many people are also visual learners. Therefore, without a visual aid a radio ad may quickly be forgotten.
Print - Another highly targeted form of media, advertisers have complete control of text and what publications an ad goes in. A couple of hurdles to overcome include publication frequency (i.e. weekly/monthly circulation) and declining magazine and newspaper circulation as more and more media continues to shift online.
TV - TV spots let advertisers carefully select slots on specific channels. If you know you're demographic, this is by far the most effective traditional media method for reaching it. Advertisers have full control over the production and content of the commercial. The downfall with TV advertising is that between production costs and buying air time, it gets expensive very quickly.
Networking
There are a few other ways to get people in your store that don't include any media efforts. First is word of mouth. Get people talking! Word spreads quickly amongst any community. See if there is a "merchant's circle" or Chamber of Commerce in your city or town (Ours is the SouthCoast Chamber). Owners can attend meetings and these organizations often "roll out the red carpet" for new businesses opening in the area.
Also, see if there are any trade shows or craft fairs that your business could attend. Whether you're exhibiting your products or just networking, trade shows present an excellent opportunity to spread the word about your business and form partnerships that can strengthen your brand.
With such a large array of options available, there's no excuse not to gain your business some exposure before the grand opening. With some time, effort and research, business will be booming before you know it.