Posted on 14, July, 2015
Last Modified on 28, February, 2023
Shop Products from This Article
DJs are expensive. So are bands, karaoke machines, professional lighting, and flat screen TVs. But did you know there's something that gets you all of these things combined at a fraction of the cost? Projectors! Keep reading to find out how you can put a projector to use for your business, pulling in some extra dough in the process!
In past articles, we've discussed how to set up and use a projector system for presentations - but what about the many other creative ways you can use these devices? The food and beverage industry in particular has so much to gain from using projection screens for entertainment purposes. In a crazy competitive field where every restaurant and bar in town is pulling out all the stops to differentiate themselves from the competition, a creative projector setup could be what your business needs to stand out from the crowd.
Music & Dancing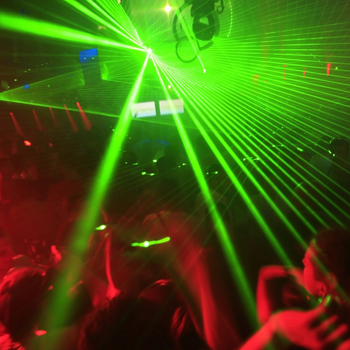 Let's get this party started! Projector systems are often used to create a fun party atmosphere in bars, restaurants, and nightclubs. By hanging a large projector screen right near the dance floor, you're opening up a world of music and video opportunities for your customers. One of the most popular uses of a projection setup is to show the music video of each song you play. Imagine putting the video to Bruno Mars's Uptown Funk up on the screen to get the party going! Even better, create a Youtube playlist of all the songs and videos you want to play during the night. This totally customizable option is way cheaper than hiring a DJ and it plays automatically. If music videos aren't exactly your thing, try using a music visualizer up on the screen. Basically, this displays animated imagery like abstract shapes and designs that move in time to music. Plus, these colorful designs can also double as lighting for your dance floor! Why buy expensive dance floor lights when you can rely on the rainbow colors of a visualizer? If you don't have a dance floor, theme nights at bars and clubs also have the power to pull in the customers. Try featuring project karaoke lyrics on the screen for singers to follow or display trivia questions on game nights.
Sports & Shows
Ever head to a local bar or restaurant to watch the big game when you easily could have watched it at home? You go for the food & drink, the good company, and the overall atmosphere, right? Well, food service establishments know they can pull in paying customers simply by offering screens for watching sports games!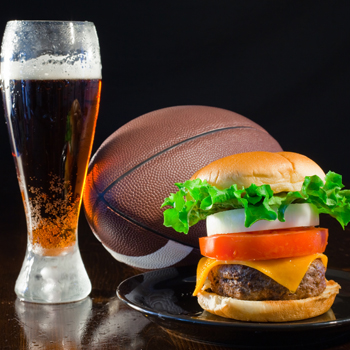 You can use a huge projector screen to show football or baseball games in large format for your customers. Chances are the entertainment will keep these viewers in their seats all night, ordering plenty of drinks and food while watching the game. Sports aren't the only way to capitalize on TV fans though. A recent trend in this golden age of television is holding viewing parties for episodes of popular shows. Bars and restaurants can use projectors to play episodes of Game of Thrones, The Bachelor, or The Walking Dead. Large groups love to gather and communally scream in terror as the action ramps up, or sigh wistfully together as a couple falls in love. It's all in good fun! Like with sports games, these viewing parties will rack up big bills in food and drinks! What's more fun than that?
Weddings
In the same way that projectors get the party started on a bar's dance floor, a wedding reception and a projector screen are a match made in party heaven! Wedding parties can use the projection system to play music videos and groovy music visualizations in the same way bars can. However, one of
the most popular uses for projector screens at weddings is to play slideshows of the happy couple and their family. These slideshows can be a main event of the reception or just play in the background while the guests party the night away. It can be a great way to keep the evening focused on the reason for the gathering! As these slideshows grow in popularity, catering facilities may benefit from purchasing a projector system to provide media services for their guests. While your competitors' customers would have to rent a projector for any type of slideshow presentation, you'll have one readily available free of charge. This is a great way to set your business apart from the competition.
Think Tech
Now that you have some projector screen ideas that have potential to make your business more money, there are some details to consider (though no less important!):
Screen Size - How big does the screen need to be so everyone can see it? Will it fit where you want it to go?
Projector Mount Type - Floor stand, ceiling mount, or rolling cart?
Brightness - Can everyone see the picture clearly? Depending on the lighting in your venue, you will need to adjust the brightness accordingly — 3000+ lumens is best.
Resolution - The higher the resolution, the better - think 1920 x 1080. Use an HDMI connection instead of VGA whenever possible.
Motorized screens are excellent for multi-use rooms because they can extend and retract at a moment's notice. Bring it out for events and put it away during other hours when not in use.
Speakers - Make sure everyone can hear any shows or music you're playing with the projector!
Take these ideas and turn them into money makers for your business today!