Posted on 12, June, 2015
Last Modified on 28, February, 2023
Shop Products from This Article
Just because something is old doesn't mean it doesn't work! The good-old printed page is still an important commodity in today's world of marketing and advertising. Brochures, for example, give customers information about a product or service and allow them to walk away with a tangible representation of your sales pitch or marketing strategy! Unlike a website or banner ad that loses its effectiveness as soon as the customers leaves the computer, printed brochures and leaflets have a true staying power due to their tangible form. This style of printed tri-fold brochures, pamphlets, leaflets and flyers is often referred to as a "take-away" because customers literally take them away - and they can be mass printed at a very low price point. The idea of a take-away is incredibly important to many different types of companies and, today, remains a relevant and established marketing strategy in this ever-advancing digital world. In many businesses, printed marketing materials will be much more cost effective than digital alternatives!
Check out the different industries in which the printed ad is still very much alive!
Restaurants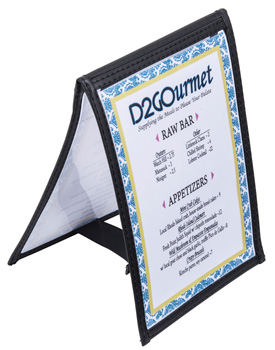 Eateries in tourist locations will often hand out a version of their menu in the printed form to visitors as they pass by. The idea behind this strategy is that they will take the menu back to their hotel rooms and look at it when they are trying to make their final decision on where to eat for the night. Likewise, restaurants with a delivery or takeout business often rely on these printed menus as an important means of advertising. I mean, who doesn't have a drawer full of take-out menus at home that they leaf through when they're hungry? Use these printed brochures can be powerful marketing tactics for restaurants. In many cases, the return on investment in the restaurants using these inexpensive printed menus will be much greater than that of any return on expensive digital advertising or signs!
Banks
The modern bank has become more than just a place to cash a check or withdrawal some funds. Most financial locations feature loan officers, montage lenders, business developers and, of course, tellers. With all of these new amenities in one location, financial institutions are using a record number of different printed pamphlets to list benefits, rates and options of their services to their clients. If a customer walks into a bank to take out a loan, they want to be well informed about their options. Printed leaflets and brochures allow bankers to distribute this information during their meeting with the customer with the hopes they the customer will take it home to look over their options. If you have a pamphlet about retirement planning sitting on your kitchen counter at home, you'll be much less likely to go on putting off your investment planning! In these cases, the old adage "out of sight, out of mind" works in the banks' favor!
Hotels
Hotels, inns and resorts make up an industry that has greatly benefited from the internet - but a large component of these establishments' business still comes from a traveler who simply needs a place for the night or who did not want to make reservations in advance. These lodging facilities will often use tri-fold or bi-fold pamphlets to advertise their location and rates. They post these printed goods at rest stops, tourist information areas, and community centers. By making their information readily available to travelers, hotels pull in hundred's more guests a year! Can you believe that this extra income was made possible through the use of some simple brochures?
Real Estate
While the real estate industry has embraced the digital age with the same fervor as many other industries, they are still operating with a foot in the printed world. Anyone in the market for a new home is going to do an extensive amount of research, including visiting many open houses. A savvy real estate agent will have employed a professional photographer to take pictures of the listing and printed them with the key info about the listing. Having a professional take-away will enable a realtor to sell a listing more quickly, partly because the buyer will have a high quality pamphlet to look over when they get back home.
Automotive Dealerships
Unlike a mom-and-pop retailer who may only print a hundred or so brochures a year, the automotive industry may be the largest producer and consumer of printed advertisements and take-aways. Why does the automotive industry account for such a large percentage of the pamphlets printed and displayed in the North American marketplace? Well, the acquisition of an automobile is the second largest purchase most of us will ever make, behind buying a house. Consumers are not going to make a multi-thousand dollar purchase without first doing their research. The printed single page of technical info, the tri-fold brochure, and the side stapled info brochure are some of the industry standards when it comes to presenting take-away info to the potential customer - and they generate sales like no other!
Takeaways on Take-Away Literature
Why is it that in the most technologically advanced period in our history do we find representatives from almost every major market and demographic still using printed advertisements in record numbers? People trust the printed word. It is that simple. As a society, we are quick to embrace digital technology, but at our core we still know that anything can be published online. Info can change on a website at any time but once something is printed it becomes more tangible to the consumer, allowing them to trust the information more. It's this trust that makes printed brochures such a profitable marketing tactic!