Posted on 03, May, 2021
Last Modified on 24, May, 2021
Shop Products from This Article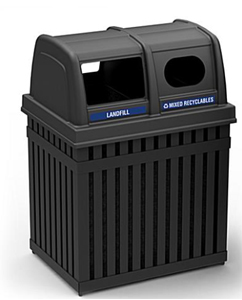 Setting up for a large-scale event such as a trade show, fair, or festival is a huge undertaking in and of itself, but few people talk about the stress induced by having to pick up the trash left behind by hundreds or thousands of patrons after everything is all said and done. For some venues, and for some respectful audiences, cleanup may be an easy task. Other times, making a venue look as pristine as the day you decided to run your event can have you spending hours picking up stray bottles, flyers, and other forms of trash that could have easily been thrown away. Even for brick-and-mortar shopping centers or flea markets, littering can become a serious cause for concern when stray trash makes its way onto product shelving, merchandising fixtures, or is left in the tucked away corners of your store.
Littering can cause a slew of issues both indoors and outdoors, namely the environmental impact, sanitation concerns, and the disruption of the community's quality of life while frequenting your establishment. Aside from the public health issues that arise from the accumulation of litter like attracting vermin or spreading bacteria and germs, scattered trash is unsightly, unprofessional, and consumes employee time with cleaning, when it could be better spent elsewhere. This article tackles the best methods to encourage recycling, reduce litter, and manage trash in high-traffic public environments.
Quick Tips for Litter Prevention:
Make sure your trash receptacles are secure to avoid newspapers, cans, and other light-weight items from being picked up by the wind and scattered across your property.
Educate or remind others through frequently placed signage about the environmental impacts of littering or overflowing bins and direct them toward your designated waste management areas.
Participate in community clean-up days as a form of community outreach. Helping maintain the cleanliness of your local area can go a long way toward your community paying that effort forward.
Provide litter bags for your patrons, especially during outdoor events, alongside waste receptacles at regular intervals. We suggest these bins should be placed every about every 30 steps to drastically reduce the risk of your guests leaving trash behind.
Utilize both trash cans and recycling bins that are clearly marked and frequently emptied in order to avoid overflow and properly sort waste.

How can we reduce waste during events?
Any problem can be solved through intentional design. Plan around these issues by customizing your food menu, event decorations, or common areas with signage that reminds customers to recycle or throw away their trash. Many restaurants will even utilize compostable cups, straws, and single-use menus as a way to help reduce their impact on the environment even after their waste has reached the landfill. Some establishments even go as far as to serve their meals in biodegradable bowls made of fresh cut melon or on plant-based plates.
Reducing the potential for waste or litter can come from planning activities that don't require throw-away items. Start by printing invitations or registrations on both sides of a flyer, or better yet, keep event notice communications entirely on e-mail or digital platforms. Many companies have begun using QR codes to guide customers to online menus or service listings to reduce the amount of printed menus that need to be washed or cleaned between tables or shifts. Similarly, invest in reusable printed media such as advertising banners that target seasonal events rather than one-time promotions. In short, if your company's marketing efforts are sustainable, then your customers will have an easier time following suit.

Use these four tips to ensure customers avoid littering:
Make proper disposal convenient and accessible
Ensure consistent and frequent scheduled cleanup
Use landscaping and maintenance to promote a sense of personal responsibility
Make the most of motivational and educational messaging
When planning for a show or promotion, encourage your team to work around the idea of a "minimum waste event," which should aim to reduce the amount of single-use items. Purchase wisely, taking advantage of bulk-sized containers to reduce packaging waste and select products that include no packaging at all. Keep note of things that can be recycled, upcycled, or reused after the event to not only increase the value of your investment but reduce the amount of waste produced after each showing. While these tips primarily focus on how your business can reduce its own waste, we understand that controlling the public is a much more difficult challenge.
Successful events with a focus on waste management utilize tools which not only remove their customers' reasons to litter, but also provide their patrons with the tools to dispose of their trash without hassle. Go digital whenever possible, posting setlists, menu options, event times, and whatever else you possibly can online for customers to access via your website or QR code. If printed media, cups, food containers, or any other item that will inevitably be thrown away does have to be part of your equation, be sure to clearly mark trash and recycling areas. As mentioned, best practice suggests that a waste receptacle should be placed every 30 steps to avoid unnecessary littering. These locations should be well marked, brightly colored, and easy to access.