Posted on 12, July, 2023
Last Modified on 30, August, 2023
Shop Products from This Article
In the world of hospitality, hotels seek to create memorable experiences for their guests. Those experiences start with communication, which is largely being shaped by technology. Digital posters have emerged as a top solution to enhance engagement and display key information about on-site amenities or policies in real time. Hotels, particularly large hotels, are the ideal spot for hosting a corporate event. Corporate events can bring in large crowds of guests that require dynamic, scalable and attention-grabbing communication solutions. Top decision-makers at any large hotel need to know what types of public-space fixtures they ought to invest in to provide a top-notch experience for their guests. Read on to discover why one of those investments should be standing digital posters.
Greet and Engage Your Guests
Standing digital posters offer a creative and interactive way to warmly greet and engage guests as they arrive at your hotel. When positioned distinctively in high-traffic areas like the lobby or reception, they can display personalized welcome messages, offer quick check in, take inquiries, and more. Standing digital posters have an abundance of opportunities for you to display your brand and messages that enable guests to easily access information while they're waiting in line. They can provide information about amenities, the event they have come to, local attractions, interactive wayfinding, and anything else that they may need to know during their stay.
Create Promotional Materials
With lively visuals, animations, and interactive capabilities, standing digital posters effectively capture the attention of your audience. They can provide you with the perfect opportunity to experiment with different types of promotions, offers, events, exclusive amenities, and more. With the versatility of a digital sign, you can change the message in real time to keep information relevant. You may even choose to try various pitches of your message to observe which ones your guests respond to the most. Another great way your digital poster can provide information is by supplying a QR code on advertisements. Guests can immediately interact with the information scanned and take it with them on the go
Offer Interactive Wayfinding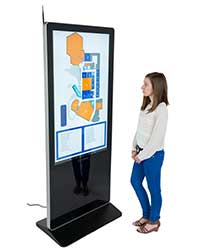 Despite your best efforts with traditional signage, guests may still have a difficult time finding their way around a large hotel, especially if it's their first visit. As such, guests might need a little something extra to point them in the right direction. Standing digital posters can offer wayfinding solutions that enhance a guest's experience in a large hotel. With just a touch of a screen, guests can locate restaurants, conference rooms, spas, and other destinations. A digital map can provide a guest real time updates from their vantage point and point them in the right direction. This innovative wayfinding solution will also showcase the hotel's commitment to personalized service, leaving a lasting impression on visitors and providing them the tools for an exceptional stay.
Third-Party Ad Revenue
Using standing digital posters can open up opportunities for additional income and guest experiences. Through strategic partnerships with local businesses, you can display advertisements, promotions, discounts, and sponsored content on those digital posters. This makes it easier and quicker for guests to learn about some of the local attractions they might want to check out.
Examples of the types of businesses and organizations that might want to run advertisements on standing digital posters include the following:
Amusement parks
Local restaurants
Museums
Local places of worship
Attractions such as zoos, aquariums, etc.
Sprinkle in ads sparingly and effectively. Your hotel can also explore affiliate marketing, earning commissions for promoting products or services relevant to their guests' needs and interests. Carefully curated content on a digital poster can provide valuable information and recommendations to guests, enhancing their stay and building stronger relationships within the local community.
Display Real-Time Information for Guests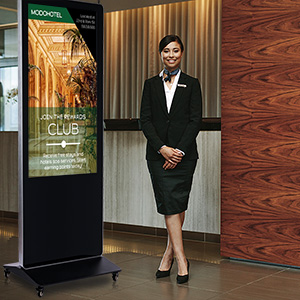 Another way to delight your guests with digital standing posters is to display real-time information that they can use. They are likely interested in tidbits of information that may include:
Check-in waiting times
Hotel restaurant operating hours
Local travel updates
Local weather conditions
Sports scores
Stock quotes
Carefully displaying this information will help prevent visual clutter. You can set up your sign to rotate through different pieces of important information so it will all stay fresh and relevant to the guests you are serving.
Transform Hospitality with Dynamic Digital Signage
Standing digital posters are the wave of the future. They are far more effective at communicating relevant information than traditional posters, and your guests will appreciate the extra effort you put into providing this to them. Scatter these digital posters throughout the hotel so all guests have access to the information they require. At Displays2go, we have a large assortment of standing digital posters to fit your hospitality needs. By harnessing the power of these digital signs your hotel can elevate its branding, exceed guest expectations, and create a path towards a dynamic future in the evolving hospitality landscape.