Posted on 30, October, 2023
Last Modified on 15, November, 2023
Shop Products from This Article
At Displays2go, we believe in the power of sustainability. Our success is not solely measured in terms of profit, but also by the positive impact we have on people and the planet. We are on a journey to deeply ingrain sustainability into our business ethos, and we take great pride in prioritizing the triple bottom line – ensuring success for people, planet, and profit.
To get a more in-depth understanding on our mission for sustainability, we discussed the initiative with our Production Engineer, Patrick Kelley, whose key role is to bring innovative, sustainable products to market. He was able to walk us through the process of designing, engineering, and delivering a final product that aligns with our values, as well as provide insight as to how we evaluate and score them across weighted criteria that gives us certainty that they can be labeled as sustainable. As we continue to develop sustainable products for the market, we follow a comprehensive checklist with a robust rating system that evaluates key components derived from our four core pillars: Climate, Circularity, Biodiversity, and Innovation.
Let's talk about our Label. What does Greenprint mean?
You may see a Greenprint certification on many of our products. This badge identifies it as part of our sustainable product assortment. To meet our environmental, social, and economic standards, these products must pass with at least a point-rating of a 3 out of 5 or higher on our rating scale to be considered a sustainable product. Read on to learn about how we judge our eco-friendly product lines.

Learn More About Our Workshop and the Care Behind Our Displays
Climate
Climate change is the most pressing challenge facing our planet today. At Displays2go, we are committed to minimizing our carbon footprint and reducing CO2 emissions, and we work closely with other companies that share a similar ideology. This commitment starts with sourcing and extends to every aspect of our business operations. When sourcing products and materials, we target suppliers and products that prioritize energy efficiency, helping us reduce our overall environmental impact.
In companies that we work with, we look for certifications such as ISO 14001, which focuses on environmental management systems including material production and labor practices, and ISO 5001, which provides the standard for organizations to manage and improve their energy consumption and efficiency. We also look for companies with EcoVadis participation. EcoVadis is a globally recognized assessment platform that rates businesses' sustainability based on four key categories: environmental impact, labor, and. human rights standards, ethics, and procurement practices. We conduct and obtain audits to ensure our partners and products are truthful about the claims they make for sustainability. Sourcing locally helps meet our carbon footprint goals, and products or materials that are procured domestically or manufactured in our Fall River, MA facility are assigned higher climate impact ratings.
Circularity
Circularity is all about closing the loop. We focus on designing displays that are not only aesthetically pleasing but also prioritize recyclability, reusability, sustainable packaging, and the use of single material solutions whenever possible.
One of the largest factors in our recyclability practice is our packaging. Our team works diligently when possible to create custom packaging with the smallest carbon footprint. "We try to avoid using bubble wraps, plastics, or foam when designing sustainable products. Instead we utilize B-pad and honeycomb cardboard, which are just as effective as the alternatives without the long-term environmental impact" said Patrick. Because we don't just wrap our product in bubble wrap and ship them out, our team has to custom design each package to optimize for a flat-pack, durable shipping container. This extra step is worth it to be able to provide a more sustainable product from start to finish.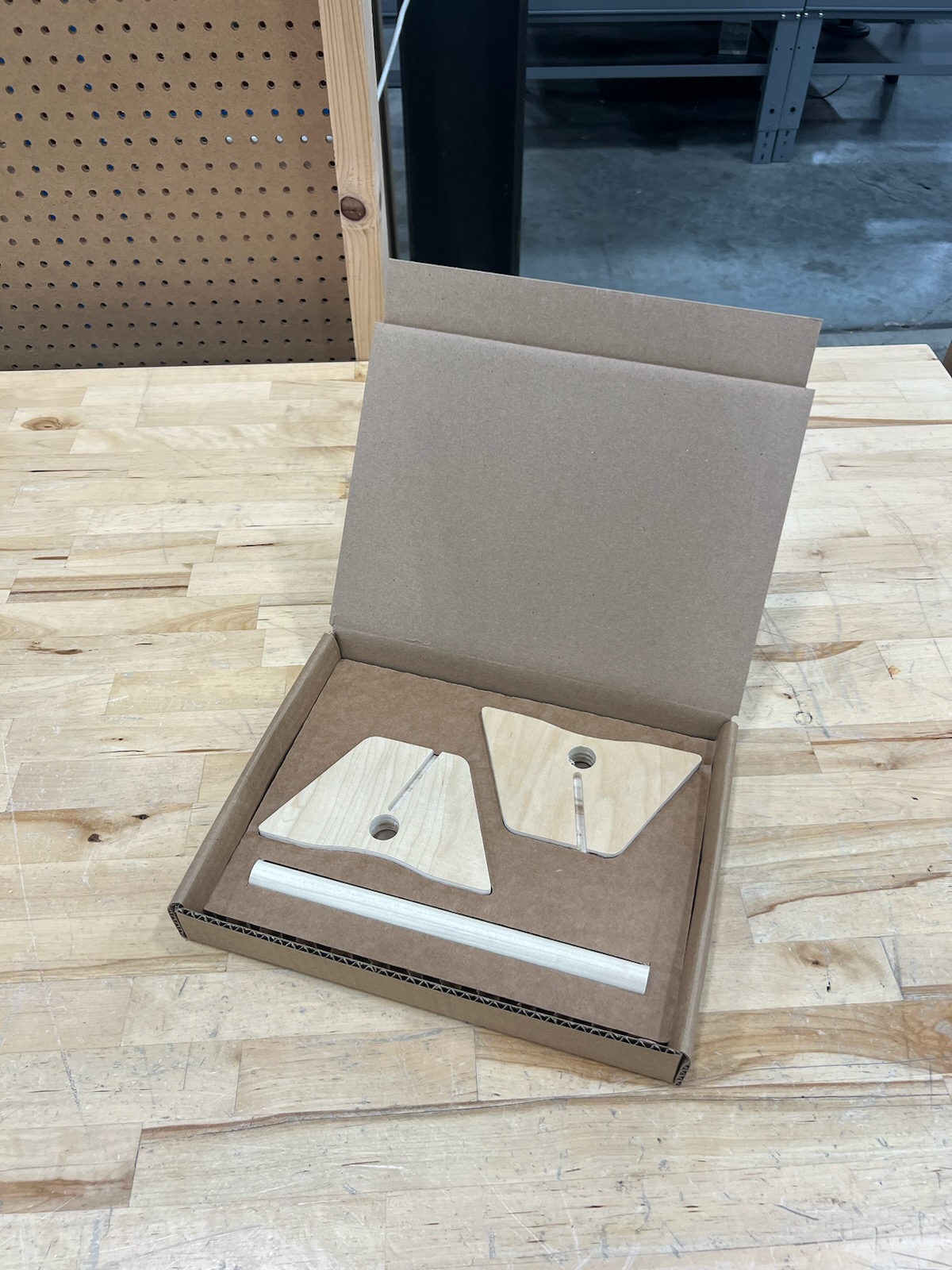 Custom-made flat-pack shipping box (no foam or bubble wrap)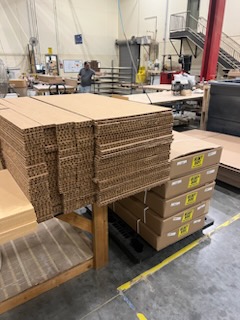 B-pad cardboard is durable for shipping
Physical durability and reusability of our products is also a crucial indicator of its circularity. The materials we use are designed to be durable, reusable, and recyclable when you are done using them. Take Xanita board for example. "Our Xanita board displays are essentially a thick cardboard core with a UV coating that allows for custom printing and messaging," said Patrick. This material is more durable and longer lasting, making it more reusable than regular cardboard but just as recyclable, even with the UV coating. Products that might not be fashioned with traditionally eco-friendly materials can, in some cases, be considered sustainable due to their durability and longevity.
It's also important to be able to separate different materials to comply with different recycling practices when the time comes. "Being able to separate the materials for recyclability is huge" said Patrick. "We try either to make separation easy or strive for single material solutions when possible." Otherwise, we make an effort to minimize the number of different materials used in our designs. Many of our displays feature a knockdown or cam-lock design where the pieces will fit together with little to no extra hardware needed. This means when you're done with your display, breakdown and disposal is easy. Always check your municipal recycling policies to learn about what can and can't be recycled as part of local pickup in your area.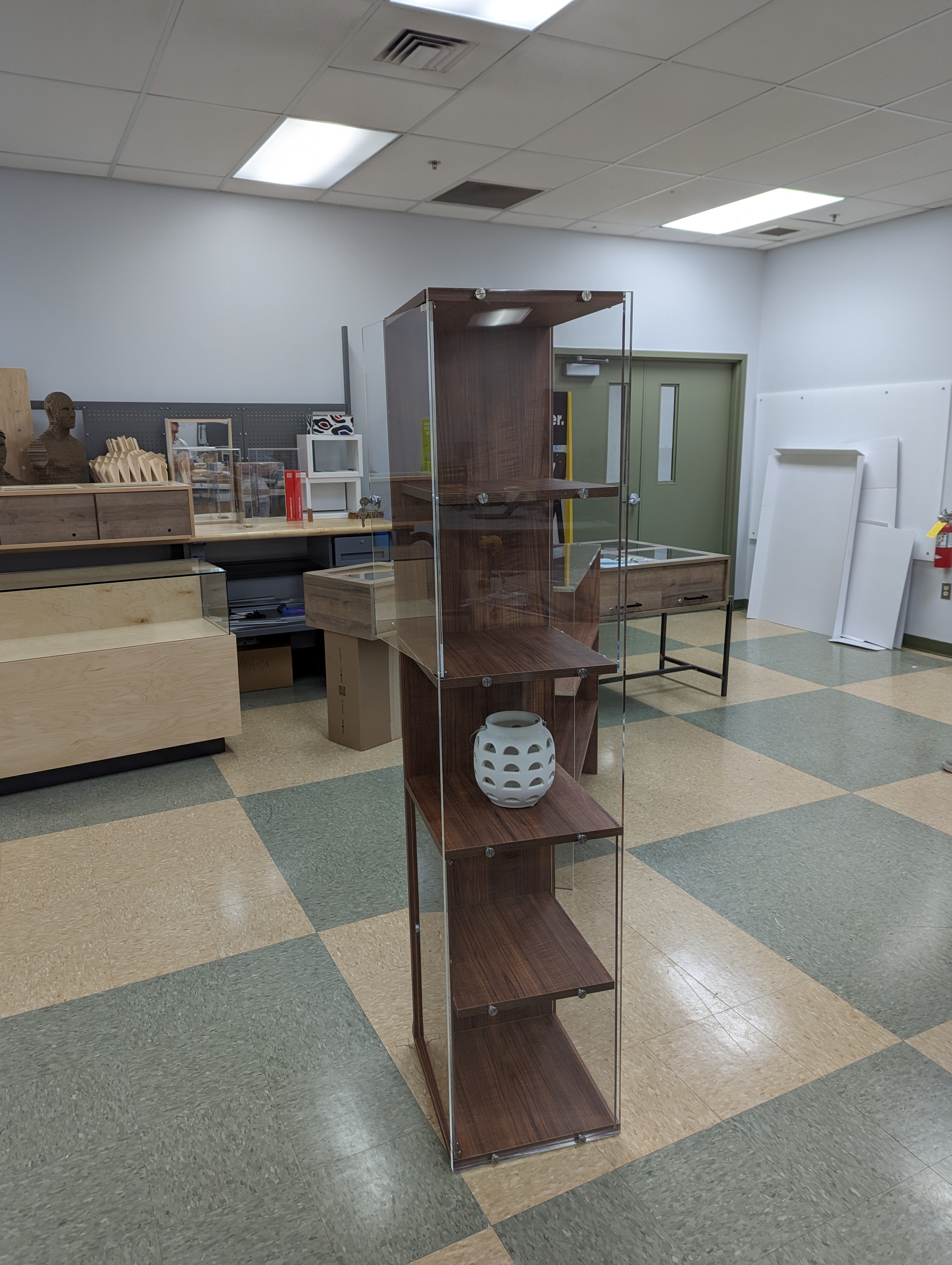 Wood & Acrylic Display Tower, made from FSC Certified Hardwood and Recycled Acrylic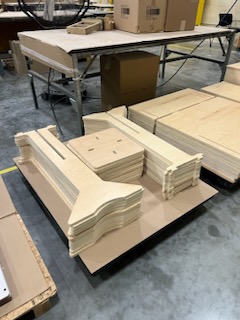 Modular, knockdown design makes for easy shipping and ease-of-assembly
Biodiversity
Biodiversity is an indispensable factor in the strength and vitality of our planet. Our commitment extends to the use of biodegradable materials and a concerted effort to reduce plastic emissions, leading to a more sustainable way of life for all of our planet's organisms. We ask ourselves:


Do these raw materials come from FSC-certified vendors?
Is the product biodegradable?
Is the product plastic free or reduce the emittance of micro plastics?

"When developing products we're seeking wood that is coming from a supplier who is replanting the trees and not contributing to deforestation," Patrick said. "All of our particle board and plywood used for our internal manufacturing is FSC (Forest Stewardship Council)-certified and the companies have the required ISO (International Organization for Standardization)-certification as well." On our planet, we only have a limited amount of resources, so we strive to use renewable materials like wood and cardboard as often as possible. You'll find in our Dandelion line, most of our products are strictly made of wood, hardboard, and plywood, with a recyclable UV coated outer that enhances durability and protection from water.
Patrick noted that sustainable products don't necessarily need to present the raw, unrefined wood aesthetic that is typically associated with eco-friendly products. We use composite woods, cardboards and woods fashioned with compressed, ground-up fibers in many of our designs, but in some cases, the product warrants expanding to other types of wood and using these other types of woods as accents. When darker-tone woods that don't jump off the page as "sustainable" are used, it's the certifications that help us decide whether we can label our products with the Greenprint badge.
Our recycled acrylic plays a large role in helping us meet sustainability goals by using virgin acrylic manufacturing waste to minimize production of new production materials and reduce the impact of new plastics in the environment. These practices allow for a more biodiverse ecosystem across our planet and all the way through our supply chain to the end consumer. To learn more about our acrylic recycling process, read our article on Recycled Acrylic vs. Virgin Acrylic.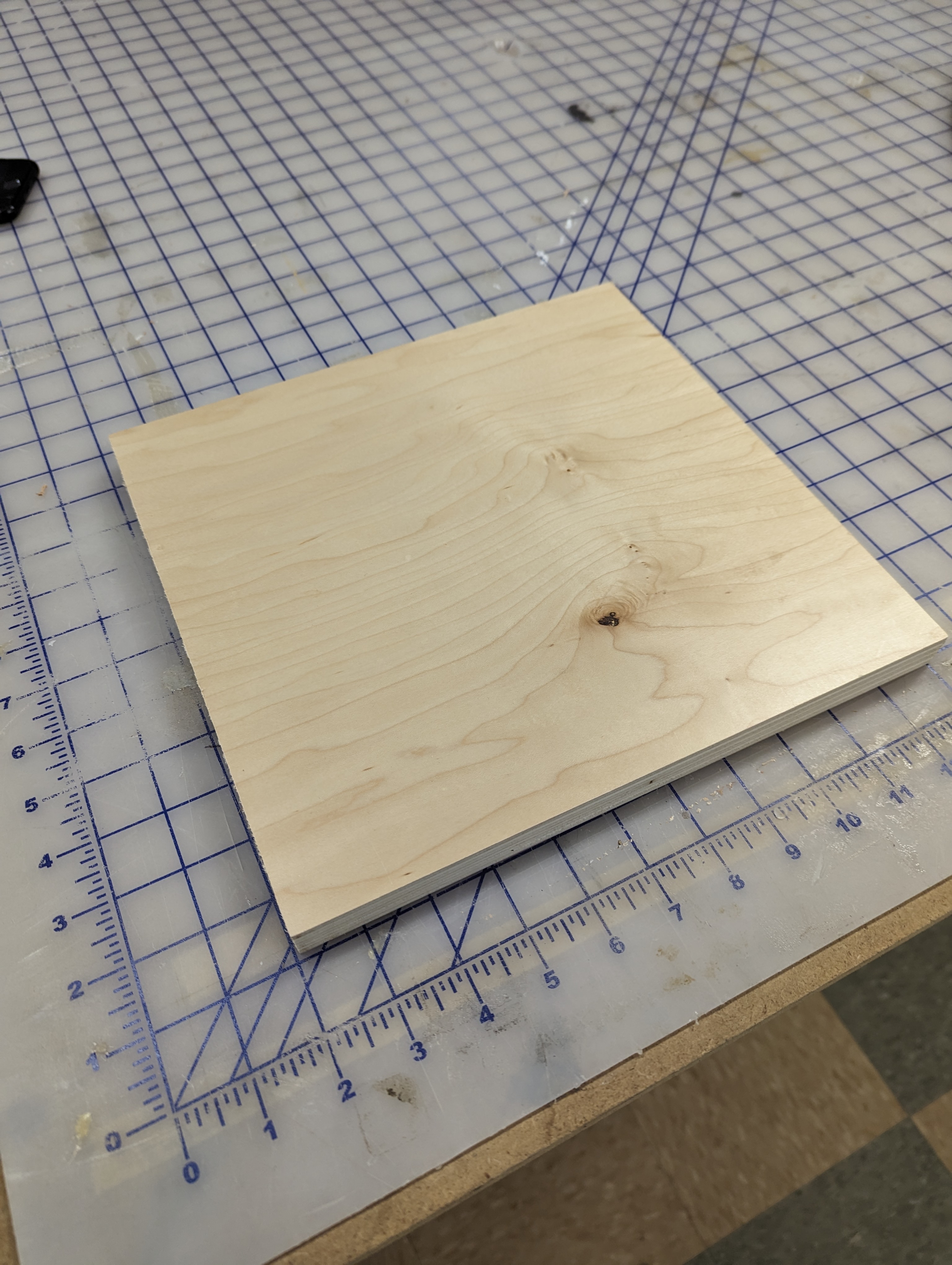 UV Coated Hardboard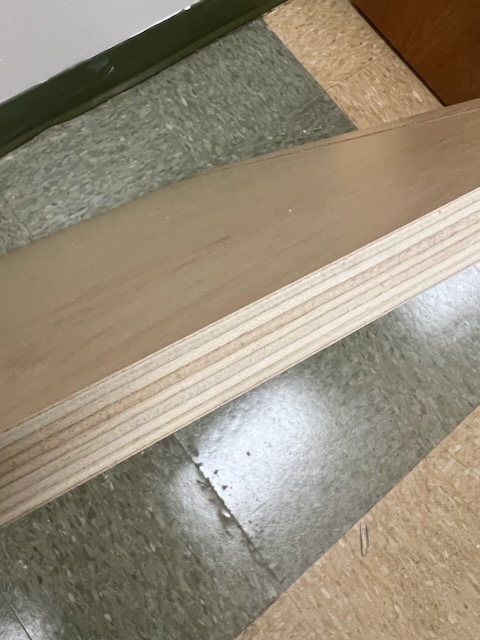 Recycled UV Coated Plywood Made from Recycled Materials
Innovation
Our last main focus is innovation. Innovation drives progress, and at Displays2go, we are always looking for new ways to enhance sustainability and bring new products and ideas to the forefront. Our focus on innovation includes continuous product design and development and careful planning to ensure an all around beneficial and long-term sustainable product. One example is that our Dandelion line custom packaging and handmade/hand-designed displays are specially tailored to meet our sustainability guidelines and our products are crafted with ease-of-use in mind. We aren't trying to reinvent the wheel anytime soon, but rather perfect and refine our customers' favorite products to minimize waste and provide businesses with leading market displays.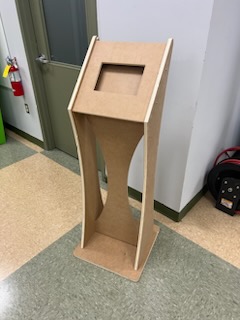 Dandelion iPad stand made of sustainable FSC Certified wood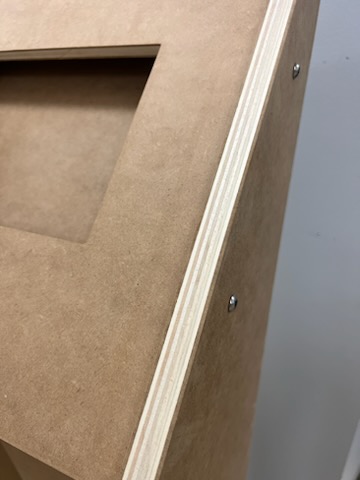 Sustainable materials and minimal, modular design
Dissecting a Display Case
Eco-Friendly Materials: A xanita board base and recycled acrylic casing were thoughtfully sourced to minimize environmental impact.
Durability and Reusability: The Xanita board material features a high-crush-strength kraft core manufactured from post-consumer recycled paper waste, making for a durable build intended for several repeat uses.
Easy Assembly/Deconstruction: No-tool assembly minimizes waste and simplifies setup and knockdown. The pieces are designed to lock together for a durable, yet easy-to-construct showcase.
Flat-Pack Shipping: Better for the environment and more cost-effective for you, this item ships "flat" making for easier transport with less carbon footprint.
Non-Toxic Printing: You get all of the customization while minimizing environmental externalities with full-color, non-toxic water based printing on a durable UV-coated surface.
The Displays2go Difference
Our commitment to sustainability is not just a checkbox; it's a mindset that is carried through every aspect of our business. From the sourcing of raw materials to the design and manufacturing of our displays and packaging, we are constantly seeking ways to make a positive impact, innovating along the way. As part of our sustainability journey, we also encourage our customers and partners to embrace sustainable practices. By doing so, we create a ripple effect that goes beyond our business and contributes to a greener, more sustainable world. Our rigorous checklist for sustainability ensures that we continue to meet and exceed our own high standards. We will keep pushing the boundaries of what's possible, finding innovative solutions that reduce our environmental impact while delivering exceptional displays for our customers.