Posted on 14, March, 2023
Last Modified on 25, August, 2023
If you're reading this you've most likely decided to attend your first trade show. Congratulations, you've taken a big first step in opening up a new world of lead capture, networking and marketing opportunities! Designing your booth, showing off your brand to your market and bringing home a healthy list of contacts is an exhilarating and creative endeavor we know you're going to love. Excitement aside for just a moment, let's consider Murphy's law: "Anything that can go wrong will go wrong" and note that coordinating a trade show booth is no exception to the rule, but that's why we're here to help minimize some of the most common first-time exhibitor mishaps. As exhibit vendors ourselves, we want to share our learnings from personal experience to make sure you have a successful show and achieve your goals. Keep reading for some important tips that may save you a headache or two, and also prepare you and your team for the maximum amount of time on the trade show floor generating value for your business.
Time to Strategize
You just signed up for your first trade show, so what's the plan?
Read the show's manual thoroughly and carefully.

Be aware of the rules and regulations.
Learn basic information - dates, times, etc.
Be aware of deadlines, these are very important! You'll want to have a firm understanding of target dates to stay on track.
Fill out necessary paperwork and order forms.

Find out who the show's contractors or managers are, the details should be in your welcome email or information packet along with other vital details. They will be happy to answer any questions you may have and can provide you with the services that will help have a successful show..

They may include but are not limited to utilities, electrical, audiovisuals, rentals, labor, carpet, transportation, and material handling.

Decide who from your team will be attending, designate roles and responsibilities.

How will your team's contributions be delegated? Responsibilities may include hosts, brand ambassadors, crowd gatherers, demonstrators and sales reps.
Does anyone need additional training or practice? If so, rehearse your roles!
What is the sales approach? Exclusive offers, demonstrations and meeting appointments are all great strategies.
Coordinate Matching uniforms or shirts. You'll want your team and brand to be recognizable on the trade show floor.

Create goals for the show. These will outline how you can measure success. Examples:

Connect with, and research the needs of your target market.
Generate more lead prospects.
Brand exposure and awareness to markets that are typically unreachable.

Define your target market and let your sales strategy follow.

Who is your traditional target audience? What are their interests and needs?
How will your product or service be a solution to their needs?
How can you showcase this need to them in your booth?

Design your booth plan.

Your booth should highlight your product or service.
Are you going to rent or buy your booth?
Not sure how to acquire your booth? Check out our quiz!
Pick the best location for your booth.
We have advice on booth location too!
Don't Budge the Budget.
One of the most important factors to consider when attending a trade show is the budget. Set it ahead of time, get approval and stick to it as closely as possible.
Make comprehensive lists of everything you will need ahead of time.

Staff - if traveling they'll need accommodations like flights, rides, and hotels. Make sure to look into group rates at the venue or nearby hotels. These are often provided by the show. Plan to set arrival and departure times around setup and teardown schedules. Your staff may need extra time to arrive early and leave later.
Venue Fees - registration, booth space, etc.
Advertising & Giveaways
Show Services - labor, utilities, etc.
Logistics & Shipping

Expect the total budget to equate around $200-$300/sq ft OR 2/3x cost of booth space depending on needs and customizations.
On a tight budget and need displays? Check out some of our budget friendly trade show products.
Have a yearly marketing budget? Use trade shows as an associated cost. Adding trade shows in your overall marketing plan will help prevent you from adding a new cost to your budget.
The Total Package: Shipping & Logistics
If you're traveling for a trade show, which is more likely than not, another important factor to consider is shipping and logistics.
Confirm Inbound and Outbound Shipping

Do they require certified weight tickets?
Do they require a material handling agreement?
Try to choose a shipping provider with trade show transportation experience if you can.
The show's manual should provide recommendations and requirements around all aspects of logistics.

Make sure to number and label all boxes. You'll know what is missing in case of a lost box. Make sure to follow these other best practices:

Take photos of your shipment.
Don't forget to record tracking numbers for reference.

Remember, unless perishable, you're going to have to ship everything back.

Pro Tip: Keep everything (like boxes) you stored your products or demos in safe and intact to reuse, otherwise you'll end up with double the cost and double the effort.

Research the shipping and receiving details for your show.

Do you need to shrink wrap everything on a wooden pallet? Make sure nothing is hanging off the sides and use wooden crates to protect valuables!
Material & Handling (Drayage) does not equal shipping, but it is sometimes included, make sure to check!
Coordinate with the general contractor to familiarize yourself with key documentation and plan effectively. They will be happy to inform you about the right protocols and procedures.

Accurately weighing your shipment is important to plan out logistics efficiently and minimize costs.

Note: Weight limitations can affect what you can bring, which may require some problem-solving on what is most important to your trade show experience and how excess weight can be minimized.

Ship in advance. Many shows allow their warehouse to store shipments up to 30 days in advance. If storage is available for your show, this can save costs and ensure your shipment arrives on time.
Setup & Teardown - Who's Doing What?
Planning on having a large booth or having heavy equipment? You may want to consider using the show's laborer.
Most shows will bring your shipping to your booth space for set up.

Double check to make sure all shipments have arrived.

Before the show make sure you can use tools on the show floor!

Items like demos, structures, and furniture may need tools to set up.
Some shows may not allow tools for a number of safety reasons, so make sure to check what is allowed.
If you can't use tools, contact the show's laborer to see what options you have available. You may be required to use their provided vendor.

Having a laborer set up your equipment could save you time and stress.
Other types of labor you may need:

Electrical - will you have any digital equipment or lighting?
Wifi and internet access.
Housekeeping - trash removal, sweep, vacuuming.

Remember, most shows will require a staff member to work with the laborer, if so, make sure that one of your team members is familiar with the booth setup and can help advise.
Stay Connected & Organized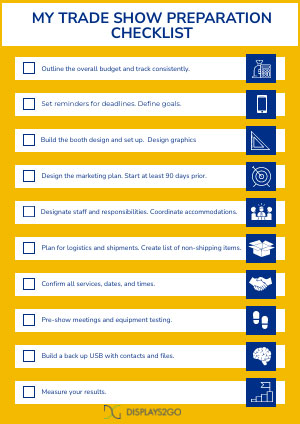 Just like any event, there will be a number of deadlines to adhere to. Some may be mandated by your company and the show, others can be self-imposed, like marketing plan checkpoints. It is essential that you stay on top of each one.
Deadlines can include: graphics, payments, shipping, budget approvals.
Create a calendar of when those deadlines are due.
Meet with your team regularly.

Discuss progress.
Maintain open communication throughout the process through shared channels.
Schedule a pre-show meeting to reiterate show goals and measurables.

Don't forget items that may not be included in your shipment.
Marketing for the Show Starts as Soon as You Sign Up.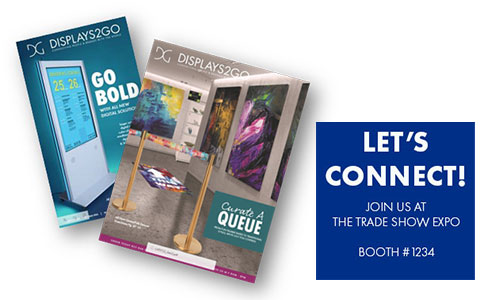 Attending a trade show in itself is a great way to market your brand, but how will your customers and prospects know you'll be there?
Advertisements.

Include times, dates, booth number.
Where can customers and prospects find you?

Start a Hashtag.

This is a great method of getting social media exposure for before, during, and after. It can even help attendees locate your team at the show! Make sure to use the Trade Show's hashtag in your posts as well to expand your reach.

Collateral at the show.

Give out and present your product or service with your pitch.
Bring a USB flash drive with all your files - you can print more if you run out!

Don't forget about giveaways!

Be creative.
Entice people passing by.
Advertise what you'll be giving away or make it a mystery!
These don't have to relate to your brand's products, just put your logo on items you'll know they'll use long after the show.
Conclusion
Exhibiting at a trade show is a lot of work, but we are confident that your time and effort will pay off. The process starts as soon as you sign up, so take advantage of the time you have to be prepared. Making lists, following our guidance and taking it one step at a time can make it less overwhelming, and it gets easier after your first one. We hope that following these tips will help make sure you have a successful show. If you haven't started building your booth yet, make sure to check out our wide selection of high-quality trade show display fixtures.