Acrylic Donation Boxes in Countertop, Wall Mount, & Floor-Standing Styles
---
Collection Boxes in Clear or Black Acrylic for Donations and Leads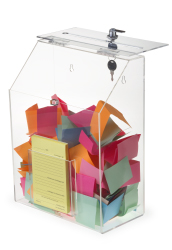 Looking to collect money for your cause? These acrylic donation boxes are an inexpensive, convenient way to accept small cash gifts at a public event. Their relatively small size allows you to put them just about anywhere - the checkout counter of your store, a table at a fundraiser, a reception desk - you name it. We also offer floor stands that make for an impactful visual, as passersby can see all the contributions piling up. Even clear countertop acrylic donation boxes show donors what kind of effect they can have and foster a sense of group accomplishment. It's all about breaking down the barriers to participation, and these see-through fixtures can make a huge impact on the number of offerings collected. If more discretion is needed, when collecting leads, ballots, and feedback for instance, opaque black collection bins are the way to go.
How can I let people know about my charity or contest?
For an all-in-one solution, consider acrylic donation boxes with built-in sign holders to display advertisements. Put your cause front-and-center to entice donors to give with a strong, highly visible message. This type of signage is also great for outlining contest rules and potential prizes. Print your own advertisements and notices and easily swap them out as needed.
Clear acrylic boxes with sign headers present the unique benefit of allowing guests to see what's inside. With the contents unobscured, potential donors can see the contributions growing and feel compelled to give as well. The signage headers are a breeze to load with your custom signage.
Pick up a plastic donation box with a video screen to further enhance your messaging. The vibrant display can play slideshows and short movies to capture guests' attention. Choose from an integrated screen that is built into the front of the bin or a combined model that offers both traditional signage and multimedia advertising.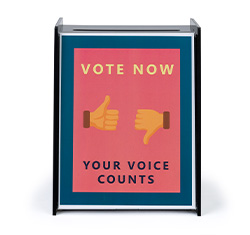 Host a giveaway by encouraging repeat customers to drop off their business cards. While they may vary in size, each collection bin has a slot that's big enough for entry stubs, folded ballots, and dollar bills. Locking acrylic donation boxes are a simple, elegant way to keep personal information and cash contributions safe from tampering and theft. Some models include side pockets to hold literature so donors can learn more about your cause or forms for quick and easy entry into your contest. We offer inexpensive boxes for organizations on a budget, as well. Smaller units, while more affordable, still offer the same build quality as larger models. Our plastic collection bins also ship same day for those last-minute event planning needs.
Need a more permanent donation box with a heavy-duty build? Browse our wide selection of locking metal ballot boxes with wall-mounting and floor standing options. Place in your lobby to collect feedback or use as a secure key-drop for your hotel or auto repair business. Metal ballot boxes stand up to heavy public use and offer similar features to our acrylic models.