Collectible Display Cases for Sports Memorabilia, Models, and Prized Possessions
---
Glass and Acrylic Promotional Cases Balance Visibility and Security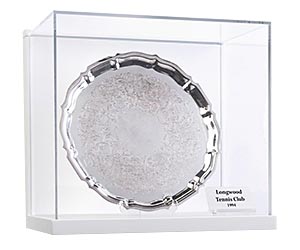 There are plenty of items that can be sold alongside one another in traditional sales counters. Other, more unique, items require one-of-a-kind attention that truly highlights their individual value. Retailers and enthusiasts use collectible display cases to tell customers a piece is worth special attention. These fixtures are popular in museums, schools, retail stores, and at home due to their designs able to blend in with any environment. Use collectible display cases to diversify presentations throughout your store or showcase your most prized possession where everybody can see.
We have designed these units to maintain their quality appearance through heavy public use. The acrylic or tempered glass tops are shatter resistant yet maintain high-visibility. Many of our collectible display cases are crafted from medium density fiberboard, which is longer-lasting than solid wood in high-traffic areas. Select models feature a locking mechanism as well, perfect for small shops who might have very few employees. Browse our selection of model displays, shadow boxes, cabinets, and sports cases to find the ideal arrangement for your storefront.
What kind of collectible display case styles are available?
Shadow Boxes - Your options are limitless. Use these gorgeous fixtures to display a collection of insects, leaves, a photo collage or your favorite sports jersey!
Shot Glass Cases - These displays can be wall mounted or used on a countertop. Use to showcase all of the coolest shot glasses you've collected over the years.
Model Boxes- The time and effort put into creating a model would be wasted if you didn't properly display it. Check out our selection to protect your model car or ship.
Sports Figurine Boxes - Quite a few different styles and types are available, including pedestal stands for helmets and smaller cases for baseballs or golf balls.
Note product descriptions and SKU numbers to match display cases with similar size specifications or wood finishes and create a cohesive retail theme. Different materials & styles suit different needs. Acrylic is lighter, see-through and more affordable, while wood and glass fixtures are higher-end and often match more traditional decor. Every piece in your exhibit has a story, so take advantage of countertop or wall mounting literature dispensers to share the contact information of private antiquers, artist, collectors, or brochures about new product lines in your store.