Rotating Tabletop Literature Displays Organize Printed Materials Efficiently
---
Save Valuable Countertop Real Estate with Spinning Literature Carousels!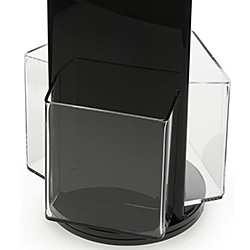 Have a lot of printed materials to offer but not enough counter space? Rotating tabletop literature displays are the go-to choice for businesses and service providers. Because of their small footprint and multiple pockets, our carousels can accommodate a large number of pamphlets and/or magazines. Rotating tabletop literature displays invite patrons and customers to browse your offerings — the spinning action is an attention-getter! Provide visitors in your waiting room with a selection of periodicals. Or, make a dedicated location for your company's rates and service plans. Whatever your application, rotating tabletop literature displays will keep counters and desks free of clutter. An organized office or lobby projects efficiency and assurance.
How many styles of countertop brochure spinners are available?
Rotating tabletop literature displays made from steel wire are the most economical. Featuring multiple pockets stacked two levels tall, the open-style design provides a clear view of your print materials. An optional sign clip located at the top adds a place for additional messages. This literature spinner style is the affordable choice for souvenir shops, tourism centers, or any other establishment looking to offer free takeaway brochures for local attractions and travel destinations.
Revolving literature displays made from acrylic offer the widest selection at the mid-price level. With the number of available pockets ranging from 3 to 16, the choices are many. The brochure spinners are fabricated in black acrylic with clear pockets to give people a full view of the contents. Establishments like financial institutions and health centers often need to display multiple folded pamphlets and brochures. Why have many one-pocket literature holders when a single rotating stand will accommodate everything? Our customers exhibiting at job fairs and trade shows choose this space-saving solution all the time.
Spinning literature racks made of wood are at the top tier of quality. Available in three handsome stained finishes, these models look as good as any fine wooden furnishing. In addition, the deluxe carousels feature the ability to add or remove pocket dividers. This allows you to display folded pamphlets or full-size periodicals, or both together. The quality and craftsmanship of our wooden magazine spinners make them ideal for law offices, waiting rooms, or other upscale interiors.
Saving space is what it's all about. When you need to organize and display a multitude of different pamphlets or magazines (at the countertop level), revolving spinners are the smart choice. Another style of literature rack, tiered brochure holders, shares many similarities to the rotating models. Designed for single-sided placement, these affordable alternatives can also accommodate a wide variety of printed materials.