Gravity Dispensers Store and Protect Cereal, Coffee Beans, Nuts, & Much More
---
Exceed Your Customer's Expectations with Commercial Dry Food Dispensers
Why is bulk merchandising the smart choice for retailers? It provides shoppers with a convenient way to buy the product without the packaging, which leads to better value. Bulk food dispensers offer large profit margins for the retailer and save resources, giving both customers and store owners good reasons to participate. Perception also plays a big role. In the eyes of consumers, dry goods in bulk usually feature less processing which appeals to health-conscious individuals. The many choices of whole grains are just such an example. In addition, commercial bulk food dispensers also store candy, cereal, pasta, coffee beans, and virtually any other dry good small enough to flow through the container's opening. As with any fixture designed to store edibles, these plastic containers feature food-safe manufacturing techniques with most models NSF certified. That stands for the National Sanitation Foundation, an independent organization that ensures food service equipment is designed and constructed to maintain food safety and hygiene.
What are the two main types of gravity bins?
Continuous Flow bulk food dispensers are designed to handle large quantities of dry goods. Simply start dispensing action by pulling down on the spring-loaded handle. Each model's flow rate can be adjusted for "fast" or "slow" settings. During use, the exit chute remains wide open, requiring the operator to control the flow while filling bags or plastic containers. Label holders describing what's inside complete the presentation. We sell models in three, five, and 12-gallon styles with four color options of your choice. Constructed from tough polycarbonate plastic, the gravity bins also come with a front section that stays filled to better display the contents to the consumer. When multiple containers are stacked side by side, this feature not only proves most helpful but also makes for a more consistent presentation when the bins are in several states of depletion. As with any food canister storing 3 to 12 gallons of dry goods, weight can be a factor. Safety locking strips that secure the fixtures to riser stands can be purchased separately to make your bulk food station safe for self-serve customers.
Portion-Control dispensers inhabit the smaller side of the spectrum. Usually no larger than the one gallon capacity, these personal-use models work a lot different than their larger, continuous flow cousins. A good choice for break rooms, continental breakfast spreads, and kitchen counters, this style features rubber paddle wheels that divvy out single servings of items not normally consumed in large quantity. Examples include ice cream toppings, candy, trail mix, and dried fruit. Stand-alone models are available with one, two, three, or four canisters which can offer a variety of different choices, like breakfast cereals. If your setup requires more counter space, we suggest purchasing one of our wall mount racks to free up extra real estate.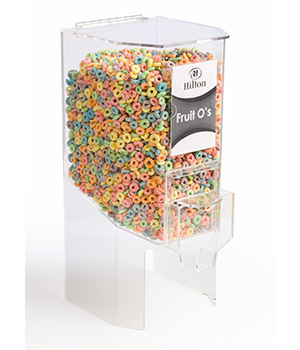 What kinds of industries use dry food dispensers?
Grocery stores and supermarkets usually have an aisle or two dedicated to bulk foods like grains, nuts, snacks, pastas, and coffee beans. Health food stores take this a step further by offering even more specialty grains that appeal to health conscious consumers.
Coffeehouses that roast their own beans often offer patrons the ability to purchase ground or full-bean coffee through these self-serve fixtures. The same goes for tea houses that sell loose tea leaves in bulk.
Candy shops are heavily into gravity bins. There is no better dispensing fixture than these dependable containers that tempt the customer with the eye-popping smells and colors of chocolates, jelly beans, and coated nuts. Acrylic candy bins with tongs are another product line worth mentioning due to their ubiquitous use in these specialty stores.
Hotels and Bed & Breakfasts offer continental buffets as part of your stay. Cereal dispensers are popular items at the counter, including additional breakfast grains such as nuts and oatmeal. Hot and cold beverage dispensers are also widely used in these buffet-style spreads.
Pet supply stores stock their bins with dog and cat food, bird seed, chewies, and treats for that most important member of your family.
The bottom line is commercial bulk dispensers help save resources by reducing wasteful packaging. From the retailer's perspective with one eye on the environment, this lessens their carbon footprint. Consumers are more than willing to participate in this as well, making this choice a win-win situation for everyone involved. Order from Displays2go and benefit from competitive prices!