Impulse Merchandising Strips - Floorstanding and Countertop Displays, Strip & Peg Clips
---
Impulse Merchandising Strips Entice Last-Minute Sales in Checkout Lines
A large portion of retail sales are from items presented to customers while in the checkout line. These last-minute purchases are a result of clever product positioning in places where patrons have the time debate grabbing an extra item or two, or are tempted by a snack or small accessory enough to place it in their cart. By using impulse merchandising strips, retailers can present packaged food, accessories, keychains, and other small items to boost last-minute sales. We offer a number of freestanding, countertop, hanging, and gridwall displays which allow merchandisers a diverse selection of displays. Mix and match fixtures to suit situational promotional needs by taking advantage of multi-clamp or rotating options and top-mounted sign holders.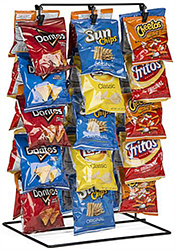 What different options are available for point of sale impulse merchandising strips?
Floor standing spinner racks offer different displaying options:

Circular Racks w/ Attachable Clips(sold separately)
Metal Peg Hooks
Clip Clamps

Countertop merchandising racks to place directly next to the cash register with:

Metal Rounded Hooks w/ Upward Angle
Double Sided Peg Hooks
2 or 4-Sided Clip Clamps

Hanging merchandising strips mount by:

S-Hooks
Window Suction Cups
Impulse merchandising strips are available in a variety of styles, including hanging, countertop, floorstanding, and rotating models. For retail stores with limited space, we suggest using a plastic or metal chip rack hanger to utilize commonly unused wall space. Each impulse merchandising strip is ideal for displaying candy, chips, snacks, and other lightweight blister pack items. Hanging fixtures feature suction cups or S-hooks, are lightweight and can be affixed to windows, gridwalls, metal shelving, or lacquered wood. Countertop and floorstanding models are great for checkout lines, or to fill open space in store aisles.
Merchandising strips are a great addition to any convenience store, supermarket, specialty food supplier, and even stores with small items such as toys or bookshops. While traditional retail fixtures can cost thousands of dollars and take up significant floor space, these clip displays are affordable present products in underutilized locations. Merchandising strips increase promotional capabilities with top-mounted signage and bolster purchases at checkout by tempting customers with quick-grab snack and household promotional items.
Effective product placement can significantly improve the amount of sales any store can net. By setting up stores for impulse purchases, customers are prompted to buy items they had not intended, will satisfy a craving, or that they realized they need at home. How you market an item is a driving force behind how well it will sell. Starting improving your point of sale set up with rotating or hanging wand merchandisers with attached promotional signage.