Gridwall Accessories Help Display Retail Merchandise
---
Gridwall Attachments Featuring Hooks, Faceouts, & Rails
Looking to display retail merchandise in an effective way? Gridwall accessories help showcase loose products and clothing. Slatwall fixtures are versatile and inexpensive, making them a popular choice for retailers. Gridwall accessories are sleek and simple, yet they have a sturdy, rugged construction to hold various types of merchandise. The appeal of grid fixtures is that they can adapt to fit any environment, whether it's an upscale boutique or an on-the-go convenience store. These accessories help organize products in an appealing way — as well as situate them effectively for retail sale.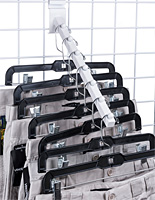 What types of grid fixtures are available?
Metal Baskets: These gridwall accessories are best suited for loose products. Toiletries, candy, beauty products, and other small merchandise can be stocked, viewed, and organized in these crates.
Waterfall Hooks: Angled hangers with J-shaped hooks or knob or ball spacers are ideal for retail settings displaying clothing. The design helps in separating garments for visibility while maximizing space. Theses accessories allow patrons to easily browse through each piece and find the right size, color, etc.
Peg Hooks: Generally suited for items in blister packaging, this style fixture has an angled tip to keep products in place. 10" and 12" hooks are available in finishes of black and white. These are often used in convenience stores or pharmacies — any high traffic location where people often have a "grab-and-go" mentality.
"C" Rail Merchandisers: If you're looking to accommodate retail items while taking up little space, the C-shaped hanger is just what you need. Department stores often use these fixtures for showcasing clothing in large quantities. The design, also known as a U-shape rail, comes in rounded or squared-off styles that allow customers to peruse merchandise with ease.
What are some of the benefits of grid fixtures? Everything is off the ground! With these attachments, retailers can create displays on walls instead of taking up valuable floor space. Oftentimes, shoppers avoid cluttered, crowded establishments. If you're able to find a way to showcase your merchandise in a different way, customers will be more comfortable in your store. The attachments also help keep products at an appealing eye-level for customers. Looking to purchase grid merchandisers for your business? Floor stands are available that are all compatible with the attachments you see here. Enhance your business and display retail merchandise effectively with the help of Displays2go!