Ceiling TV Mounts with Rotating & Tilting Brackets
---
Adjustable Ceiling Brackets for Flat Screen Technology
Does your showroom have limited wall space? Is it difficult to find room for advertising displays and store fixtures or clear a path for extra foot traffic during a sale? Ceiling TV mounts are ideal for use in shops where wall and floor space are scarce. Overhead mounting systems can also be a great option in a larger venue. Don't let your branded messages get lost in a dark corner. Place plasma screens in a central location in a large room or building using ceiling TV mounts for visibility from every direction.
In addition to boutiques, offices, and conference rooms, overhead mounting brackets are used in sports arenas, hospital waiting rooms, hotel lobbies, college dorm common areas, auto showrooms, restaurants, and malls. Our ceiling TV mounts help make space for freestanding advertising displays like store gondolas. Television holders mounted high enable shop floors to be clutter-free for accommodating more customers during storewide sales. Walls are freed up for shelves, racks and poster ads. Ceiling TV mounts for flat screen holders solve an array of problems when laying out digital advertising stations for a variety of businesses.
How do I select the right plasma flat panel holder for my business? Consider the following features when choosing monitor brackets that mount overhead:
Height Adjustability: When choosing ceiling TV mounts, determine the clearance between the bottom of the screen and the floor to determine the length of the pole; extendable poles are height adjustable.
Orientation: Motorized brackets are preferred in sports arenas and auditoriums with high ceilings. Tilting, rotating and panning capabilities enable tailored viewing to large and small crowds.
Monitor Number: Mount 1, 2, or more flat screen televisions side-by-side or vertically, depending on the number of video presentations and branded messages you want customers to see.
Flat Screen Weight: Each plasma mounting system is designed to hold a flat panel system that falls into a specific weight range. To ensure safety for customers and equipment, be sure the holder will support the weight of your monitor.
VESA Dimensions: Determine if your television is compatible with the bracket you're selecting. Most of these models work with a variety of TV's - make sure yours is on the list!
Design and Style: Placement determines what style your mounting system should be. From window mounted brackets to mounting fixtures for inclined ceilings, there are an array of options.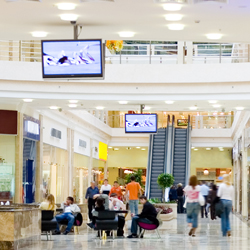 How do Hanging TV Mounts help Businesses Deliver Quality Messaging
With social distancing rules in full effect, along with increased preventative public health measures, these ceiling mounted television stands provide a contactless solution to presenting marketing and promotional information in highly visible locations. We most often see our customers use these fixtures near entry and exit ways to remind customers of sales items, or the location's current social distancing practices.
We also offer television screens and digital signage with integrated content management software, designed to fit these mounts. This type of promotional system makes it easy to swap out graphics from a back office, which is a great alternative to traditional, physical signage. Use a ceiling hanging television mount to showcase versatile digital content throughout your store, to serve as a visible notice board for employees and customers, or to monitor self check-out lines for added security.
Clients and customers can view advertising presentations from every direction when mounts are placed overhead instead of on stands or walls. This line of plasma screen holders for one, two, three, or more monitors has a myriad of uses for retail and business purposes. Viewing can be customized to the room or venue, activity, and anticipated crowd size. Some of our overhead TV brackets with extension poles are height adjustable, with long and extra-long pole lengths - so no matter where your place of business is now, if you ever move, the fixture can be adjusted to the height of the new space. A large convention hall or athletic center will require the pole to be extended, while it can be retracted for smaller stores, offices, and cafes.
Is it easy to install the featured overhead monitor brackets?
Installation is painless, just be sure your mounting surface is clean and hardware-receptive. Never attach these brackets to drop-ceilings or plastic.
Enlist a helper if the unit is too heavy to manage yourself during installation. If you're not confident about placement, it's best to hire a professional.
Anchor bolts, screws, and washers are supplied with purchase of your plasma screen holder, and supplemental fixings are available at most hardware stores.
Our television stands and ceiling brackets are known for thoughtful design, functionality, and effortless installation. Each of these mounts is available in silver or black steel so they can work in any setting without distracting from the decor. Units have various tilting, swiveling and rotation options ensuring customizable viewing for different activities. A motorized fixture works great for stadium-size spaces, or high ceilinged malls, while manual brackets tend to suit smaller venues. Businesses can purchase systems in bulk at discount prices, to create a uniform appearance throughout a retail showroom or chain of restaurants. Our line of LCD/LED plasma screen holders is exceptionally rugged, for use indoors. Extra features like integrated cord management keeps the presentation area organized and professional.
Are you looking for other displays for LCD LED plasma screens besides those we're discussing here? Displays2go.com offers an extensive collection of freestanding television stands and wall brackets for TVs. Shop our selection, today!