Dual & Multi Monitor Mounts | TV Mounting Solutions for Multiple Flat Screens
---
Multi Monitor Mounts - Display 2 or More Screens on Countertop, Ceiling or Wall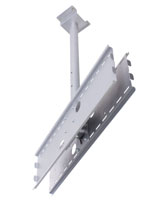 Where are multi monitor mounts commonly seen? Businesses such as casinos, lounges, hotel lobbies and medical offices use plasma monitors for various applications, including security. Doctors use a might use a dual or multi monitor mount for LCD screens as a form of entertainment in the waiting room, as well as a method of sharing important health information with their patients. The flat screen brackets make mounting multiple televisions simple. Many of the plasma brackets are preferred by these establishments simply because they are installed quickly without taking up too much space. Restaurants and retail stores use multi monitor mounts, or multiple TV brackets, to hang TVs that feature advertised daily specials or upcoming sale events. All of the flat screen and LED television arms sold here are VESA compatible. This standard sizing gives the consumer peace of mind that their computer monitor or TV display will fit on the plasma mounting fixtures sold here. Although there are several fixed options that keep monitors nearly flush against a wall, there are other dual designs that feature movable arms for full adjustability. Now more than ever airports and train stations are using similar TV mounting systems to display schedules, as well as directories listing shops and services available in the terminal. Some of these dual flat screen brackets include a built in level to ensure that the television hangs straight. There are many LCD mounting options to choose from here in a wide range of sizes.
Are these dual and multiple TV brackets suitable for home and business use?
These multi monitor mounts are often seen in business offices, however homeowners can also use them to display a flat screen television.
The flat TV mounts can accommodate a wide range of LCD monitors.
No matter where you intend to put the flat panel brackets, they will provide a practical yet inexpensive mounting solution.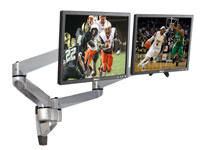 The latest trend with some businesses is displaying a wall mount TV in the vertical position. There are currently a few dual LCD brackets that can accommodate television mounting in both vertical and horizontal positions for sale here. A vertical bracket is typically used in corporate offices that use plasma screens to present information during seminars. The bracket is especially noticeable when used by large department stores in lieu of static marketing posters. Shoppers and other passersby will be instantly attracted to the movement and sound on the LCD screen. Schools and universities use similar ceiling, desk, and wall brackets as a teaching aid to display important lesson materials and videos. Rather than wheeling in a large and bulky cart with all your AV equipment, the flat panel rack is mounted to an existing fixture for long-term use. It is important to note, however, that some of the mounting options come with both permanent and temporary attachments. This way, the user can decide what the best scenario is for displaying their LCD. A multiple TV bracket is a vital teaching tool for any teacher or professor, so why not get yours at a bargain price?
How are these mounts for multiple TVs installed?
As mentioned above, there are ceiling, desktop, and wall multi monitor brackets in this category. Each attaches to the mounting surface in a slightly different way.
The ceiling mounts usually have a height adjustable pole with a bracket at the top that securely fastens to most overhead surfaces. These hanging systems work best when they are screwed directly into the structure, so consider attaching yours to studs or rafters.
Counter and desktop models typically included two different base attachments. The first is a short-term or interim clamp style solution, which can be connected to a tabletop temporarily. The second is a grommet attachment that requires the user to pre-drill their workspace, which is great for long-term use.
Wall brackets are relatively straightforward when it comes to mounting. Simply line up the holes on your surface while ensure the unit is level, mark with a pencil, and then drill for the anchors or screws. Like the ceiling models, these units are most effective when attached to wall studs.
For further questions regarding any of these flat panel brackets, contact one of the customer service representatives.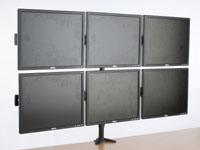 Though there are some non-moving, stationary multi monitor brackets, most include some kind of adjustable features. There are mounts that come with extendable armatures that allow users to move their screens closer or further away. We also carry a number of height adjustable models that enable those working on computers to set the proper viewing level. Simply raise or lower the bracket for the most ergonomic setup. In addition, tilt motion ensures that the flat panel is not obscured by glare from overhead or other lighting. Simply angle the unit forward for better visibility. Panning allows for the monitor to swivel side to side, which makes it easy to show others what you are working on. Rotating brackets are yet another feature some of the multiple TV mounts offer. As mentioned above, some of the display holders can bet set up horizontally or vertically. Like with the rest of our bracket product line, we supply these plasma racks with the necessary hardware needed for installation. Most television brands, such as Sony, Vizio, LG, Samsung, and Toshiba, will attach without issue. But in some cases, certain makes and models can require additional spacers or screws. You can usually pick these extras up at a hardware store, so no need to worry about compatibility.
Along with the wide range of mounting hardware shown here, there is an even larger selection of point of sale displays which can be seen at the main shopping categories page. View all of the supplemental lines beyond POP displays including, digital signage, wall display cases, and custom banner graphics. This company has been manufacturing and offering quality objects for more than thirty seven years. What began as a one-man side job, now employs more than two hundred and fifty employees, and occupies three large warehouses in the United States. At any given time there are over 2 million displays in these warehouses ready to ship out. By maintaining such a sizable live inventory; lead times are kept to a minimum, as is the pricing. Many of the prices offered here are far below any competitor. Be sure to browse through the large selection of sale merchandise in the clearance section. Most of the items on these pages are overstock, discontinued or scratch-and-dent fixtures that have been drastically reduced and priced to sell. Likewise there are new merchandise that are added to this site daily. Make certain to bookmark this site as a web preferred and come back frequently to see all of the newest additions to the different product lines.