Low Profile TV Mounts
---
Low Profile TV Mounts with Universal VESA Designs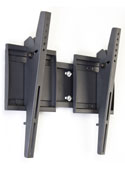 This low profile TV mount selection is different from many other monitor mounting brackets because these products feature ultra-slim profiles. The thin design of each VESA-compatible bracket is perfect for homes, offices, and businesses. Each low profile TV wall mount will fit almost any size television, so they can be used for any number of multimedia applications. The universal brackets are standardized by both television and mount manufacturers to ensure compatibility across a wide range of sizes. What makes these low profile mounts so special, besides their slim design? Horizontal (landscape) and vertical (portrait) mounting is possible with most of these flat screen displays! Many users hang their monitor in vertical orientation to replicate the look of static posters. This hot new trend is one of the main reasons for the success of these brackets that hold LED & LCD televisions. However, you'll also see these thin mounting brackets used in home settings above mantles or on living room walls. Home owners choose the low profile wall mounts for their unassuming and stealthy design!
Popular Places for Low Profile TV Mounts
Living rooms above mantles or fireplaces
Doctor's office or auto shop waiting rooms
Retail sales floors
Office conference rooms
What makes these low profile TV brackets so compatible?
The VESA wall mounts can handle just about any size television for sale on the market. Arm extensions are sold with many of the units, so that large or small screens can be accommodated.
The wall plates and adapters are also made with low profiles for a hidden or barely visible appearance, no matter if the monitors are hung in landscape or portrait orientation.
Hardware, including screws, spacers, and washers, is supplied with each purchase, so mounting LG, Samsung, Panasonic, Sharp, and other brands is relatively simple. Keep in mind that some makes and models may require additional hardware, which can be picked up at your local tool supply shop.
What specific hole sizes is are thin brackets compatible with? The units range from 100mm x 100mm through 600mm x 400mm, in two orientations. VESA compatibility refers to the standard hole pattern on the back of monitors compared to television brackets. Having standardized guidelines ensures that flat panel monitors and your mounting bracket will fit together without issue. Read more about these specifications in this helpful VESA wall mount article! Included with each display is an assortment of screws, washers, and spacers for installing your television. The monitor used with the low profile TV bracket may require specific screws that can be purchased at a local hardware store. One of the best features of these wall racks is the ability to show a TV in vertical format, a style becoming more prevalent in the marketplace.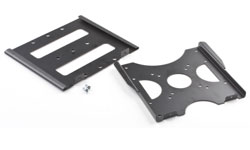 Many of these low profile TV mounts feature a black finish to easily blend in with any décor. The versatile color is attractive yet the construction features durable materials to provide long lasting use. Some racks can hold 23" through 60" screens that weigh up to 132 lbs. An adapter plate is adjusted by simply loosening screws and sliding the two sides out. This innovative design allows larger size flat screens to be mounted with ease. Extension arms can be attached to each bracket to hold larger televisions as well. The flat screen adapter kit will remain hidden behind the television no matter what orientation it is displayed. Each extension arm features adjustable screws that keep the arms securely on the plate. With so many mounting options, you're sure to find the right low profile mount for you!
Some of these plasma brackets come with extra features, such as the ability to tilt or rotate. In addition, many units are able to hold different sizes of monitors with ease. Displays2go has been providing quality goods at great prices since 1974. Our selection of ceiling displays, universal wall brackets, television stands, & many other styles of flat panel monitor displays provide different options for each business. The online catalog has over 7000 unique products to choose from in an array of categories. Over 90% of all merchandise ships same day when in stock & ordered by 3PM EST. Order from Displays2go, America's largest display warehouse, today!