Trade Show Backdrops - Freestanding Pop-Up and Pipe-and-Drape Displays
---
Portable Custom Backdrops for Trade Show Booths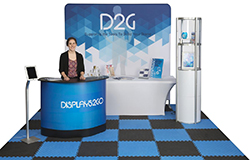 An eye-catching image surrounding your display is a great way to capture attention at a commercial event. Our trade show backdrops are excellent for representing your company at busy conferences. These banner stands are large, informing passersby about your business from a distance. Each trade show backdrop comes with custom printing for a fully personalized graphic that tells the world what you're about. Use vibrant full color images to make a memorable mark that attendees won't forget! Choose a trade show backdrop that will give your presentation an edge at the next expo.
What features make these banner stands excellent for promotion?
These trade show backdrops are made of durable polyester or stretch fabric. Not only will this material survive high traffic areas and long travel periods, but its taut design resists wrinkles for a professional presentation.
Our backgrounds for booths are made in large sizes to increase visibility and maximize your promotional capabilities. Find screens as large as 10' x 10' that create a larger than life display.
Each commercial event banner stand uses a strong, portable framework that holds up your image. This fixture is made of lightweight aluminum tubes that screw together with ease.
Worried about getting your booth display to the event? Each unit comes with a canvas bag or hard plastic case with wheels to make transportation a breeze.
Custom printed trade show backdrops are excellent because companies can feature any graphic, whether it's just a logo or a collage of information for attendees. Most of these displays use dye sublimation printing that can feature any image in full color with realistic detail. This process transfers dye onto a material using heat, creating long lasting tones and detail.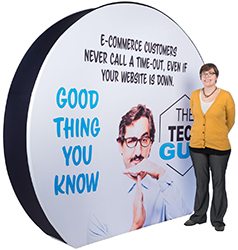 How can I use a green screen for presentations and video conferences?
Freestanding backdrops are great for especially wide shots, giving you plenty of space to deliver informational video content and key in graphics and visual aids. The extra space allows for a little bit of movement as well, which makes your presentation more dynamic and interesting.
Hanging green screens are better suited to close up content where your subject will remain on one mark, such as tech builds/breakdowns, cooking videos, and vlogs. Additionally, these snap rail chroma banners are great for creating stock photography or portraits where you need more flexibility to choose an appropriate background.
Chair-mounted green screens are most often used in webinars, YouTube videos, and game streaming on services like Twitch — any content where you're sitting down for the duration of the presentation. Easy to attach to just about any seat and collapsible for easy storage, these backdrops are a great way to increase your production value without investing a significant amount of money.
Chroma key stands are great for creating promotional videos — read our guide on how to set one up and get started — but there are plenty of event backdrop options available for in-person presentations as well! Freestanding displays with lighting will really stand out from the crowd; our event booth backgrounds feature LED ladder lights that illuminate graphics with bright, energy efficient light. Double sided backdrops are also great for increasing visibility in busy environments. Get seen by both sides of foot traffic for a bigger impact! Choose from banner stands in a number of different shapes. Rectangular models are the standard, so why not be unique with a circular backdrop? Displays with a curved design are another interesting choice because they can wrap around your exhibit booth.