Multi-Panel Hook and Loop Display Boards with Sign Headers
---
Hook and Loop Display Boards — Multi-Panel Backdrops for Informative Presentations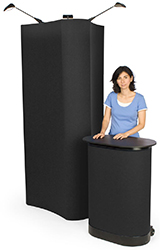 How can your organization use these exhibition panels for educational and informational presentations? Our multi-panel hook and loop display boards are a great way to showcase helpful tips and critical knowledge to students and faculty. The folding design lends itself to easy portability. Presentation backdrops come in an array of sizes and configurations for use in a variety of professional settings. From triangular towers to art displays that fold out accordion-style, there are lots of options. Our multi-panel hook and loop display boards are designed to work with acrylic magazine and brochure attachments. The brochure pockets are affixed easily to the sewn-in tabs - no tools required for assembly!
Multi-panel hook and loop display boards are constructed of sturdy aluminum frames. Foam board paneling is lightweight and easy to carry. Dual-sided pop-up kiosks offer the most bang for your buck because they display a lot of material without taking up a large footprint. "Take-one" pamphlets and magazines are a great way to get busy students engaged with extracurriculars and on-campus events. Custom graphics, lighting, even built-in counters can be purchased with our project backdrop to enhance your science fair presentation or group report.
What styles of folding display panels are featured?
Our multi-panel hook and loop display boards come in a triangular column design offering 360-degree views of artwork or printed publications. The dividers can be unfolded to full size to create an attractive backdrop for your booth or job fair space.
Triangular towers come in a curved style with a built-in exhibit counter for demonstrations, sign-ins, consultations, and more. Constructed of plastic, foam board, PVC, laminate, and paper construction, our boards are portable, yet sturdy.
Tabletop literature stands come with up to 10 panels on each side. Art displays require more room for paintings and drawings, while recruiters and student organizations may need fewer panels to distribute a stack of pamphlets or catalogs.
Display boards provide a variety of footprints including zig-zag and 3D triangle styles. You can also fold the panel into a slightly curved shape to create a subtle backdrop for your booth.
Enhance your presentation with halogen lighting and custom digital graphics in one, two, or full-color designs. Vinyl text headers can also be customized to announce what the content of the display is. Spotlights are another great way to highlight information, artwork, and other relevant material.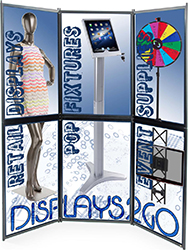 Double-sided presentation boards maximize the display area without using up too much real estate. It's like having two exhibits for the price of one! Panels have an interlocking hinge design that makes them easy to fold open and shut. Most of our folding backdrops require two people for assembly, but one person can set up a smaller unit. Our booth displays come in classic black, gray, red, and blue colorways.
Where else can these multi-panel backdrops be used?
Folding panels are perfect for expos and conventions because they fold into the included carry bag. Larger units can be disassembled into two pieces and transported in two cases.
Provide college fair attendees with information about your school or business, and use bold, colorful text headers so you'll stand out!
Create a demonstration showcase at a trade show, expo, or sales meeting using folding displays with built-in counters.
Panels can double as art displays in galleries and museums. Exhibitors can provide their fans with bios and website information via the acrylic literature pockets.
Dispense brochures and catalogs about services available at banks, real estate, and travel agencies.
Our display boards feature a hook and loop design for attaching acrylic pockets to the panels with the included fasteners. Load the literature holders with business cards to circulate information about your organization. Custom printed panels featuring your logo, tagline, and branded content create a great looking backdrop while also reinforcing brand recognition.
Shop folding tradeshow backdrops at Displays2go, and enjoy quick shipping on items in stock. These space-saving booth fixtures are portable, cost-effective, and versatile!