Window Light Box for Retail Storefronts are Single & Dual-Sided
---
Single and Double Sided Light Boxes for Window Display Use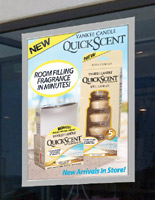 What type of window light box is right for your retail store? How many different styles are there to choose from? These are just some of the many questions that may arise when a retail store owner is looking to add more beautiful signage displays to their storefront. A window light box, such as the ones seen here, are ideal for use within a storefront display. These illuminated poster frames can be used to display signage and advertisements, which can help differentiate your business location from your competitors. These frames come with all the hardware you need to mount them in your storefront. As a result, these illuminated graphic holders represent the latest development in signage displays for retail storefronts. An LED illuminated graphic will garner much more attention than traditional posters and have customers and passersby intrigued by the well-lit signs. Retail stores are also able to leave their window light box on during the night, long after the store has closed thanks to the long-lasting, energy efficient LED bulbs.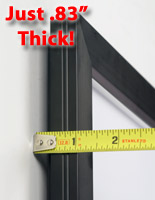 These single and dual-sided window light boxes are designed for long term use. Each hanging lightbox features LED lighting technology tha lasts much longer than other lighting, such as T5 or halogen bulbs. The LED lighting within this light box is rated to last for approximately 100,000 hours of use (when used 24 hours a day, 7 days a week)! LED technology is also more energy-efficient, as it consumes much less energy. While LED light boxes have a higher upfront cost, the savings in your electrical bill will certainly pay off in the long run. To compare, a 34.5w LED lightbox uses 306kw in annual electrical use, while a 54w T5 or 65w T8 unit use 472kw and 569kw respectively. That means LED window light boxes save 46% electrical savings over T8 lightboxes and 35% savings over T5 models!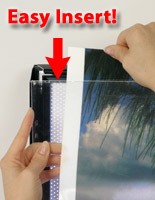 What features separate these hanging lightboxes from others on the market?
Each window light box measures .83" thick, the thinnest profile on the market!
LED bulb life is over 100,000 hours of use before anticipated degradation when used 24 hours a day, 7 days a week.
Engraved diffusion pattern inside window light boxes distributes light across the panel so that your graphics are slightly brighter in the center.
Snap open aluminum frames are designed for easy graphic changes, without having to remove the lightbox from the ceiling mount.
Low energy consumption – 40% energy savings over traditional window light boxes.
Each storefront display comes with a hanging hardware kit. This kit includes the necessary hardware for converting your wall-mount lightbox into a storefront, ceiling-hung display. Each hardware kit comes with two polycarbonate brackets to ensure stability and durability. These brackets measure 1/8" thick, and can handle the load of LED window light boxes measuring up to 36" x 48". These polycarbonate attachments feature a shape that prevents the lightbox from swaying in your storefront. Washers, bolts and an Allen wrench are provided for an easy installation. This hardware is necessary for connecting the polycarbonate bracket to the advertising frame. Also included in this kit are two toggle bolts, two ceiling hanger clips, and four "S" hooks. The type of ceiling within your retail store will determine which hangers will be necessary. Finally, there are two 60" lengths of standard fishing line. This allows users to hang the window light box 60" down from the ceiling.
Which Lightbox Should I Buy?
Economy
2-chip LED technology results in above-average luminance.
3-chip LED technology for extra-strength luminance, approx 70% above Economy models.
Deluxe
6mm acrylic, light guided panel.
8mm acrylic, light-guided panel diffuses light more powerfully.
Ceiling hung lightboxes are sold in a variety of sizes in the main illuminated signage category. Each size comes in both a silver and black finish, for users to purchase the advertising solution that will best complement their displayed advertisements and their store décor. Airports often use some of the smaller sizes throughout various terminals to display advertisements of local companies. Retail stores utilize larger sizes, such as 36" x 48" to display large promotional signage. Movie theaters also make use of larger LED lightboxes to display some of the hottest new movie posters and upcoming flicks.
Installing signage into this poster holder is very convenient. All of the models seen here come with snap-open frames to tightly grip onto the printed store signs without damaging them. Each side of the metal frame features a flat spring that clamps down and securely holds your promotional graphics in place. Advertisers simply need to open each side and then place the banner or poster into the frame, underneath the provided clear lens. After the poster is in place, users then need to close the sides of the snap frame to hold advertisements in place. These hanging edge-lit boxes are front loading, so there is no need to finagle with the backing. Store clerks are able to load and unload banners without undoing the hanging kit as well.
LED edge-lit frames with hanging brackets are just one type of lightbox Displays2go has available for purchase. Additional options include locking frames for outdoor use, poster holders with T5 illumination and large format displays. Floorstanding lightboxes are also available. For added consumer convenience, translucent posters can be purchase from this online superstore, which can be customized with your provided artwork. Simply follow the artwork guidelines on each poster product page.
Displays2go is home to more than just illuminated signage solutions. In business since 1974, this company has grown from an acrylic displays manufacturer to one of the largest point of purchase display wholesalers in the U.S. This product line includes such marketing displays as TV stands for commercial use, mannequins, and digital signage solutions. Be sure to check out the entire online selection to see all that this site has to offer.