Chalkboard Markers are Chalk Ink Pens
---
What are chalkboard markers?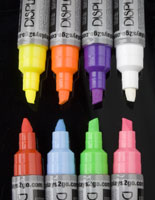 This type of writing utensil is used to create hand-written message. Restaurants, retail stores and various other businesses all use chalkboard markers to create eye-catching custom signs. The different tip thicknesses and styles enable users to make bold signage that is sure to get noticed.
With what options are these chalkboard markers available for purchase?
Multi-colored sets are sold in quantities of 5, 6 or 8 pens for users to create brightly colored, easy to read signage.
Chalkboard markers are offered in various tip options, including 3/16" chisel, 3/16" bullet tip, 5/16" and 3/8" flat tip.
Brightly colored ink, including earth-tone, is available for users to create a hand-crafted display that customers will take note of.
These Chalkboard markers are water soluble so they simply wipe clean of any non-porous surface using a damp cloth. The convenience of easy to clean messages is key for various types of businesses with frequently changing signage. The wet-wipe ink of these chalkboard markers is designed for writing on glass or acrylic surfaces, which are non-porous. The selection of colors really stands out against black write-on boards, on menu displays, or storefront glass. These chalkboard markers have ink that appears to glow or radiate under an ultraviolet or fluorescent light. The use of a lint-free cloth is recommended when erasing written messages and art off of this type of board.
Chalkboard markers are sold in sets of various bright, vibrant colors. Some of the multi-color sets include 8 bright colors, while other sets contain only 5 or 6. Chalkboard markers are also available in different pen tip styles. Brightly colored pens with a bullet tip enable users to create more precise lettering than other tip options. Wet chalk let users write clearly, without messy dust that can blur lines and fade over time. Flat tip bright sticks are ideal for creating bold messages, as the flat tip is used to create thick lines, or to color in pictures. Chisel tips offer the best of both worlds, enabling users to create both thin and thicker lines, all with one writing utensil. All of the available options dry quickly, for a semi-permanent sign, without the fear of smudging or smearing signage when placed in a busy area.
What types of surfaces can these colorful pencils be used to write on?
Glass - car windows, storefronts, entrance doors
LED writing boards
Blackboards
Write-on/Wipe-off a-frames and sidewalk signs
Acrylic signage
Virtually any non-porous surface!
Chalk pencils are ideal for writing on glass, such as a storefront or car window. Businesses can create custom art on their storefront window, with seasonal images or sale notices. These fluorescent pens can also be used to write on car windows, to show team spirit for sporting events. The messages are easy to wipe off, as the ink is water based. Simply use a damp cloth to erase announcements quickly and easily.
These blackboard pencils are also ideal for use with blackboards and LED writing boards (sold separately). The stark contrast between the black write-on surface and the fluorescent colors ensures custom art and hand-written text gets noticed. The LED writing boards sold on this website also feature different lighting effects, which actually change the color of displayed font. Illuminated art and written script actually attract more attention from passersby, when compared to static, non-illuminated models. LED and flashing signs engage viewers and capture their attention, even from afar. This ensures that announcements will be seen by all.
Various write-on board styles are offered in this online catalog, for businesses needing an easy-to-update signage display to be used with these wet-wipe pens. Sidewalk signs with black or whiteboards are ideal for placement outside of a business or store. Salons, boutiques and restaurants often display this type of write-on board at the entrance of their institution to notify passersby of a sale or special. Window mount displays are ideal for writing business hours and other quick info. If hours change, the signs can easily be updated, when using liquid ink pens. Countertop write-on boards are also exceptionally popular with food service locations. These particular models are often used to display menu specials, such as in a bakery or ice cream parlor. Store clerks can write different offerings on the countertop menu board displays, and wipe them away at the close of each business day.