Frameless Picture Frames - Clip, Standoff, and Magnetic Enclosures
---
Acrylic and Glass Borderless Picture Holders For Wall and Table Placement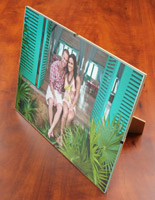 Are you looking for a clean and modern way to display photos, signs, and advertising posters? Clear frameless picture frames come in a variety of designs and sizes to suit any environment, including retail stores, offices, art galleries, and even homes. These photograph enclosures accommodate most standard size prints and larger-format advertisements. Frameless picture frames display art prints, advertisements, posters, and photos. Whether made from tempered glass or acrylic, all our photo enclosures protect what's inside from tampering and damage in commercial venues. Choose from wall-mounted frameless picture frames or models that sit on the tabletop to best suit your desired application.
What types of borderless photo displays do we offer?
Sizing — Frameless picture frames are available as small as 4" x 6" and as large as 36" x 48". We also offer plenty of variety in common sizes like 5" x 7", 8" x 10", and 8.5" x 11". Many are available in either portrait or landscape orientation.
Tempered glass — Steel spring clips hold together a transparent panel and chipboard backing in a sandwich-style design. Glass clip photo enclosures are timeless with a clean, contemporary design that never goes out of style. They ensure that the main focus is on the contents of the image instead of its borders.
Acrylic with metal standoffs — A true workhorse in terms of durability, these enclosures are usually wall-mounted and feature silver hardware that presses two panels together to hold photos and signage in place. Acrylic is less prone to shattering than most kinds of glass, which is useful in retail environments and other public venues where there is a lot of foot traffic.
Acrylic with magnetic corners — Sometimes used in conjunction with standoffs for wall-mounting, most magnetically-held enclosures sit on countertops and feature a sturdy base. As the name suggests, small magnets hold two clear acrylic pieces together, sandwiching your imagery in the middle. This makes for incredibly easy and fast swaps with very little work and no tools required.
These stylish frameless picture frames are a versatile and affordable way to present graphics. They look upscale in any setting, thanks to their rimless versatility, making them the perfect fit for an office building, a gallery, or a mantel in the home. Glass clip photo holders are elegant to give as a gift for any occasion. The wide range of sizes available makes them ideal for wedding showers, graduations, house warming parties, and more. Borderless picture displays are not designed strictly for residential and office use. Many businesses also use our acrylic wall-mounted enclosures for promoting items or sales. The larger glass clip photo holders work well for displaying artwork in any home, office, or business. These clear sandwich-style image holders emphasize promotional graphics in any commercial environment, boosting brand recognition and adding decorative flair to just about any space. If you're looking for even more economical options, explore our inexpensive photo holders for images as small as 4" x 6". These wholesale models come in a variety of colors and border styles to match your aesthetic.