Counter Top Signs for Retail Store Advertising
---
Bar & Restaurant Counter Top Signs w/ Pedestal Bases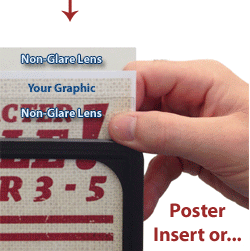 These counter top signs with colored plastic frames are used in retail stores and other commercial environments. The basic construction and easy-to-use design make these graphics holders a favorite among caterers, buffets and other food service businesses. Are you shopping for counter top signs that are adjustable? These signage holders attach to the metal pole on a groove that allows the framing to rotate completely around. These counter top signs that are adjustable are especially useful when placing the unit in a confined area. Most of these store fixtures that are used on countertops consist of three basic components; the base, pole and frame. All of these counter top signs feature either a write-on marker board or two clear lenses. Shoppers choose the option that they desire prior to checkout. The counter top signs with protective lenses are used to display signage on card stock or other poster material. Users can insert sales signage or other advertisements through the top, sandwiched between the two clear plastic lenses. These counter top signs are a logical choice for any store or retail location that changes out promotional graphics regularly. The write-on marker board option is often used by sandwich shops or cafés to list a daily menu special or featured food item. These counter top signs with a black writing board insert are easy to clean with a damp sponge or rag. Use neon or fluorescent markers to create vibrant messages on these acrylic signage displays.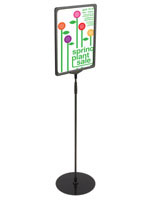 Several of these counter signs feature an adjustable height pole that can be raised high enough to be placed on the floor. This is like getting two store fixtures for the price of one. The counter top signs with telescoping poles feature the same colored acrylic frames that have a top-slot for easy signage changes. Use these adjustable stands on the floor in lieu of heavy and bulky poster displays. All of these counter top signs that are adjustable are just as effective as larger models, when strategically placed in direct view of passersby. Use these floor standing fixtures as a directional display, or to inform patrons where the line forms at a deli.
Why purchase counter top signs from Displays2go versus another comparable online retailer?
This online catalog contains more than two million units in stock at any time. Shoppers are more likely to find the selection and the quantity needed in stock.
These counter top signs, also called retail store signage holders, are made with quality materials that are built to last.
Each of these holders that can be used with card stock is priced lower than any other competitor online. Buy in bulk quantities for even larger per-unit savings.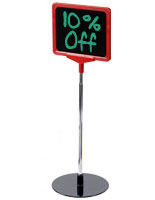 Why are these counter top signs easier to use than other standard store signage displays?
Each of these card holder stands features a top-loading design that makes for fast graphics changes.
Most of these counter top signs feature a three piece construction that is simple to assemble.
The framing of these store signage stands feature a groove, which allows users to rotate the display from portrait to landscape, with the opening positioned on the top or the side for quick change-outs.
Some of these retail displays feature a telescoping pole that can be adjusted to a suitable height for a floor standing store fixture.
These adjustable and fixed height holders are just one of several store fixtures offered in this e-catalog. Choose from a wide selection of other retail displays including write-on boards, wicker baskets, iPad stands, merchandising stands and much more. There is also a large variety of bar and restaurant supplies as well as other food and buffet displays and accessories. Restaurants, cafeterias and caterers will find a diverse selection of products that are vital to their business right here. This site has such a large selection of quality items that there is no need to search the web for specialty sites; find everything you need to make your food service business a success right here!
Businesses from all around the country have trusted Displays2go for all of their POP display fixtures for more than forty years. With more than four thousand products in-stock; this online catalog features fixtures to outfit a retail store, as well as hundreds of other products. Some of the lines of merchandise for sale here include; trade show supplies, display cases, sandwich boards, light boxes, and a plethora of other quality items. Unlike most other online retail companies; we have a full-staff of customer service agents that are here to assist shoppers through every step of the ordering process. Feel free to contact us at 1-800-572-2194, weekdays during normal business hours. These specialists can perform a myriad of duties including; place orders, check existing order status, quote shipping costs, even help navigate or locate the perfect product for the need at hand. Most other direct merchandisers only list an email address as a form of contact. We take a more personal approach here, and even offer shoppers a live chat option. Another feature that sets us apart from all of the competition is our standard shipping policy. Orders placed prior to 3PM ship the same day. No other competitor comes close to matching this aggressive standard. Requests received over the weekend and after the cutoff ship the following business day. Some restrictions do apply, especially with custom printed displays and large built-to-order fixtures. Start shopping here today for an extensive product line of quality products along with amazing customer service and fast shipping!